Last updated on January 22nd, 2019 at 01:50 pm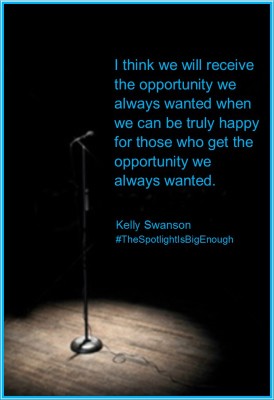 While pursuing my motivational speaker dream, I try to be a loving person and to respect when it's not my turn to capture the brass ring, but sometimes I feel envy–even when the recipient is a good friend.
Yes, it's true.
There are still times when I find myself envious of another woman's seemingly perfect body. Or, I feel envious of a friend's better opportunity. I honor this green emotion; then I work to let go of it as soon as possible because it doesn't serve me well.
The word "envy" comes from the Latin word "invidia," which means "non-sight."
How is that for a clear Latin meaning to explain exactly how you feel when envy is reeling its ugly head inside your heart? You feel like no one sees you and your hard work while the other person is being recognized first.
But what we often fail to realize when we are in the throes of envy is that it's a feeling born of illusion. The appearance or what we believe we see masks an entire back-story. We tend to pay more attention to achievements because they are more publicly observable than someone's setbacks.
I might envy another woman's body because her achievement is easily observed with my eyes, but what hides from view is how often she works out, the intensity of each workout, the strictness of her diet, and the volume of the time she devotes to looking as good as she does. If I knew that she only eats green-colored vegetables and works out three hours a day with half of that time spent running, I'd think, "Oh good lord! Forget about that!" and I wouldn't feel envious at all.
The problem with envy is we are making a judgment based on only one half of the story.
You can be envious of the girlfriend who seems to have the perfect life when behind the scenes she is alone much of the time (and lonely) because her husband (or she does) works all of the time to maintain their lifestyle. Maybe they even attend a lot of counseling to keep their relationship and home-life on track. All you see is the achievement visually of the lovely home and its furnishings but not what they have sacrificed to acquire their lifestyle.
Just recently I felt envy rise inside me once again. I'd opened a door professionally for someone new and this person ended up getting the opportunity I had been working hard to achieve. I was dealing with a lot of negative emotions when I stumbled upon this video featuring Chelsea Handler called, "Chelsea Handler's Advice to Young Women."
In this short video, Chelsea discusses envy more beautifully than me:
Video Transcription:
"When I was living in Los Angeles, California, I was doing Stand-up. I think I was about age 25 or 26 and I was doing Stand-up all of the time. I had friends who were also doing Stand-up at the time, and we'd all perform together.
Then we all did a showcase at the Improv in Los Angeles on Melrose. It was a showcase for this agency at the time, which was a big agency. I had been doing Stand-up for about five years at that point. I had convinced my best girlfriend that she had to do Stand-up too. She just had to–she was so funny–and I was like, "You HAVE to do Stand-up! You have to try it!"
My friend had been doing Stand-up for like a year when we both show up for this showcase for this big agency.
Well, she gets a call from the agency the very next day, and I didn't. And here I'd been working for it; I was sure I had gotten it and that they would want to represent me. She called me with the news, and I had to feign that kind of enthusiasm to say, "Yeah! Oh, that's great!" when I wasn't chosen. It was awful because she was my really close friend and I hated the way I felt–that I was jealous and I wanted to be chosen.
There must have been some sort of mistake and how can she get something that I didn't? It wasn't fair because I was the one who convinced her to do Stand-up in the first place. I had all of these thoughts.
I called my sister, Simone, and I said, "I'm having really bad thoughts about my friend and this is what happened…"
And she said,
"It's OK for you to feel jealous. It's OK. It's a natural feeling. You can't stop yourself from feeling that way. And you've told someone. You've told me, so you don't need to tell anyone else, but you just can't ever act on jealousy. So you have to understand that what you have is completely different than what your friend has. What you have, no one else has so there will be a place for you. Don't think that because someone got something that you're not going to get something else. There's room for everybody!"
Her comment has stuck with me, always, because it's so easy to see somebody else getting the limelight or your light is fading. You're light is not always as bright as it's going to be. There are always people coming in and coming up behind you. But remember there's still a space for you because there is no one exactly like you.
So whenever I have felt like that, I always tell one person and I don't act on them.
And I NEVER EVER blow out someone else's candles to make mine brighter."
———
The next time you feel envy rising up inside, especially when it's directed at a best friend, remember Chelsea's open and honest story and the wise words of famous editorial cartoonist, Frank Tyger:
"You can't be envious and happy at the same time."
Kelly Swanson
Kelly Swanson is an award-winning storyteller, motivational speaker, published author and TV personality who is passionate about helping women harness the power of their stories to connect, influence, and get the results they dream of accomplishing. Laughing the whole way, Kelly teaches women how to master the art of connection through the power of strategic storytelling. You can find her on The Fashion Hero show airing Fall of 2017 on Amazon Prime or on her website MotivationalSpeakerKellySwanson.com.
Note: Articles by Kelly may contain affiliate links and may be compensated if you make a purchase after clicking on an affiliate link.