Last updated on December 16th, 2019 at 12:13 am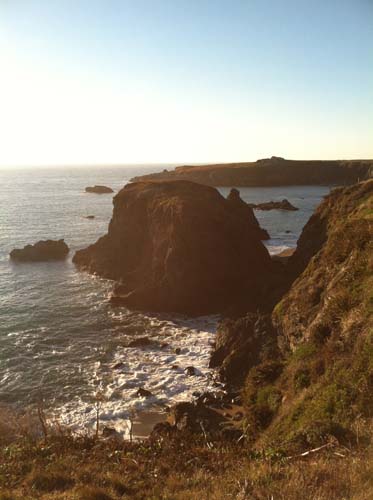 My big dream private chef business is mostly based on tourists. Sure they want to visit Northern California, but rent and exclusive property with a private chef when it's rainy and cold?
Nah.
To support my business during the winter months, I usually carry myself along by teaching people how to cook at a local upscale culinary supply store. I do have to say that with every passing winter, my business gets better.
Pepto-Bismol antacid is my winter season gauge for how my chef business is surviving.
I used to guzzle it from the bottle morning, noon and night while I hustled to create cooking classes and events to bring in income during the winter months, now I have a sip when I've had a bit too much evening fun.
I've learned to take advantage of the slower months to expand my private chef dream, which I look to improve with every passing year. This year, I decided that I want to target a new market.
Instead of working on booking as the chef for strickly wine country properties, I've reached out to a connection for a community of vacation rental properties where people call private chefs to cook for them and teach them how to cook. This vacation rental home community is along the Northern California coast–about a 2-hour travel distance from where I live.
Beaches are my favorite places in the world. They seem to have a substantial effect on me.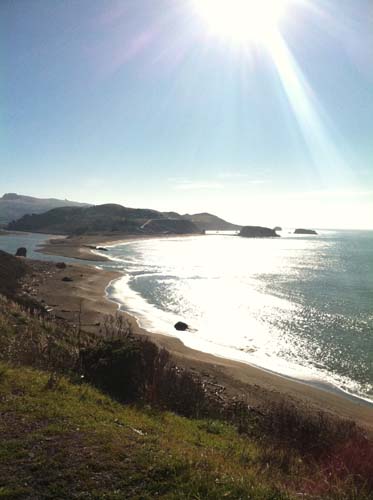 This week as I neared the coast on my drive to meet with the local rental agency for the community, I could feel my energy change. My shoulders relaxed, and my breathing became more fluid. I turned off the music in my car. My brain began to think differently–busy, yet mellow. My mind was clear. I was so in tune with my surroundings that I started noticing more of the beauty the coast has to offer–even in the winter months.
I used to visit the coast because it was my best friend, Howard's favorite place.
Every time we went to the beach, he would say, "I am home." I mentioned Howard in another 8WomenDream story: How I Survived Hurricane Katrina to Rebuild My Dream. Howard found out he was terminally ill shortly after Hurricane Katrina when we were sharing an apartment in Dallas, Texas, after being displaced from our homes. I took care of him until his daughter arrived to bring him to live with her in Birmingham, Alabama.
When Howard was on his last days on earth, he told me to please consider restarting my life elsewhere and to utilize my talents, be happy, and to fulfill my big dreams. I wondered how I would be able to make my dreams a reality since, thanks to Hurricane Katrina; I was flat broke.
Howard left me money when he died. It was enough money for me to move to Northern California. His passing gave me a new life.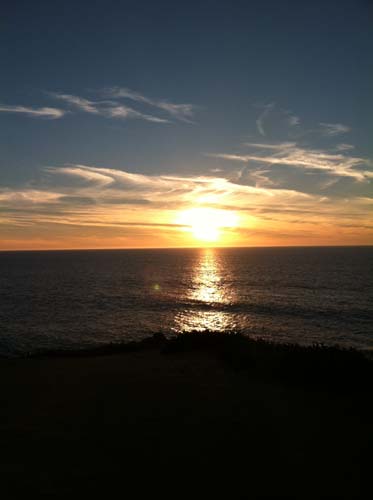 Whenever I visit the coast, I talk to him as if he's with me.
On this particular trip up the coast, I could feel his presence. I told him how tired I was of the financial/business roller-coaster I lived every winter, how hard I was working on expanding my client base, and how I didn't feel like I was fulfilling my dreams.
I heard him gently say, "You are living your dreams. Just be patient."
At that moment, I looked towards the sky as a black hawk glided down ahead of my car. It stayed with me for a few minutes before three more hawks joined in flight. I knew it was Howard, my mom, my dad, and my Aunt Bee. Tears rolled down my face as a feeling of empowerment, safety, and love surrounded me.
I knew at that moment that everything was going to be OK.
I paid close attention to the coastal landmarks as I drove further up the coast. At one point, I passed a place where I'd catered one of my first chef events after I moved to Northern California. I had forgotten about that chef event entirely. The client was a man hosting a family reunion. The event was for three days–creating breakfasts, lunches, and dinners.
Although I had tons of catering experience, I felt vulnerable because of all that I had lost thanks to Katrina. All I could focus on was getting chef work to pay my bills.
I employed a staff of two people to help me over the three days–one was a friend, and the other was someone I connected with while working with a local caterer. Three people would be preparing daily meals for twenty-five people. We were there to do it all; prep, cook, clean, and get everything ready for the next meal.
The last night that we prepared and served dinner with the client's bellies happy and tucked in bed, we realized it was 1:00 a.m. There we were, just the three of us, my iPhone and docking station, and about five days' worth of dishes and pots to clean. We stood silent for a minute taking in the amount of work still ahead of us when one of the workers said casually, "I'll be back. I'm going to my car." She returned with a bottle of Ketel One Vodka and placed it on the kitchen table. She grabbed three glasses and said, "Turn on the Rolling Stones, pour, and let's get started!"
We worked clearing the kitchen and sipped vodka while singing along with Mick Jagger to the song "You Can't Always Get What You Want."
We finished cleaning up at about 3:30 a.m. and drove to our hotel down the road. No one was in the lobby, and the door was locked. I thought, "How absurd would it be if my room key opened this door?" To my shock, it did. We found ourselves in the hotel lobby next to a big empty bar and a cat walking around.
I walked behind the bar and said, "They must have the beer taps locked." I pulled one, and beer flowed out. We jumped up and down and poured ourselves a beer. Before retiring to bed, I left a note on the bar by the beer tap, "Hi, this is Maria in room 273. My friends and I helped ourselves to 2 beers, each totaling six beers. Please add it to my room tab, and thanks."
The next day when we went downstairs, we walked into the bar to make sure someone reads the note. The bartender said, "Yes, and how cool. Not many people would leave a note with the drink total. Consider those beers on the house."
It's now five years later, and I still know the owner of the hotel, and we have talked many times about doing business together. My chef business has come a long way since that night on the coast. And yes, I landed the contract to be a chef on the list for the coastal vacation rental community.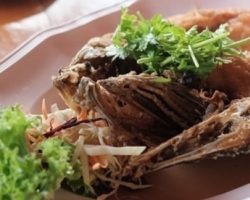 Today's big dream recipe is Snapper with lemon butter in honor of the Northern California coast. This particular dish was one of Howard's favorites.
Pan-Seared Snapper with Lemon Butter
2 – 6 oz filets of snapper or any other flaky white fish
Canola oil
Flour
1 stick of butter
1-2 lemons
A handful of chopped garlic
Chopped parsley
Salt
Black pepper
Cayenne
Pre-heat oven to 400 degrees. Season the flour with salt and cayenne. Season the fish with salt and black pepper. Heat the canola oil in a heavy-bottomed skillet. Dredge the fish in the flour, shaking off excess flour. Pan sear fish until brown on one side then turn over.
Cook on the stovetop for another 30 seconds and put the skillet in the oven for about a minute. Melt the butter in a saucepan, add the lemon, and taste to see how lemony you want the sauce. Add garlic and half of the parsley. Put fish on the plate and pour the sauce over the top. Sprinkle more parsley over the fish. You can add toasted almonds for another dimension, or you can add sautéed shrimp or crab-meat. This dish is fantastic with buttered angel hair pasta and a salad.
Thank you, Howard, for giving me my new life and continued hope that my culinary dreams will come true.
Maria Vieages
Born in New Orleans, Maria Vieages traded her Radiology degree for a trip to Culinary school at the age of 30. She apprenticed with celebrity Chef Emeril Lagasse. As a result of Hurricane Katrina, Maria moved to Northern California, where she was voted one of the top 10 Private Chefs in the Bay Area. Her infectious personality has landed her auditions with The Food Network and a collaboration with Oprah Winfrey's OWN network. She filmed with HGTV's House Hunters on Vacation-Wine Country Episode. Maria is a regular guest chef on Celebrity Cruises.

Enjoy this special 8WomenDream Guest Contributor story submitted by new and experienced big dreamers throughout the world, edited and published to capture a dream perspective from different points of view. Do you have a personal dream story to share with 8WomenDream readers? Click here to learn how to submit dream big articles for consideration.
Note: Articles by Guest Post Contributors may contain affiliate links and may be compensated if you make a purchase after clicking on an affiliate link.