Last updated on April 27th, 2014 at 12:49 pm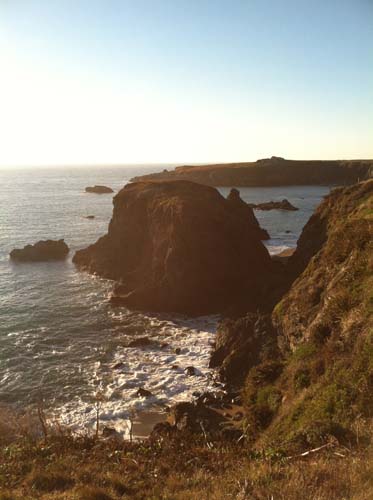 January is a rough month for me financially and for business.
My culinary business is mostly based on tourists. Sure they want to visit Northern California, but when it's rainy and cold? Nah.
I push myself along by teaching , which enables me to cut down on drinking Pepto-Bismol. I have to say that with every passing winter it gets better.
The Pepto-Bismol is my gauge
I used to guzzle, now I sip.
I take advantage of this slow time to lay new bricks toward my private chef dream which I am improving all of the time. This year, I decided that I want to target a new market.   It's a community of vacation rental properties where people call private chefs to cook for them and teach them how to cook.  This community is WAY up the California coast.  
It's about 2 hours from where I live. 
The beach is my favorite place in the world. Although I may come from a place where beaches have warm sand, warm water and hot sun, "the coast" where I live is still the beach to me — even though the water stays under 50 degrees. It's incredible. But  I don't enjoy laying out in the sun and jumping in the water.
Any beach however, has a strong effect on me.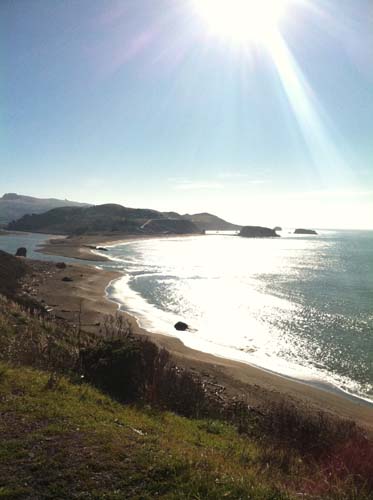 As I neared the coast the other day and I could feel my energy change. I felt the pull like I always do. My shoulders immediately relaxed and my breathing became more fluid. I turned off the music in my car. My brain started to work in a different way. it was busy, yet mellow. It was clear. I was so in tune with my surroundings that I started noticing more and feeling things from beyond.
I also go to the coast because it was my best friend's favorite place.
Every time we went to the beach, he would say, "I am home." His name was Howard. I mentioned Howard in my very first blog, How I Survived Hurricane Katrina to Rebuild My Dream, about Hurricane Katrina and me. Howard found out he was terminally ill shortly after Hurricane Katrina when we were sharing an apartment in Dallas, Texas. I took care of him until his daughter could get there and take him back to Birmingham, Alabama with her.
When he was in his last days on earth, he told me to please consider starting my life elsewhere and to utilize my talent, be happy, and to fulfill all of my dreams.
I wondered how I would do this since I went through my savings to fix my home and was broke. Howard left me money when he died. It was enough money for me to move to California. He died and gave me a new life and we both knew that.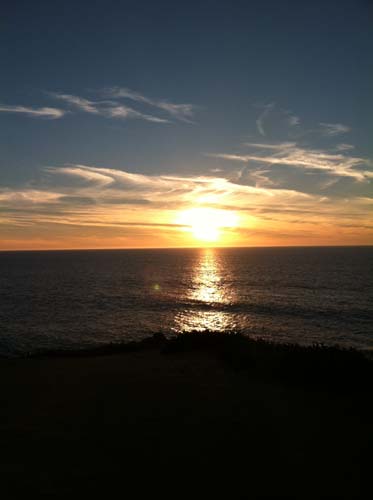 When I go to the coast, I talk to him a lot. I was driving and I felt him. I started telling him how I was tired of the financial/business roller-coaster, how hard I was working and how I didn't feel like I was fulfilling my dreams.
I heard him gently say, "You are living your dreams. Just be patient." I looked up and I saw a black hawk gliding right ahead of my car. It stayed with me for a few minutes then 3 more hawks joined it. I knew it was Howard, my mom, my dad and my Aunt Bee. Tears rolled down my face and I felt empowered, safe and enveloped in their love.
I also felt sure that everything was going to be OK.
I paid close attention to the landmarks as I drove further up the coast and I passed a place that brought memories flooding back. I catered one of my first events in California at this place far up the Pacific coast. I had completely forgotten. It was a man who was hosting a family reunion. It was 3 days– breakfast, lunch and dinner.  Although I had tons of catering experience, I was vulnerable at the time.
All I could think about was getting work.
I had 2 staff people with me — one was a friend and one was someone I connected with while working for another caterer. 3 people to cook for 25 people — 3 times a day for 3 days. We were there to do it all; prep, cook, clean, and get ready for the next meal.
The last night dinner was served, with client's bellies happy and tucked in bed we looked at the clock and it was 1 a.m.  The building was empty except for us, my iPod/dock and about 5 days worth of dishes and pots to clean. We were silent for a minute and one of the girls said nonchalantly, "I'll be back, I'm going to my car." She walked back in with a bottle of Ketel One Vodka and places it on the table, grabs 3 cups and said, "Turn on the Rolling Stones, pour one, and let's go."
We worked, sipped vodka, singing along as Mick Jagger blasted "You Can't Always Get What You Want."
We finished about 3:30a.m. and drove to my hotel down the road. No one was in the lobby and the door was locked. I thought "How absurd would it be if my room key opened this door?" Well, it did. Now we were in a beautiful lobby with a big empty bar and a cat walking around. We were ready to roll because of the adrenaline from work. I walked behind the bar and said, "They must have the beer taps locked."  I pulled one and beer flowed out. We jumped up and down and poured ourselves a few beers while hanging out in this beautiful area. Before we went to bed, I left a note on the bar by the beer tap. It said, "Hi, this is Maria in room 273. My friends and I helped ourselves to 2 beers each totaling 6 beers. Please add it to my room tab and thanks."
The next day when we went downstairs, we walked to the bar to make sure someone got the note. The bartender said, "Yes and how cool. Not many people would leave a note with the drink total. Consider those beers on the house."
5 years later and I now know the owner of the hotel and we have talked about doing business together.
I've come a long way from that night on the coast in 2007.
One my recent coastal drive, I also passed the place where I spent my first birthday in California. My 45th birthday. It coincidentally was where we catered the family reunion. Holy crap. I went with a friend who ended up having a 3 day migraine and slept. I wished her well and took off on my own. I hiked (and got lost ), went to a place up the road for dinner and found a small town store to get a few things.
Some guys were sitting on the "porch" drinking beer and talking. They said hi and I asked them what there was to do around there. They laughed and said, "Not much." I told them it was my birthday and I was looking for a little bit of fun.  They invited me to have a seat on the porch and drink beer with them.
I did. Here is the picture of that very store where I sat 5 years ago.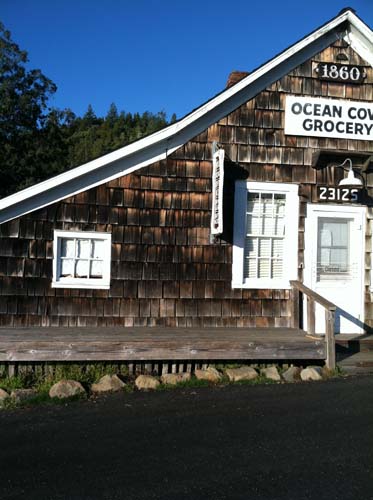 If you have a favorite place that makes you feel peaceful, creative and happy, go there to work on your dreams.
If you don't get into nature a lot, start going to places with beautiful surroundings. Bring pen and paper, bring your camera and see what happens, bring your laptop, your favorite music. You will see how clear your dream paths become. Don't try to think, trust me, it will come to you.
Today's pictures are from my trip up the coast while living my dream.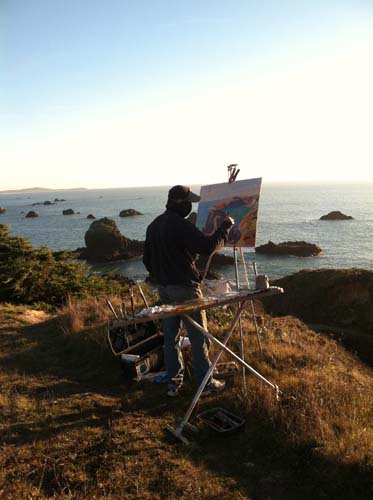 Thank you Howard for giving me a new life. I love you.
Maria
Today's recipe is fish. This particular dish was Howard's favorites.
Pan Seared Snapper with Lemon Butter
2 – 6 oz filets of snapper or any other flaky white fish
Canola oil
Flour
1 stick of butter
1-2 lemons
A handful of chopped garlic
Chopped parsley
Salt
Black pepper
Cayenne
Pre-heat oven to 400 degrees. Season the flour with salt and cayenne. Season the fish with salt and black pepper. Heat the canola oil in a heavy bottomed skillet. Dredge the fish in the flour shaking off excess flour. Pan sear fish until brown on one side then turn over.
Cook on stove top for another 30 seconds and put skillet in the oven for about a minute. Melt the butter in a saucepan, add the lemon and taste to see how lemon-y you want the sauce. Add garlic and half of the parsley. Put fish on the plate and pour sauce over the top. Sprinkle more parsley over the fish. You can add toasted almonds for another dimension or you can add sautéed shrimp or crab-meat. This dish is awesome with buttered angel hair pasta and a salad.

Enjoy this special 8WomenDream Guest Contributor story submitted by new and experienced big dreamers throughout the world, edited and published to capture a dream perspective from different points-of-view. Do you have a personal dream story to share with 8WomenDream readers? Click here to learn how to submit dream big articles for consideration.
Note: Articles by Guest Post Contributors may contain affiliate links and 8WD will be compensated if you make a purchase after clicking on an affiliate link.