Last updated on January 22nd, 2019 at 01:50 pm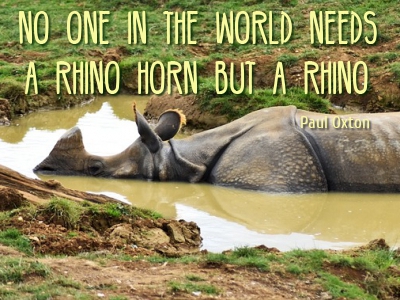 My big dream travel experience to witness African wildlife and see rhinos in the wild was made complete by my recent trip back to Africa. I can now mark this big dream off of my travel dream list.
I have visited several countries in the continent of Africa, but I never encountered a rhino in the wild. It has been on my dream bucket list ever since.
If visiting an African wildlife preserve to see rhinos in the wild is one of your big dreams too, the best weather months for a trip are September, October, March, and April when temperatures aren't blindingly hot. There are also certain times of year when some wildlife parks are closed to visitors.
Also, consider the types of other wildlife you'd like to see as different national parks house different species with some areas focusing on the exotic birds of Africa, while others housing big game animals. You want to inquire as to when are your best chances of encountering a rhino.
Packing for a wildlife trip to Africa is pretty simple for me as a seasoned traveler, but Trip Advisors has a great packing list at The Ultimate Packing List for Your African Safari so I won't cover what to bring in this travel article.
Dream Wildlife Trip Stop #1: Rhino Africa Destinations Pilanesberg, South Africa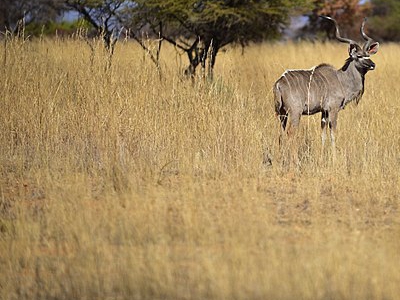 My wildlife dream journey began at the Pilanesberg National Park reserve in South Africa. Most people think of Kruger National Park when they visualize going on safari in South Africa.
Pilanesberg is an excellent alternative if you are short on travel time or you prefer to stay in a malaria-free zone. Just a few hours' drive from Johannesburg Soth Africa, the Pilanesberg wildlife sanctuary offers a fantastic diversity of species to observe with over 50 large mammals, including the Big Five: the lion, leopard, the black rhinoceros, elephant, and Cape buffalo.
Set between the Kalahari Desert and the Lowveld region, Pilanesberg landscapes are exceptionally mesmeric to photographers. Pilanesberg is the only reserve set in a rare alkaline ring complex–one of only three in the world.
Soon after starting on my first safari drive ever–I spotted a lion lounging about in the undergrowth. To be honest, I was underwhelmed. For representing kings of the jungle, he looked scruffy as he laid half hidden in the grass as if bored by our existence. Maybe this is due to the fact at this particular game preserve, the average age of a lion is 12-years-old, so chances are good he's going to live a long life, and he has seen his fair share of park visitors. It's estimated that there are only about 20,000 lions left in Africa, so I am grateful these majestic creatures are still around to seem bored by visitors who want to take snapshots.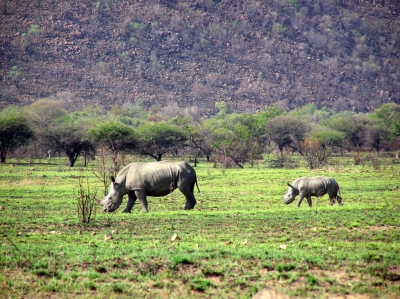 A bit further down the road, a two-ton mother rhino wandered out across the grass in front of us followed by her calf. They stopped to graze peacefully; gently nuzzling each other. This family rhinoceros encounter was my first South African wildlife 'wow' moment.
The statistics concerning rhino deaths due to poaching in South Africa are horrifying, but the Pilanesberg Reserve is one of the few places in the continent where you can view both black and white African rhinos in the wild.
The rhino horn is wrongly believed to have medicinal purposes, so poachers kill rhinos only for the intention of removing their horns. It's heartbreaking to think of while watching them up close in a natural environment.
Within a short space of time, I lost count of how many of these impressive mammals I encountered. It was also encouraging to see the anti-poaching unit checking all of the visitors and the vehicles.
If you are looking to stay at the Pilanesberg National Park reserve, their website offers a wealth of information on accommodations:
"Pilanesberg offers a host of accommodation options, ranging from resorts, safari tents, bush lodges to chalets, and self-catering. Discerning travelers will especially enjoy the exclusive lodges in the private Black Rhino Reserve, which was recently added to Pilanesberg National Park. Families and budget travelers will find a variety of accommodation choices to suit every budget, including self-catering, bed and breakfast and chalet options. Pilanesberg Game Reserve offers a good option for travelers who would like to visit the internationally acclaimed Sun City, with some lodges located only ten minutes' drive from the park."
Dream Wildlife Trip Stop #2: Rhino Africa Destinations Swaziland in South Africa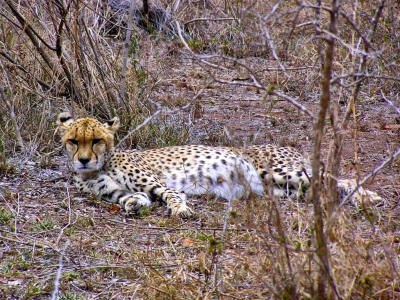 The drive from Pretoria to Swaziland is a long day-and-a-half of traveling, and I was tired when I finally arrived at the Hlane National Park. Before the park was made public in 1967, Hlane National Park was a private royal hunting ground.
The park covers 20,000 hectares (there are 100 hectares in one square kilometer), and the name "Hlane" is from the siSwati name for "wilderness." Hlane is famous for its big game with cheetahs being their most recent addition to the park.
My first wildlife encounter here was as magical as it was unexpected. Walking out onto a terrace I was thrilled to see a herd of giraffes go rocking by through the trees.
If you have ever seen a giraffe 'run' you will know it is a unique motion to observe. A moment later a rhinoceros bull came trotting through the trees into the clearing–about 100 meters away from where I was standing–only to be met by another bull trotting in the opposite direction.
They postured and snorted at one another, and I thought they might get into a nasty fight. But no, one of the rhinos backed down and they both moved along peaceably. Unfortunately, I wasn't able to photograph this breathtaking spectacle of wildlife interaction and compromise, but it is a scene that will remain forever in my memory.
Hlane National Park accommodations are the Ndlovu Camp and the Bhubesi Camp. These two camps are 16 kilometers apart from each other with the Ndlovu Camp featuring the big game area, while Bhubesi Camp is a camp outside the endangered species area overlooking the Umbuluzana River. You can find out more about park accommodations here.
Dream Wildlife Trip Stop #3: Rhino Africa Destination Botswana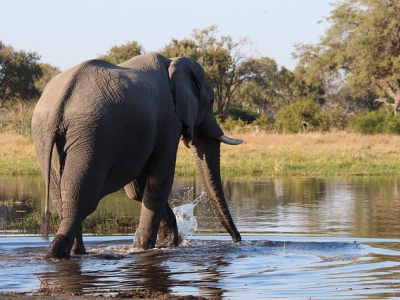 Once I completed my stay at Hlane National Park, I headed up through the center to Botswana to the Moremi Game Reserve along the Okavango Delta, to a place I have traveled to in the past.
Botswana is one of the most stable economic nations in the whole of Africa. It is not surprising that Botswana now has some of the lowest rhino poaching rates in Africa. Botswana is home to four wildlife parks: the Central Kalahari Game Reserve, the Chobe National Park, the Moremi Game Reserve, and the Savuti National Park.
The Okavango Delta is now considered the best place in Botswana to view a rhino in the wild.
The Botswana Defence Force and Wildlife Department have trained a hand-picked, specialist anti-poaching team dubbed the "Tusk Force" and they are having great success in protecting the re-introduced rhino population in Botswana.
When I visited Botswana in 2003, it was a very different story, with the Black Rhino considered extinct and only a few White Rhino left. I indeed never saw even one rhino during that trip spent traveling and photographing through the Okavango Delta.
Each year at its peak in May, northern Botswana turns from a dry savannah into a rich wetland, when the Okavango Delta springs to life. During this period is when it is considered a great time to see the most wildlife, but I would argue that if viewing big game animals is your priority then you might consider traveling here in the winter season. Just prepare yourself for a lot of mud.
Dream Wildlife Trip Stop #4: Rhino Africa Destination Namibia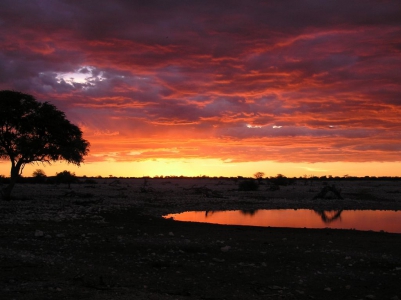 The African country of Namibia is located in southwest Africa and is most known for being the home of the Namib Desert along the coastal Atlantic Ocean. The Etosha National Park is situated in northwestern Namibia.
It's vast, covering 22,750 square kilometers of varying ecosystems from the famous salt pan so big it is seen from space–to the desert savannahs. August through November is the peak season to see wildlife in the park.
The park is a particularly good place for independent travelers as you can camp in one of the three fenced campgrounds and self-drive safari to your hearts' content.
The campgrounds even have waterholes with safe viewing areas so you can watch the sunset and the animals after dark. Etosha has nearly 150 mammal species, including rare and endangered species such as the Black Rhino, Black-faced Impala, Tsessebe, and Gemsbok.
You have a good chance of seeing the endangered black rhino in Etosha, and I saw just two at a crowded waterhole. Namibia has a population of about 1 750 black rhinos–about one-third of the world's global population. However, the black rhinos of Namibia are unique because of their ability to live without water.
According to the SaveTheRhino.org website,
"The current rhino poaching crisis has deep-seated roots in Zimbabwe, where the difficult socio-economic and political climate facilitated rhino poaching. Once the easy pickings had been had in Zimbabwe, poaching gangs turned their attention to neighboring South Africa, which suffered massive increases in poaching between 2009-2014.
In around 2013, the poaching crisis spread, to other countries in Africa. First, Kenya was hit hard–its worst year for poaching was in 2013 when 59 animals were killed (more than 5% of the national population). In 2015 both Zimbabwe and Namibia were walloped: Namibia lost 80 rhinos to poaching, up from 25 in 2014 and just two in 2012; while in Zimbabwe at least 50 rhinos were poached in 2015, more than double from the previous year. For Africa as a whole, the total number of rhinos poached during 2015 was the highest in two decades."
New Big Dream: Save the African Rhino
Africa's wild rhinos need the world's help. That's why I'd like to make you aware of Dave Stirling and Johnny Robert's Save the Rhino International campaign at savetherhino.org to save African rhinos from extinction. Since 2001, Save the Rhino has grown from a small charity raising £300,000 a year, to raising around £2,000,000 for programmes in six African and two Asian countries, for all five species of rhino.
Here's more about the SaveTheRhino.org On The Edge program:
I just can't bear to think of returning to Africa without rhinos or of you taking your dream trip to Africa to see wildlife and not be able to witness one of these magical beasts in person. They are truly worth saving and it is my hope they are still available for you to see when you achieve your big dream to see rhinos in Africa.
Natasha von Geldern
Natasha von Geldern is a travel writer, editor, and blogger who is passionate about making the pages of the atlas real by traveling the world. She is a contributor to Travel Wire Asia, Wild Junket Magazine, Yahoo! Total Travel and Travelbite. You can find her on her travel website and blog, WorldWanderingKiwi.
Note: Articles by Natasha may contain affiliate links and 8WD will be compensated if you make a purchase after clicking on an affiliate link.