Last updated on August 19th, 2019 at 03:46 pm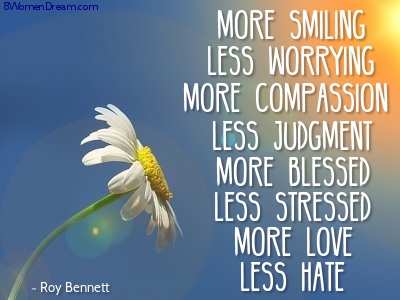 While working on your big dream, do you ever grow tired of the negativity that permeates the news?
It's important to keep up-to-date on current affairs, but we need to be mindful and manage what we expose ourselves to in our everyday lives.
Have you ever wondered if there are places you can go to read more positive news about humanity? Such places do exist, and this week I've scoured the Internet and found some of them for you.
As someone who aspires to be a positive life coach, finding reasons for you to look at the positives in life helps improve your overall sense of well-being.
This positive Thursday I am pleased to share with you . . .
8 Places Online Where You Can Find Positive Good News


This is the online version of Positive News. They consider themselves to be the world's original and leading positive newspaper. Focusing on solutions, it reports on people and initiatives that are creating a sustainable, just and fulfilling world. Positive News aims to inform, inspire and empower its readers while helping create a more responsible and balanced media.


Upworthy is on a mission to tell stories that bring people together — because everyone is part of the same story. Upworthy's goal is to foster a community of people who are focused on spreading ideas within their existing groups of friends on YouTube, Facebook, Twitter, and wherever else.


The Good News Network® is a clearinghouse for the gathering and dissemination of positive compelling news stories from around the globe. Daily stories will confirm what we already believe: good news itself is not in short supply; the advertising of it is.


DailyGood is a portal that shares inspiring quotes and news stories that focus on the "good" you can find in your world daily along with a simple action to continue that goodness. Since 1999, Daily Good has delivered positive news to subscriber inboxes for free by volunteers every day.


Good News Plant offers news and entertainment about people making a positive, constructive impact on society, no matter what the obstacles are. They call it "Upbeat–not beat up, solutions-oriented news."


MSN saw the need and benefit of positive news stories and they created a "Good News" section of their news website. MSN Good News shares uplifting world news and coverage of breaking good news.


Happy News is committed to positive real-world international stories about business, health, science & technology, arts & entertainment, sports, heroes, and more. This website is the online version of Happy Living Magazine.


Sunny Skyz was launched in January of 2012 by Chris Filippou in order to promote good news stories from around the world. It has since evolved into a place that promotes love, laughter, and kindness, in the form of videos, blogs, pictures, news, and more.
There you have it; a dose of positive good news any time you need it!
Enjoy your positive Thursday and do something for your big dream.
"Andi" Andrea Teggart
Andrea Teggart considers herself a glass half full kind of girl. While managing a digital marketing shop and a growing family, Andi's big dream is to be a life coach. You can find more from Andi on her Blog, Lucky Collective where she shares her stories about life, motherhood, home decor, self-love and inspiration, travel, and her family adventures.

Enjoy this special 8WomenDream Guest Contributor story submitted by new and experienced big dreamers throughout the world, edited and published to capture a dream perspective from different points of view. Do you have a personal dream story to share with 8WomenDream readers? Click here to learn how to submit dream big articles for consideration.
Note: Articles by Guest Post Contributors may contain affiliate links and may be compensated if you make a purchase after clicking on an affiliate link.