Last updated on February 2nd, 2015 at 12:07 am
February… the month of love. Valentine's Day gives us a reminder mid-month, but I've been focused on love for a while now. Enough so that I had an uber-domestic moment and made a hand-cut heart shaped 2-layer cake for my husband and son on Valentines Day.
My diet suffered, but sometimes working hard to enjoy something is worth it.
Lots of product launch love
Once the sugar high from the cake wore off, I realized I have loved the momentum I have on my product launch projects. Better yet, I am learning to love the process even though they aren't always my favorite things to do.
The focus on my product launch dreams has been intense the past 4 weeks.
Here is recap of what I've launched, researched and am madly working on.
8 Women Dream Shop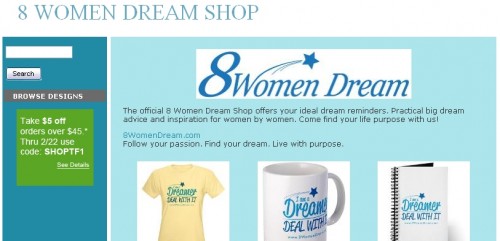 This launch was a long time in coming and I'm so happy that Catherine and I were able to make this happen. In my post this month "Announcing The 8 Women Dream Shop: Get Some Valentine Love For Your Dream" I detail the lessons learned while launching the shop and offer advice on getting it right.
Crush It!
I wrapped up reading Crush It!
the second time, cover to cover. I have to say I got more out of the second time. This could be the fact that I'm in a completely different mind set and like most learning experiences, your perception can change how you take the information in.
I've listed the suggestions I'm taking away from Gary Vaynerchuk's Crush It! for my product launch plans:
Video:
I'll be doing these on my status updates here every month here on 8 Women Dream. Once I get used to the concept and seeing myself on video (scary) I'll be rolling it out to my other primary ventures.
Show the process of a piece of jewelry in development on For Your Adornment.
Field reports with Ray when we are out at photography events for Sonoma County Photography Group. These videos will cover basic techniques for the type of shoot and how to adjust real-time once you are in the environment. We will highlight them his blog R.Mabry Photography.
Photo:
Flickr has been a great networking tool for my husband/photographer Ray's photo adventures. We have never totally included his portfolio here though. Duh.
We are brand new on Pinterest and I feel like I missed a memo. This is far more dangerous than Facebook for sucking you in. I have a goal to be here daily for ALL the blogs. There are way too many fascinating things happening.
There's a plugin for that — I am testing out a couple plugins on R.Mabry Photography for easy photo sharing and will let you know what I find works out.
Live Streaming:
Once I get over my video phobia, this is one I will have to work up my courage to try. Ustream.com offers live streaming video TV shows. All you, all the time. Little scary to think about that right now. There is a great opportunity to highlight your work.
On For Your Adornment, I can walk through the entire jewelry creation process in one show, live and ready to purchase.
This is also a great format for R.Mabry Photography can offer tutorials and parts of his very in-depth and very long training classes.
Domains:
According to Gary, you need to stop reading and go do this: register your name with the .tv domain extension.
For example, I just purchased the domain: HeatherMontgomery.tv. It's being set up now so I can check that off my list.
Quick note… be prepared. They are not as cheap as .com or .biz domains.
Promote:
Now I have several domains purchased that are not doing anything for me right now. This is a no-no. I will set them up with a basic WordPress install and content. For those that I know will sit a while, at least I have them redirected to other sites that are active.
Publish all the video… everywhere. One of the best tips I picked up on from Gary now that I am open to video is using a video distribution tool, like Oneload.com. Commercial packaged are not free, but the time saved in uploading will be worth it once things get rolling. For now I'll be publishing on YouTube and use smaller-but-growing video distribution like Facebook, Viddler and Blip.tv to get to alternative audiences.
Your text content may need help getting out there too. I had used Ping.fm in the past to update all the social media sites and it's time to get back in the habit.
Are all your social media links on your business card? Basic contact information now includes Facebook, Twitter, LinkedIn and your blog.
Just scraping the surface
That is a hell of a list, and I am just getting to the highlights of Crush It! that I plan to take action on in the next few months. The good news is that several of these on my product launch "to-do" list are already under way in some shape or form.
Keeping momentum is so much easier than stopping and getting started again. I felt this when working with my web clients over the years. I felt it when I stopped doing cardio twice a day for the first few weeks in January.
I'm feeling the benefit of momentum with my product launch projects. Like more has being completed in the last 8 weeks than in the last year. Cool feeling.
What will keep your dream momentum going?
Heather Montgomery

Heather Montgomery is a fitness writer, triathlete, and serial entrepreneur who is devoted to sharing what she has learned about becoming a triathlete after age 40. She uses her Metabolic Training Certification to help other women struggling to get fit in mid-life. She lives and trains in Santa Rosa, California, the new home of the Ironman triathlon. You can find her biking the Sonoma County wine trails.
Note: Articles by Heather may contain affiliate links and will be compensated if you make a purchase after clicking on an affiliate link.