Last updated on March 3rd, 2010 at 11:28 pm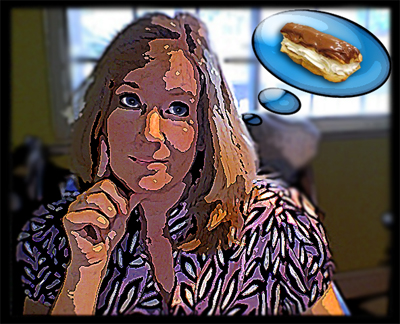 To all of those younger women in their twenties or early thirties, DON'T GAIN WEIGHT! And if you need to lose it, DO IT NOW! It's true what they say after you turn 40.
It's a bitch to get off.
The last time I tried to lose weight was 3 years ago before I turned 40. I did OK, but gave up too quickly. Now that I'm serious about it I can't believe how hard it is. I've been cutting back on sugar and fat.
I've been walking hills 3 times a week and riding my stationary bike 3 times a week, and being pretty consistent (a miss here and there). I'm even going to try a Zumba class (yikes!) I'll tell you how that goes next week.
Why am I not losing 3 pounds a week like I used to in my 20's… it can't be that I'm old!
I must say that I feel great though. Even though the weight loss is painstakingly slow and sometimes I think, "Why the hell can't I eat that damn donut, I'm not losing anything anyway."
My aches and pains and headaches are going away. Gee, the concept of "you are what you eat" is actually true. I never wanted to believe it. So I must be doing something right.
Yeah, yeah, keep it up. I'll get there.
I might be changing my month for New York to early June. My daughter is now worried about missing any high school. I figure it won't be too hot then, and some schools are still in session. I'm putting a tentative itinerary together.
If there is anything on here that is a complete rip off and you wouldn't send your worst enemy to…please tell me.
Day 1 — Arrive and have a nice dinner
Day 2 — Manhattan Day Tour (Is this worth it?)
Board an enclosed motor coach and get ready to take in Manhattan's sights! Drive by Times Square, Madison Square Garden, the Flatiron building, Greenwich Village, SoHo, Little Italy, and Battery Park. Board a ferry for a one-hour cruise with close-up views of the Statue of   Liberty, Ellis Island, and the Brooklyn Bridge.
Back on land, your tour continues through Central Park, the Cathedral of St. John the Divine, Grant's Tomb, Harlem, the Museum Mile, Fifth Avenue, Rockefeller Center, and more!
You'll stop approximately 4 to 5 times throughout your day at the following stops: the Statue of Liberty, the United Nations Building, and the Cathedral of St. John the Divine.

Day 3 — Try to get on a morning show/check out museums/explore areas of choice
Day 4 — Empire State Building/more exploring/Shrek Broadway Show or Lion King
Day 5 — Washington all day tour
Day 6 — Blue Man Group show (we'll be in the poncho area getting slimmed)
Day 7 — Shopping and explore Central Park
Day 8 — Home

I was going to do the NBC Tour and dinner at the Tavern on the Green, but I looked at the reviews on them and people were complaining that they were a waste of money. I don't want to pay $80 a person for dinner and have it be average. That's one of my pet peeves. Don't mess with my food!
I did have some amazing cuisine this weekend though. I went to a cute little restaurant in Lafayette for "high tea" with my mom and sis for my birthday, and had a great dinner on Sunday at my new favorite place in Monte Rio called Café Les Jumelles. Wonderful fresh food. Love it! (I have to remember my new phrase when I go out to eat, portion control).
I received the cutest shoes and purse from my beautiful daughters and husband for my birthday. So not too bad of a week.
Let me know your thoughts.
Till next time.
Kim.
(Kim has already accomplished her first big dream by traveling to New York with her teenage daughter June of 2009. She lost 20 pounds and overcame her intense dislike (do we say fear?) of flying to accomplish that dream. She rotated off the blog in February 2010, but still hangs out with 8 Women Dream.  You can find her in the comments section)

Enjoy this special 8WomenDream Guest Contributor story submitted by new and experienced big dreamers throughout the world, edited and published to capture a dream perspective from different points of view. Do you have a personal dream story to share with 8WomenDream readers? Click here to learn how to submit dream big articles for consideration.
Note: Articles by Guest Post Contributors may contain affiliate links and may be compensated if you make a purchase after clicking on an affiliate link.