Last updated on November 20th, 2018 at 01:54 pm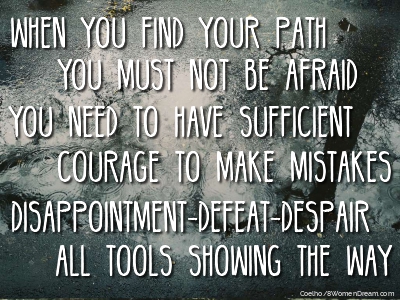 What do you do when your dream doesn't go your way?
We've all been there. We keep trying and trying to make a particular dream come true, and it just doesn't seem to be happening. Is there a stopping point? How long do you keep trying?
Until you get there?
Sometimes it feels like you'll never accomplish your big dream. How do you keep going? Where does the inspiration come? How do you not just crawl into a hole and never come out because you're not getting the results you want?
Yeah, yeah, people will tell you only to be grateful for everything you have in your life right now, and all will be well. You can use gratitude to a point, but sometimes you want more, and you want more right now.
When I start feeling this way about my big dreams, I look at my children. I pause and reflect on how resilient they are about their life's ups and downs. Ahh, to be a kid again. They sure know how to live in the moment.
We can learn a lot from kids about experiencing the moment we're in rather than regretting the past and lamenting the future.
When my big dream becomes frustrating and disappointing I know, it is a sign that I need to step away from myself and focus on something else. For me, volunteering helps me get a raincheck on my "Debbie Downer" feelings. Not only does volunteering help other people, but it also forces me to be grateful for all that I have going for me in my life right now–even when I don't want to do the whole gratitude bit. And you never know, volunteering could lead to a big dream career breakthrough.
In the meantime, I'll still be looking at beautiful Graphic Design projects and registering for freelance design work.
I'll still be walking 3-4 days a week and continue eating healthily.
I'll still be thinking about my next dream on my bucket list after I've accomplished my latest dream goal of landing a killer graphic design job. I will feel better about where my dream progress is going if I'm not dwelling on job hunting seven days a week and take a small mental break.
It's important to stop, recognize the negative feelings when your dream isn't going your way and feel the disappointment before moving on. Feeling discouraged can help you evaluate where you are and allow you to reevaluate and adjust your plans. It doesn't mean you need to give up, but maybe the approach you are taking isn't the right one.
You are worth the effort and so is your big dream!
Kim Aikawa
Kim has accomplished her first big dream by traveling to New York with her teenage daughter. She lost 20 pounds and overcame her intense dislike (do we say fear?) of flying to accomplish that dream. She now aspires to be a famous graphic designer while traveling the world.

Enjoy this special 8WomenDream Guest Contributor story submitted by new and experienced big dreamers throughout the world, edited and published to capture a dream perspective from different points of view. Do you have a personal dream story to share with 8WomenDream readers? Click here to learn how to submit dream big articles for consideration.
Note: Articles by Guest Post Contributors may contain affiliate links and may be compensated if you make a purchase after clicking on an affiliate link.