Last updated on September 23rd, 2022 at 02:21 pm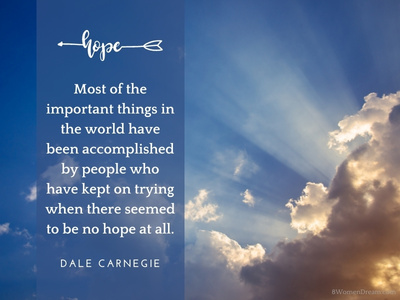 This week I am grateful for the ability to keep hope alive while pursuing my big dreams.
Motivational speaker, Dale Carnegie once said,
"Most of the important things in the world have been accomplished by people who have kept on trying when there seemed to be no hope at all."
When my daughter was born I decided to start my first blog. I'd finally decided to pursue my dream of sharing inspirational stories and writing about my experiences speaking to young women in South Africa.
I wasn't sure how I'd be at writing and publishing online, but the ritual of sitting down and publishing my thoughts made me feel stronger and more confident.
Writing, as it turned out, gave me hope.
No matter how busy I am–no matter if my daughter has interrupted me when I am in the middle of organizing my thoughts–no matter if I am sleepy–I have to write.  If I don't, I begin to lose hope that I can achieve my dreams.
I reach out to other successful women online to interview them and write about how they achieved success. At first, it seemed like no one was paying much attention to what I was doing, but after a year, my inspirational take on life began to spread around the web and in South Africa.
My first big dream success came when I was published in a UK magazine.
I wrote an article called, "Why Being Positive is Good for the Soul" which was accepted for publication. Seeing my work published in a magazine with other amazing women, along with the support from my friends and family, left me feeling filled with hope that I am able to make my dreams come true.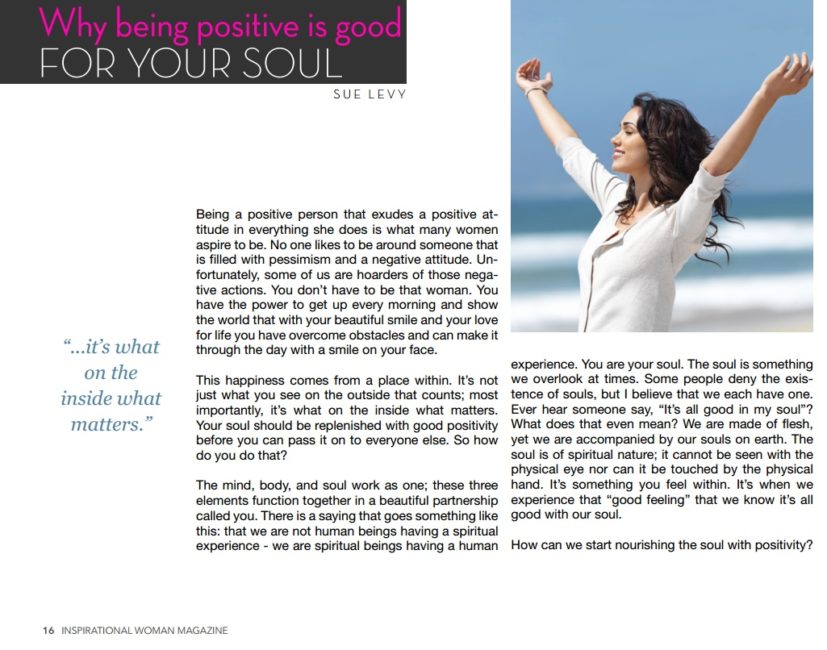 It felt wonderful to see my words in print–especially since I hadn't been 100% convinced that anyone would care about what I had to say about success and thriving as a woman in South Africa.  Before the magazine article, I wasn't certain that I can change my little corner of the world.
Everyone who has a big dream has been forced to go through trials on the path toward dream achievement. Reading through what women told me in their interviews makes it clear that successful people make a lot of mistakes and experience big setbacks–especially at the beginning of their journey.
The difference is that successful dreamers don't give up hope. They treat their setbacks and mistakes as food for their journey. They grow stronger in their belief that it's going to all work out in the end.
Successful dreamers nourish hope with education, practice, networking, feedback, and giving more of themselves. They try again–and again–and again– each time perfecting or changing a way of doing things to achieve a different outcome.
Through mental toughness and perseverance, they find hope to carry on.
There will be dark nights of your dreaming soul. Sometimes you have to do other work to sustain you while you are on your dream journey.  You may spend years feeling like nothing is ever going to change. Then one day your phone rings and you find yourself speaking in front of thousands of young women.
Hope is defined as an optimistic attitude of mind based on an expectation of positive outcomes related to events and circumstances in one's life or the world at large. (source Wikipedia)
Hope is what makes dreams possible. Hope is what gets you out of bed in the morning.  
Hope is the part of your heart that you share with the world.
Hope is your dream gasoline.
Hope is the emotion that keeps you in the game.
If you are in a period of darkness in your dream journey, where you believe that nothing is ever going to change and no one is paying attention to the work that you are doing–know that hope is there for you if you will just reach out to meet it.
Allow what is disappointing you to wash over you and move on. Know in your heart that your dream is rooting for you as much as you need it.
Every morning is a new day.  Look around you.  See what is working in your life. Recognize the accomplishments you have achieved thus far. Don't overlook the fact that you have eyes in which to see the world, a place to sleep, food in your kitchen and so many things that are easy to overlook that naturally work in our lives.
Here are some interesting facts about famous people who never gave up on hope
• Thomas Edison's teachers said he was "too stupid to learn anything." He was fired from his first two jobs for being "non-productive." As an inventor, Edison made 1,000 unsuccessful attempts at inventing the light bulb. When a reporter asked, "How did it feel to fail 1,000 times?" Edison replied, "I didn't fail 1,000 times. The light bulb was an invention with 1,000 steps."
• Henry Ford failed and went broke five times before he succeeded.
• Albert Einstein did not speak until he was 4 years old and did not read until he was 7. His parents thought he was "sub-normal," and one of his teachers described him as "mentally slow, unsociable, and adrift forever in foolish dreams." He was expelled from school and was refused admittance to the Zurich Polytechnic School. He did eventually learn to speak and read. Even do a little math.
• Walt Disney was fired by a newspaper editor because "he lacked imagination and had no good ideas." He went bankrupt several times before he built Disneyland. In fact, the proposed park was rejected by the city of Anaheim on the grounds that it would only attract riffraff.
• English crime novelist John Creasey got 753 rejection slips before he published 564 books.
• Leo Tolstoy flunked out of college. He was described as both "unable and unwilling to learn." No doubt a slow developer.
Don't give up on what you feel you are destined to become. Know that you have value. Know that you deserve your dream and go for it with all your heart.  You were put on this earth for a reason. Give yourself permission to feel that everything will eventually work out in your favor.
Your greatest glory is not in never falling, but in rising with hope every time you do.
Today, get up and grab hope by the hand and let it take you to places you never imagined possible.
Start with a little gratitude and let hope lead your way.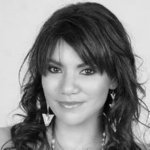 Sue Levy is the founder of the South African Just Pursue It Blog and Inspirational Women Initiative. She's a motivational writer and media designer, who is obsessed with everything inspirational with a hint of geek. She thrives on teaching women how to be brave and take big chances on themselves. You can find Sue on her Twitter page @Sue_Levy.
Note: Articles by Sue may contain affiliate links and may be compensated if you make a purchase after clicking on an affiliate link.