Last updated on July 21st, 2022 at 11:48 am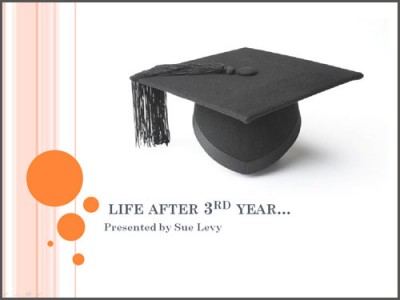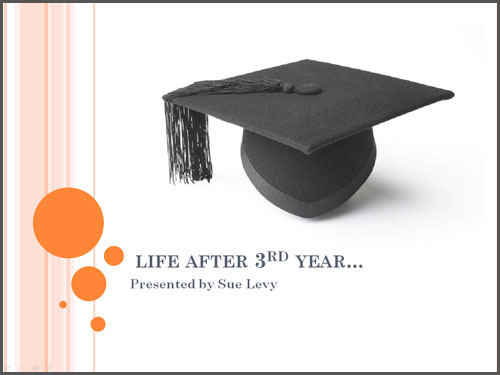 My dream of becoming a motivational speaker in South Africa is starting to materialize because I've taken baby steps to move my big dream along.
I was invited to give a presentation at my school, The Cape Peninsula University of Technology (CPUT) in Cape Town, South Africa. Each year, the university invites a few Alumni to speak and share their life experiences and offer advice for the incoming senior class.
I graduated in 2006 with an ND in Multimedia Technology, so it was an honor for me to chronicle the story of my personal experience with the 3rd year Multimedia class and share the stage with a friend from my graduating class, Clement Newton.
I decided to not show samples of my current design work, but to instead use the opportunity to offer some advice. My presentation was titled: Life After 3rd Year
I wanted to be honest with the students about what to expect in the coming years. I called one of my slides "The Ugly Truth" and another "Moving Forward." I wasn't trying to scare them about life in their senior year after graduation. I wanted them to understand that the concrete jungle is filled with surprises, some good and some not-so-good.
I want the best for them in their future lives–their future success matters to me. It's not always easy in South Africa.
They are young with so much potential because of the education they receive, but they just don't yet know how much their studies will shape their future.
I offered motivational tidbits on the importance of completing their studies, graduating, and taking risks for the careers they seek. The longer I spoke, the more I realized what I've been through since graduation–how the low moments brought me to speak to them. The presentation was well received. I asked for questions from students and I was caught off guard when someone shouted "Are you single?" Oh, Lord! The embarrassment! I wasn't expecting that kind of feedback.
The lead lecturer Tanya Daniels, responded for me "You can answer that by introducing our next speaker!" I then introduced my husband, Aslam. Contagious laughter echoed in the room. What a moment.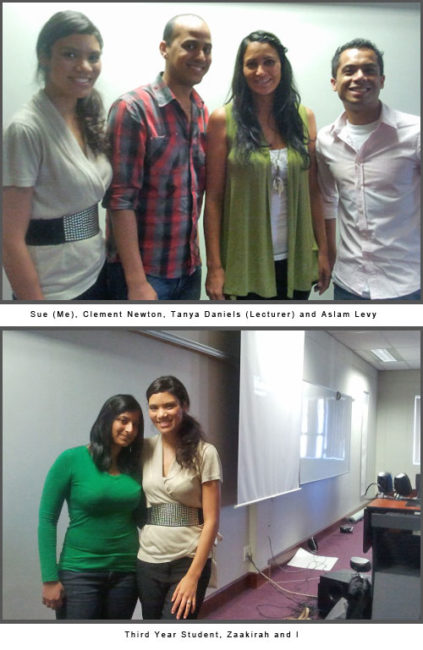 Seeing Aslam speak was a proud moment. His presentation brought back all of the memories of the missteps and achievements that we've gone through together post-graduation. And, how we persevered through job rejections to become professionals in the technical world here in South Africa.
The event ended on a high note with lots of applause and it appeared the students learned some new things.
As we were leaving, I was approached by a young lady who wanted advice about the direction of her career after graduation.  She reminded me of myself at age 20–so enthusiastic–yet, so afraid of the future. I told her the main thing is not to put too much pressure on herself.
Try everything and let your gut guide your choices.
My dream of becoming a motivational speaker was a passion I didn't know existed until recently. Sometimes your life path unfolds while you are living your life focused on other goals.
I received this lovely feedback:
Hi Sue,

I met you today and it was an amazing experience. To meet someone who is similar is completely out of this world. Just this morning I was saying that I need advice from someone who has been in my position. You have inspired and motivated me with your presentation and I really appreciate it.

Thank you for giving me a sense of direction in the field I would suit best in.
I found her kind words humbling. I teared up because I felt I'd made a difference in someone's life which is exactly why I became a motivational speaker. Even if it's just one person–it's one step on my big dream journey to inspire women in South Africa.
Here's some advice from American keynote speaker and businessman, Gary Vaynerchuk on what to do after graduation:
Sue Faith Levy
Sue Faith Levy is an experienced marketing specialist in Capetown, South Africa who gives motivational speeches to young people.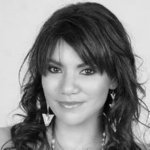 Sue Levy is the founder of the South African Just Pursue It Blog and Inspirational Women Initiative. She's a motivational writer and media designer, who is obsessed with everything inspirational with a hint of geek. She thrives on teaching women how to be brave and take big chances on themselves. You can find Sue on her Twitter page @Sue_Levy.
Note: Articles by Sue may contain affiliate links and may be compensated if you make a purchase after clicking on an affiliate link.