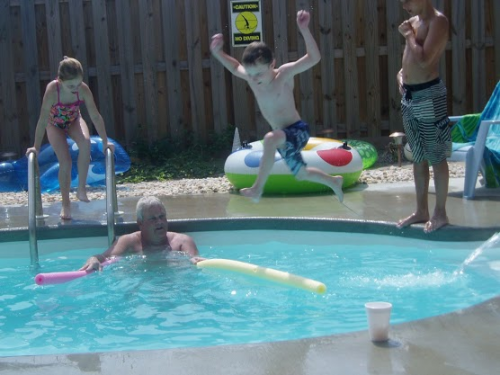 Another Day At The Pool
So my son comes running up to me at the pool and says, "Mom! I need money for the confession stand!"
"Well, you haven't been very good this year," I said, "Here's a twenty. And don't tell them that Mommy has rum hidden in her pool bag!"
How the story really went:
So yeah. That was a cute little story of something my son really said.  In case you didn't get it, he said "confession stand" instead of "concession stand."
But that's not exactly the way it happened. Here's what really happened:
I'm dropping my son off at his friend's house for a play date so she can take both the boys to their neighborhood swimming pool. I'm sitting in the driveway talking with his mother, when my son runs back to my car. He leans over and says, "Mom – you forgot to give me money for the confession stand."  We all busted out laughing.
End of story.
I knew there was something there worth repeating – something that would make for a cute little story. But I knew it was too cluttered. It was too confusing to have to tell you that I was dropping him off, sitting in someone's driving, chatting, they were going to his pool. I knew you would be bored before I could even get to the good part. So I shortened it, and made it closer to home.
The weaker the joke, the faster you'd better get to the punch line.
Simplify Your Story To Have More Impact
The tighter you make your story, the better it will be. Brevity is the true secret if you want to know how to tell a story well.
Try to make the story happen to you and just jump to the moment.
The biggest mistake speakers make when telling a story is cluttering it with too many unnecessary (translated: boring) details. And we simply don't care. Get right to the moment. Take out all extra details, all extra people, and bring it closer to home. Have it happen to you. Which is exactly what I did, and the reason the first story in this post is much better than the way it really happened.
The more disconnected you are with the story, the more disconnected we are.
As speakers you are paid to be engaging, not to tell the truth. Let go of this feeling that you have to tell the story exactly the way it went. I promise, it will make you better  and your audiences will love you more.
So instead of telling a story about this guy your husband once knew who had a friend, just tell me you once had a friend.
Simplify your stories for bigger impact.
Juggles The Clown by Motivational Speaker Kelly Swanson
Okay, so this was like four years ago and three wigs ago – but here's an example I dug up of a really short story that has a really big impact.
If you want to learn how to write your signature story, check out my Storytelling Master Class. Six 90-Minute Teleseminars taking you all stages of the story process.
Come in with an idea, leave with a masterpiece.
Click here to find out more about the Master Class.
Kelly
Kelly Swanson is an award-winning storyteller, comedian, motivational speaker, Huffington Post Contributor, and cast member of The Fashion Hero television show airing on Amazon Prime. She is also the author of Who Hijacked My Fairy Tale, The Land of If Only, The Story Formula, and The Affirmation Journal for Positive Thinking. She was a featured entertainer for Holland America Cruise Lines, keynote speaker for the International Toastmasters Convention, and has keynoted major conferences and corporate events from coast to coast. She just launched her one-woman show Who Hijacked My Fairy Tale in theaters, and it is being booked all over the country. In July of 2022, she was inducted into the National Speakers Association Speaker Hall of Fame.
Note: Articles by Kelly may contain affiliate links and may be compensated if you make a purchase after clicking on an affiliate link.