Last updated on November 12th, 2018 at 11:34 pm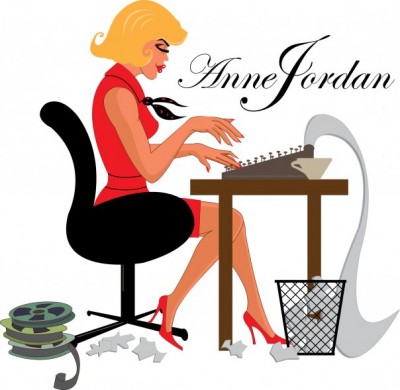 As the the dreamer who dreams of getting a screenplay produced, I was pretty damned excited when I scored an interview with Anne Jordan, screen writing instructor and mentor. This was a golden opportunity to pick her brain and discover how she has succeeded in getting her various dreams realized.
I first met Anne in 2009 when I enrolled in her screenwriting class at Santa Rosa Junior College. At her suggestion, I became a member of the Northern California Screenwriters group.
This weekly group is dedicated to the education and support of screenwriters, actors and filmmakers.
A little bio on Anne, she . . .
was born in Kansas and raised in Los Angeles.
graduated with a B.A. in Ancient History (Greek and Roman) focusing on Egyptian medicine.
attended McGeorge Law School at University of Davis.
invented rice filled microwave wraps in 1994.
married a Saudi Prince.
wrote a syndicated column for a national magazine.
authored two books and 11 screenplays.
analyzes scripts.
teaches screen writing classes at Santa Rosa Junior College, Sonoma State University and College of Marin.
founded the Northern California Screenwriter's Expo.
Laurie (my writing partner and best friend) and I met Anne at Jeffrey's Hillside Cafe in Santa Rosa, California for breakfast. In between bites of Eggs Benedict, Vegetable Hash (kudos to Chef Jeffrey Madura) and cupfuls of robust coffee, Anne shared with us, what's been going on in her creative universe.
She let us in on a few of her top secret projects. Project A got me so excited that I was salivating Pavlov style. I was sworn to secrecy, but I can divulge this show will enlighten millions.
As we finished up our scrumptious breakfast, I begin the Question and Answer portion of the interview:
1. As a script analyst, what do you find are the most common mistakes screenwriters make?
A. Using too much description. The goal is to describe the scene in as few words as possible. And B. Using ing as in verb. Repeat, be as economical with words and endings.
2. Can you get a screenplay sold without an agent?
A. Yes, 95% of scripts are sold without one.

If you're going the no agent route, one suggestion would to be finding an young actor struggling to get ahead to be attached to your screenplay. Maybe someone Disney is grooming to make the transition from juvenile roles to young women roles. Possibly an actress in a soap opera who wants to transition onto the big screen.

Next, find a director. There are many talented hungry directors from NYU and UCLA looking for their big break into the movies. They are directing music videos (YouTube), web shows and commercials online. Study their work and see if their style will mesh well with your script.

You will approach the director (or his people) and tell them about your project and that you have *star's name* attached. This will give your work more validity and may entice the director to come on board.

Hopefully, you will be called to take a meeting. Cardinal rule: Once you're in the room, always take the water. If you're nervous, it will give you something to do with your hands. If you decline the offer and start coughing, someone will have to get up and go and get you a glass of water. Uncomfortable to say the least!

Present your project as if you know the business!

Discuss casting

Your overview of the screenplay

How much it will cost to get your movie produced

Make sure you leave them with all your contact information

Show your passion, it's infectious

Good luck on your meeting and all future ones!
Here's Anne Jordan being interviewed by Steve Jackson on The Drive radio show (give it 1 minute until his entrance comments are over) –
Stay tuned until next week for Part II of my interview with Anne Jordan, Goddess of mentoring and support.
How has your mentor helped you achieve your dreams? Have you mentored someone?
"Mentor – someone whose hindsight can become your foresight." ~Anonymous
Cut –
Toni
Toni left 8 Women Dream in November of 2010 to work exclusively on her screenplay and Club B.


Enjoy this special 8WomenDream Guest Contributor story submitted by new and experienced big dreamers throughout the world, edited and published to capture a dream perspective from different points of view. Do you have a personal dream story to share with 8WomenDream readers? Click here to learn how to submit dream big articles for consideration.
Note: Articles by Guest Post Contributors may contain affiliate links and may be compensated if you make a purchase after clicking on an affiliate link.