Last updated on August 28th, 2012 at 07:16 am
As the coral sun slipped below the horizon, the silhouettes of surfers bobbing in the waves, we sipped vino tinto, nibbled on bread and queso de cabra, and laughed with our Argentinian-American waiter who according to my sister-in-law was formerly the star of a TV comedy show here in San Sebastian, Spain.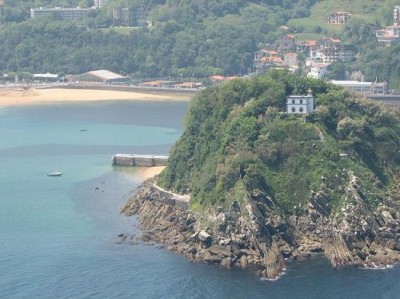 It was just another magical night in Spain. My family was nestled into the cove in San Sebastian's smaller beach to the east, dining al fresco, with just a low stone wall dividing the restaurant terrace from the sand of this surfing beach.
To our left, a tall hill named Ulia, to our right, the hill topped by the statue of El Cristo (Jesus Christ). The waves were just 50 meters away.
We feasted on grilled fish, dorado and merluza, downed a few bottles of red and white wine, and capped it off with los postres: sorbet flavored with ginger and vodka, and tiramisu.
The old section of town called La Parte Vieja was within walking distance, just across one of the five bridges that span the canal that bisects this picturesque city of 200,000.
San Sebastian, which is located in Basque country just west of the border with France, has everything I love in a city: mountains, the sea, historic buildings, fine food and wine, dance clubs, and of course handsome Spanish men with olive skin and dark hair and eyes.
Las Vacaciones con Mi Familia
Today marks one week into my vacation with family in Spain. I spent the first two days in Barcelona, one of my favorite cities anywhere around the globe.
This city of one-and-a-half million people is a living work of art, with Romanesque, Gothic and Modernista influences in its architecture and art. Barcelona is avant-garde, once home to artists like Antonio Gaudi whose masterwork, La Sagrada Familia, is still under construction years after his death.
Gaudi spent 40 years working on the cathedral, which when completed will feature 18 towers, more than 100 meters high, representing the 12 apostles, four evangelists, and Mary. The church is whimsical, fantastical, like the rest of the city, everything curved, sculpted, arced, cartoonish, over-the-top, like no building you've ever seen.
Gaudi's works can be found throughout Barcelona, often right in the middle of an otherwise ordinary city streetscape. You can spot a Gaudi by the curving roofline, the mushrooming sculptures on the roof, the colorful tile mosaic facades, the wrought iron detailing on the balconies that look organic, like a tangle of vines growing wild.
The Dragon House
I find Gaudi, and the whole city, enchanting. On my first night there, my friend Emily and I wandered a few blocks from our hostel, looking for somewhere to dine al fresco. We ended up on a block with Casa Battlo, one of Gaudi's other masterpieces, on one end.
The facade is an allegory for the legend of St. George, the dragon-slayer. It is curving and colorful, with a facade of blue, green and purple tile mosaic and balconies like clam shells.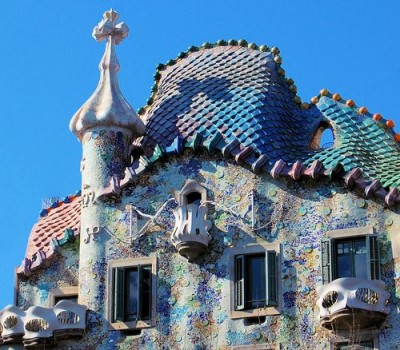 The sky darkened as we drank our way through a bottle of wine. Then the lights came on, lighting up the balconies. The sky was cerulean, turning a deeper and deeper blue in the twilight hour.
We ate an arugula and avocado salad with fresh mozzarella, sipped our glasses of Spanish tempranillo wine, and split monkfish and shrimp kabobs and pappardelle pasta — wide flat noodles with spaghetti sauce and shrimp.
Dessert was orange-flavored chocolate mousse in a dark chocolate cup with lemon sorbet on the side, and tiramisu. Heavenly.
Coincidentally, the block where we sat at our sidewalk table, watching the sky deepen and Gaudi's building light up, also featured a few other architectural masterpieces: Casa Amatller by Josep Puig I Cadafalch and Casa Lleo Morera by Lluis Domenech i Montaner.
La Manzana de Discordia
I later read in a guidebook that they call this block, with its eclectic mix of architectural styles, "La Manzana de Discordia." Manzana means both "block" and "apple" and the name — the "Block/Apple of Discord" — is a wordplay on an ancient Greek myth. How serendipitous that we landed on this famous block for dinner.
The next day was spent meandering along La Rambla, Barcelona's most famous boulevard that is bustling with life and full of street artists dressed in wild costumes who pose for photos with tourists for a few Euro coins.
We bought fresh fruit and coconut juice at La Boqueria, the farmers' market in the middle of La Rambla, and took the fruit down to the water. We sat on the pier as the sun set, nibbling on cherries, mango, and fresh coconut.
Dinner would be tapas and sangria on a boat, where we met two Spanish men who insisted on taking us out for more tapas later at what they said was the best tapas bar in all of Barcelona. Although I am a pescaterian in the US, I tried the beef, foie gras and chorizo they served us, followed by sambucca shots.
While in a foreign country, why not sample the delicacies?
Life is too short to be a purist, at least in my humble opinion.
Dos Semanas Mas…
Two more weeks yet to go here in San Sebastian. I'll see friends from Argentina and NYC who are visiting. I'm sure I'll drink a lot more red wine, eat some more tapas and pastries, climb more hills, see more monuments, shop in more colorful shops.
I have taken a few days off from working on my book, simply enjoying my time here. I will jump back into it next week, resume editing, and write another 10 to 20 pages before I leave.
But right now I am simply focused on the sensuous pleasures of simply being here and living life. My dream will survive a few weeks of me simply loving my beautiful life, and in fact, these days and hours will make the achievement of my dream, and my life, that much sweeter.
It's good to take a break from everything sometimes and just to enjoy all the simple gifts that come with being alive on this vibrant, diverse planet — beauty in all its forms, good food and wine, music, sunsets, sunrises (if I am ever up early enough to catch one of those — for me that is most likely to happen if I've been up all night!).
While You Are Alive, Remember to Simply Live…
I wish for this for everyone — to have the chance to travel the world, spend time with family and friends, experience new cultures, simply drink in beauty and new flavors, to truly savor experiencing something exotic and new. Times like these make me so grateful that I have survived what I've survived in my life, and that I'm still here to simply experience the beauty of life.
As my blog title says, I feel like "la mariposa," the butterfly, bright and colorful with a beauty that is uniquely mine. My experiences, my travels, my adventures around the world, help me to experience a colorful, vibrant life that shape me into the woman I am and make me feel more alive.
After cocooning to heal from the past, it feels good to fly.
What are the experiences that make you the most grateful to be alive? And can you practice just experiencing beauty and aliveness wherever you are in your life right now?
Lisa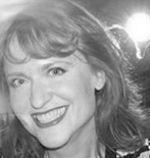 Lisa P. Graham is an inspirational writer, life coach, TED motivational speaker, and globe-trotter whose passion is to help others to find happiness and meaning in their daily lives. A political activist at heart, Lisa would like to empower more women to run for political office as a way to create positive change in the world. You can find her on her website or watch her TEDx speech on YouTube.
Note: Articles by Lisa may contain affiliate links and may be compensated if you make a purchase after clicking on an affiliate link.