Last updated on April 1st, 2012 at 02:36 pm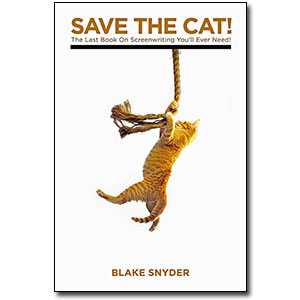 Are you someone who dreams of having your screenplay produced? Are you dreaming of writing a screenplay because you have had your fill of box office bombs? Do you have a dream idea that you think will be the next blockbuster?
Are you confused and don't know where to begin?
I have something that will clear up that confusion. Let me introduce to you one of the few books on screen writing you'll ever need.
It's called, Save the Cat and it's written by Blake Snyder, one of the most successful spec (a script written on the speculation that someone will buy it) screenwriters in Hollywood.
Too many screen writing books are penned by writers who have sold a script.
Blake has been in the biz since he was eight years old and has made millions of dollars doing so. He has primarily written this book because his frustration with the lack of common sense he sees in many of the movies being made today.
What does Saving the Cat have to do with writing a screenplay?
It's a basic tenet of the screenplay that isn't put into movies anymore. It's the scene where we meet the hero and the hero does something-like saving a cat-that defines who he is and make us, the audience, like him.
Excerpt from Saving the Cat –
In the thriller, "Sea of Love", Al Pacino is a cop. Scene one finds him in the middle of a sting operation. Parole violators have been lured by the promise of meeting the N.Y. Yankees, but when they arrive it's Al and his cop buddies waiting to bust them. So Al's "cool". (He's got a cool idea for a sting anyway.) But on his way out he does something nice. Al spots another lawbreaker, who's brought his son, coming late to the sting. Seeing the Dad with his kid, Al flashes his badge at the man who nods in understanding and exits quick. Al lets this guy off the hook because he has his young son with him. And just so you know Al hasn't gone totally soft, he also gets to say a cool line to the crook: "Catch you later." Well, I don't know about you, but I like Al. I'll go anywhere he takes me now and you know what else? I'll be rooting to see him win. All based on a two second interaction between Al and a Dad with his baseball-fan kid.
Blake lets his readers in on the tools needed to write a successful screenplay in the kind of language screenwriters and movie executives use.
He teaches the reader:
How to write an unforgettable logline
Why genre is so important to your script
Coming up with your hero and antagonist
The Blake Snyder Beat Sheet
Structure is the most important element in the writing and selling of a screenplay
Common sense rules of screenwriting based on experience in the trenches of Hollywood
Marketing your screenplay
Susan Jansen, Writer-Producer of The Lizzie McGuire Movie, Maybe ThisTime, Boy Meets World and writer of Home Improvement says this about Save The Cat:
Shockingly informative, stunningly funny-I wish I'd had "Save the Cat" to read when I was just starting out. It would have saved time, tears and trees.
This will be my go-to guide when writing my next screenplay.
Don't miss out on the chance to learn his winning formula when you take pen to paper and write your own dream screenplay.
Epilogue -Tragically Blake died of a pulmonary embolism on August 4, 2009.
Fortunately for his readers, he had written a second book before his death, "Saving The Cat Strikes Back." It was inspired by questions from his workshops, lectures and emails.
I wish you all the best in writing your own dream screenplay.
Would you like to share your ideas for a movie? I'm looking forward to your responses.
Toni
Toni left 8 Women Dream to work on CLub B and focus on her screenplay.

Enjoy this special 8WomenDream Guest Contributor story submitted by new and experienced big dreamers throughout the world, edited and published to capture a dream perspective from different points of view. Do you have a personal dream story to share with 8WomenDream readers? Click here to learn how to submit dream big articles for consideration.
Note: Articles by Guest Post Contributors may contain affiliate links and may be compensated if you make a purchase after clicking on an affiliate link.