Last updated on April 1st, 2012 at 02:36 pm
It had been a frustrating morning.
I overslept, didn't have time for my usual ½ hour morning meditation, and couldn't figure out what outfits I wanted to pack for my trip to San Francisco, where I'd be dancing, meeting with my writing coach, going to parties and seeing friends.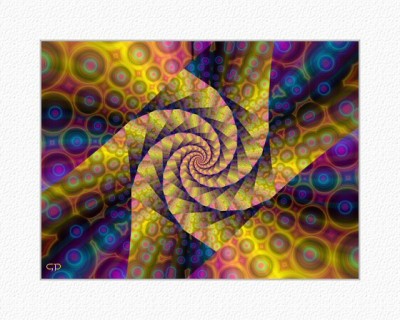 Also, my bedroom was chaotic from rummaging through possible outfits, tossing everything on the bed, and my car was a mess, since I'd tossed things in my trunk on previous trips that just hadn't gotten cleaned out yet.
I felt like I just couldn't get it all together.
I took my frustration with me to the airport. Luckily my best friend dropped me off with plenty of time to spare and was an angel, reminding me to lighten up, laugh it off and not be so hard on myself for having a tough morning.
I checked in early, bought myself a huge salad and a chai to bring on the flight, and decided that the best thing I could do for myself right now was to head into the meditation room at the airport and do the ½ hour meditation I had missed that morning.
I would find my inner peace again.
Ahhh, Peace and Quiet!
I tucked myself away in the meditation room, sat perched on a zafu, cross-legged on the meditation pad, and set my clock alarm for 4:20 p.m., leaving me ½ hour to board my plane. My gate was just about 50 feet away from the meditation room, so it'd be easy to board in time.
Later, at the gate, they told me that they'd paged me about 10 times, but I was in the one spot in the airport where they don't pipe the announcements in, since they want the meditation room to be a quiet, sacred space.
So I missed it when they announced that my flight was leaving — without me.
Apparently in my frazzled state that morning, I had read my flight information wrong. My flight from Chicago to SF was leaving at 6:50, and my flight from Albany to Chicago was leaving at 4:20. I mentally juxtaposed the numbers, and programmed it into my head that my flight was leaving at 4:50 p.m.
So I emerged from the meditation room, feeling peaceful and restored, at 4:25 only to find my gate completely empty, my plane already high up in the sky. D'oh!
Time For Standby…
There were no more flights to SF scheduled that night, so I'd have to try again the next day. Luckily I hadn't had any plans lined up in SF that night.
My best friend Steph reminded me that, in her world view, things happen for a reason and that somehow this too would work out for the best.
Maybe I would meet someone amazing on the plane ride who I wouldn't have met otherwise. Maybe there was a reason that it was better for me not to have been on the plane the night before.
Who could know all the mysterious workings of the universe, and all the infinite combination of possibilities? Who could know why things are timed as they are, or how we are somehow led to be in the right place at the right time, serendipitously, as if fated?
It made me think back to years ago and the crazy way in which I met my life coach, Jak, who would turn out to be hugely instrumental in me creating a happy new life for myself after my separation and divorce.
Coach on the Platform!
It was during my first visit to San Francisco while I was still in graduate school. I was staying with a friend in Oakland and wanted to take the BART train into San Francisco to experience the famed Bay to Breakers' race, a chance for San Franciscans to display their creativity by running a race in costume, while pushing kegs of beer in shopping carts uphill, or in some cases, running naked.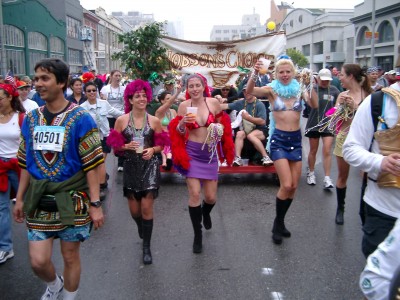 Through a series of mishaps, I ended up arriving at the BART station an hour later than anticipated. I'd gotten lost, and (d'oh!) accidentally left the parking brake on in my friend's car so when I stopped to ask for directions, the car was smoking.
To make things even worse, I left my purse in the bushes when I got out of the car to call for help, then drove away and left it there when my friend arrived, so we had to turn back around again to retrieve it.
The morning was disastrous.
And Then – Redemption!
At 10 a.m. then instead of 9 as planned, I ended up on the BART platform in Rockridge. It was empty except for one man standing about 20 feet from me.
He was wearing furry chaps and goat horns and not much else. His coat was open over his bare chest.
I broke into a giant grin and he flashed a dazzling smile back. I was going to leave it at that but a little voice in my head kept pushing me to "talk to him." Of course, he would know where the race was since he was clearly headed to it.
That launched a 12-hour day in which Jak and I talked throughout the whole train ride, spent the day wandering the race course and stopping at parties together, and then wandered around North Beach that night to find dinner before BARTing it back.
We were instant friends, and when I moved to San Francisco, Jak would be the person who would guide me through my divorce, in my search for new work, and in starting a new life. I don't know what I would have done without him.
And our meeting was due to bad circumstances, freak timing, everything aligning improbably but somehow just as it needed to in that moment in time.
Synchronicity Stories…
My book is full of these synchronicity stories of how my life has aligned in the strangest ways so that somehow just what I need drops into my life just as I need it. I have always believed that there is just a certain degree of magic in the world, and when we're open to it, life somehow guides us to the right teachers and companions, and the experiences that will forever change our lives.
Meeting my writing coach was also like this (I'll save that story for another time!) and I don't know what I'd do without her.
Working with Ellen Sussman has helped me to get to where I am — almost 200 pages into my book with a vision for what it will be in the end. I don't know if I would have had the discipline or courage to get this far in the past nine months without someone guiding me and holding me accountable along the way.
Like A Flash of Lightning…
Last week's writing class gave me incredibly clarity and insight into where my book is going — as if hit by literary lightning, suddenly I knew what the climax of my book would be, and the denouement (to use fancy literary terms!).
I have been really discouraged at various points along the way as I work on my book, but lately I have come to peace with it, just enjoying the process of it, and finding my way through, scene by scene and page by page. I have the faith that I will finish this book, and even maybe make it a great one (that's the goal!).
And, meeting with my writing coach gives me a great excuse to fly to San Francisco every two months, which brings me indescribable happiness. I can't quite explain how or why being in San Francisco makes me so happy just to be alive, and so fully present in the moment, and so delighted by the beauty all around me.
But it does. And I love it.
It's All About the Synchronicity…
Me landing in San Francisco at all after graduate school was synchronistic, as was staying there, meeting my writing coach, and meeting the boyfriend who would break my heart and teach me exactly what I needed to learn, meeting my favorite yoga teacher, and meeting my life coach, and even moving back to Troy from SF.
My life, I have come to realize over time, is full of synchronicity and magic. My book is a reflection of that.
As much as life has been incredibly painful at times, I can see that somehow the overall pattern of it, the mosaic of moments, is nothing short of exquisite.
What Are Your Synchronicity Moments?
Can you think of any synchronicity moments in your life in which things seemingly going completely wrong turned into something so right? When has the timing aligned for you in improbable ways? Love to hear your synchronicity stories and how they are helping your dreams!
Lisa

Lisa is a freelance writer and consultant who has published articles, essays and poems in journals and newspapers across the United States. She has her BA in Englisha and Creative Writing from Princeton University, and earned her MPA at Harvard in 2005. Lisa launched her dream to write her first book by signing up for Ellen Sussman's "Memoir-in-a-Year" class, speaking her story out loud at a Take Back the Night rally, and committing to a regular writing schedule. She recently achieved another milestone — 200 pages written in her manuscript! Lisa is currently bi-coastal with her home in historic Troy, New York and her heart in San Francisco. Lisa is also a lindy hopper, blues dancer and belly dancer. She has traveled extensively on four continents. Lisa's post day is Tuesday.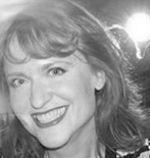 Lisa P. Graham is an inspirational writer, life coach, TED motivational speaker, and globe-trotter whose passion is to help others to find happiness and meaning in their daily lives. A political activist at heart, Lisa would like to empower more women to run for political office as a way to create positive change in the world. You can find her on her website or watch her TEDx speech on YouTube.
Note: Articles by Lisa may contain affiliate links and may be compensated if you make a purchase after clicking on an affiliate link.