Last updated on April 2nd, 2012 at 03:12 pm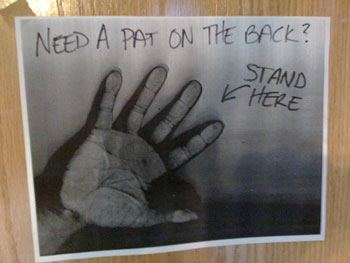 As a small business owner, there aren't many opportunities to get a pat on the back.
Small business is such a huge part of my product launch dream – from couture jewelry sales to web solutions for fellow business owners.
That's why I thought I'd share an important event we all overlooked a few short weeks back.
National Small Business Week took place at the end of May and yes, we missed it.
According to their official web site –
"Every year since 1963, the President of the United States has proclaimed National Small Business Week to recognize the contributions of small businesses to the economic well-being of America."
So why is it important to support small business?
Here are a few stats on how small business impact the economy taken from research gathered on the SCORE web site.
The estimated 29.6 million small businesses in the United States:
Employ just over half of the country's private sector workforce
Hire 40 percent of high tech workers, such as scientists, engineers and computer workers
Include 52 percent home-based businesses and two percent franchises
Represent 97.3 percent of all the exporters of goods
Represent 99.7 percent of all employer firms
Generate a majority of the innovations that come from United States companies
Source: U.S. Small Business Administration Office of Advocacy, September 2009
Women in Business.  As a women in business, I am always looking to boost other women –

Women represent more than 1/3 of all people involved in entrepreneurial activity. This help explain the almost perfect 1/3 representation in the Fast Company '100 Most Creative People' article I talked about last week.
Between 1997 and 2002, women-owned firms grew by 19.8 percent while all U.S. firms grew by seven percent
Women-owned firms accounted for 6.5 percent of total employment in U.S. firms in 2002 and 4.2 percent of total receipts.
The number of women-owned firms continues to grow at twice the rate of all U.S. firms (23 percent vs. 9 percent). There are an estimated 10 million women-owned, privately-held U.S. businesses. The greatest challenge for women-owned firms is access to capital, credit and equity. Women start businesses on both lifestyle and financial reasons. Many run businesses from home to keep overhead low.
Women are more likely to seek business advice–69 percent women vs. 47 percent men.
How can you support your local business?
Find a local coffee shop – they are much more fun to meet at and I prefer their coffee
Try your local fruit and vegetable stand – summer will taste so much better
Save gas – a few less miles on the road add up
Jobs stay here – keep local jobs local
Get to know what's in your neighborhood – you may not know what is available at the corner store or that little boutique until you check it out
If you haven't already guessed, only small business owners, and those we convince to spend the day with us, truly know the real story of small business.
You don't see any reports on the late nights, long hours, no sleep, no vacations, and failed ventures of entrepreneurs.
What are you working hard at while you are getting to your dreams? Whens the last time you got a pat on the back? Share your stories of kudos, or feel free to bitch.
~ Heather

Heather Montgomery is a fitness writer, triathlete, and serial entrepreneur who is devoted to sharing what she has learned about becoming a triathlete after age 40. She uses her Metabolic Training Certification to help other women struggling to get fit in mid-life. She lives and trains in Santa Rosa, California, the new home of the Ironman triathlon. You can find her biking the Sonoma County wine trails.
Note: Articles by Heather may contain affiliate links and will be compensated if you make a purchase after clicking on an affiliate link.