Last updated on January 23rd, 2019 at 10:36 am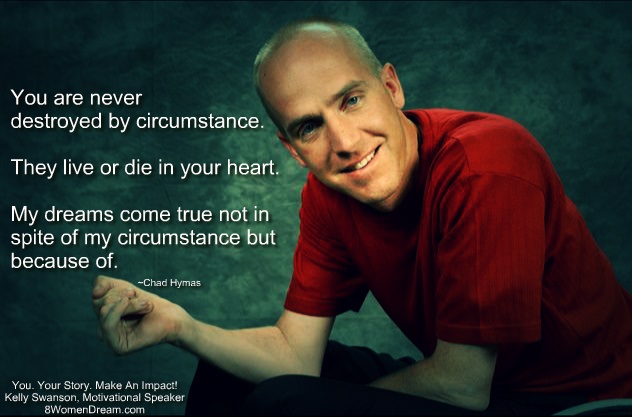 As a motivational speaker, I am convinced that a story is our greatest tool to influence and impact. Stories do what content can't.
And I always coach speakers and storytellers to SHOW instead of TELL. Don't tell me about the story, show it to me.
Take me there.
Today I want to share a perfect example.
Meet my friend Chad Hymas, a fellow motivational speaker, sharing his story in a way that gets your attention.
Well done, my friend.
Chad Hymas Believe TV- Quadriplegic Gets Undressed–
 On YouTube: http://youtu.be/Z9v3LbNUsxk
As C-4 quadriplegic, Chad Hymas travels the world alone as an inspirational speaker and gets undressed and dressed daily by himself. It took him 2 1/2 years to learn the entire process.
Never give up on what might seem to be impossible!
Kelly Swanson
You. Your Story. Make An Impact!
[fbcomments]
Kelly Swanson is an award-winning storyteller, motivational speaker, published author and TV personality who is passionate about helping women harness the power of their stories to connect, influence, and get the results they dream of accomplishing. Laughing the whole way, Kelly teaches women how to master the art of connection through the power of strategic storytelling. You can find her on The Fashion Hero show airing Fall of 2017 on Amazon Prime or on her website MotivationalSpeakerKellySwanson.com.
Note: Articles by Kelly may contain affiliate links and may be compensated if you make a purchase after clicking on an affiliate link.