Last updated on July 8th, 2022 at 04:58 pm
As I embarked on a ten-week schedule of meetings with a nutritionist, I began a food journal.
The first day included a breakfast of a Bovine Bakery bear claw (just one, when I had been known to eat two) with iced tea, a handful of chocolate chip cookies for "lunch" and a restaurant dinner that included crab "tater tots" a cheeseburger with two strips of bacon, blue cheese crumbles and truffle-infused fries. I also enjoyed a frosty beer in a very tall television commercial-worthy perspiring glass.
And I wondered why losing weight was such a struggle!
At the movies later that night I consumed a diet iced tea in a bottle, one serving of popcorn with real butter and salt, and four licorice red vines.
I was anticipating changing the way I ate that night and that's why I only ate four strips of licorice to see if I could stop myself from eating the entire package — like I usually do — during the previews — because I'm a genius.
After most movies, I am positively ill from sugar. And when you consider that since childhood I have always felt safest in movie theaters, that means that for most of my life at least once a week I have nearly induced some form of a sugar coma from ingesting massive quantities of movie candies, luckily avoiding fainting or collapsing before I got to my car, only by sheer force of will.
Yep, I'm pretty smart about what I eat and have a long history of self-medicating myself with sugary, salty, dill-pickle tart, barbecue-slathered snacks, with off-the-chart calories, sodium, and cholesterol. I'm a genius about genealogy too and know that my Viking genes have fought off years of poor eating habits and allowed me to maintain the complexion — and for most of my life — the weight of a healthy person.
But into every Rayne, some logic must fall.
A year ago when I had to be rushed to the hospital to have my gall bladder removed (through my belly button!) I realized that my crazy eating had finally caught up with me. The days of sunflower seeds for breakfast, dill pickles for lunch, and, shaking with hunger, drive-through tacos for dinner were officially over.
In mid-June, I went cold turkey — breaking up with Diet Coke ending a 40-year breakfast-lunch-and-dinner love affair.
In one of my early meetings with The Bossy Nutritionist, I complained in all seriousness that chocolate failed to fill me up, no matter how much I ate.
"Chocolate isn't supposed to fill you up. Chocolate is a flavor, a treat, not a meal," she said as if explaining to a two-year-old why you shouldn't put beans up your nose. "You're hungry. Hungry for nutritious FOOD," she insisted.
We got down to work, creating a long list of foods I would or wouldn't eat. She made no facial expressions to reflect the level of my stupidity over eating. She listened intently and suggested pairings and groupings of foods I liked in appropriate portions that could set me on the path to proper nutrition.
SHE says, you can eat nearly anything you want in moderation and that after every meal you should always go "Yum!" — or else what's the point…
Early on, two things saved me. It was the middle of cherry season and she didn't care if I ate cherries three times a day as long as I was learning to eat fruit she suggested turkey bacon for protein.
Bacon on a diet? That was all I needed to hear.
Rayne Wolfe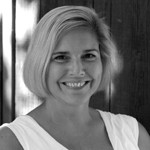 Rayne Wolfe is a freelance writer, and a former New York Times, Seattle Times, San Francisco Chronicle, and Sonoma Media, journalist. Her first book, Toxic Mom Toolkit: Discovering a Happy Life Despite Toxic Parenting (CreateSpace) was released in December 2013 and is available on Amazon. Rayne's non-fiction work is published in the Chicken Soup for the Soul series and Glamour Magazine.
Note: Articles by Rayne may contain affiliate links and may be compensated if you make a purchase after clicking on an affiliate link.