Last updated on April 27th, 2014 at 12:47 pm
Moving sucks.  I have never found anyone who said they love to move from one house to another but at times, it's a necessary part of life and dreaming.
As you may or may not know,  I just moved into a new home.   It's been a dream of mine to shed the chains of living in an apartment complex while sharing space with as many as 200 others.   I am now in a brand new house with great energy and awesome neighbors.
Being a chef, it's really important to me that my kitchen is set up exactly how I want it.  It's also important for my living space to flow with ease for me to create the ultimate edible love and experience for my guests.
In this particular house,  I have a challenge with the kitchen.  It's not large and it has an electric stove.   Though every single thing in this house is brand new,  an electric cooktop to a chef is the equivalency of a colonoscopy but   I just have to make the best of it.
From the dropping off of the first box in your new home, start building the culinary energy by creating something great, even if it's from leftover junk food.  for instance,  i was really stressed out and while driving back to my new home the other day, i passed a "popeye's chicken" fast food joint.   i tried to ignore it but it represented disgusting comfort food and i wanted some.   My car easily went to the drive up speaker and I proceeded to order way too much stuff.   After I ate some of it when I was home and quickly got over the comfort appeal as my stomach churned,  I found myself with a bad version of  leftover fried shrimp.   I started to throw it away then I decided to make it a part of something healthier which I would create in my new kitchen.    I made a salad with red leaf lettuce, lemon cucumber, an avocado that was transported from the old house and was screaming to be eaten and some fresh feta cheese.  I heated the shrimp in the oven for a few minutes to get them crisp and I added them to the salad.  I dressed it with white wine vinegar and extra virgin olive oil and voila.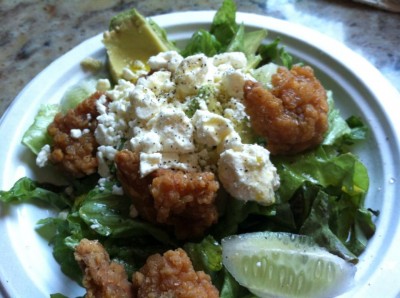 As I set up my new home a little at a time,  I've done some things that help build the energy of my past which fulfilled my soul.    That makes it easy to recreate the wonderful times I've shared at my home in New Orleans with my family and friends.   It  always revolved around food.
I'd like to share a few of these ideas that will help you fill your new home with the culinary love vibe:
Garlic is love.  Always have it in your kitchen
Keep familiar staples in your fridge and pantry.  For me it's garlic, olive oil ( extra virgin and regular ), butter, romano cheese, brie cheese and an assortment of crackers
Grow small pots of fresh herbs.   There is nothing like picking something that you grew from the soil and making it part of your meal
Have a music source close to where you cook.   Music can set the mood for any occasion and can inspire you to cook many different things
Place some different things on the walls and on the counters that make you feel warm.  Inspirational sayings, pictures of people you love, spiritual things, things that make you smile and laugh
Get some really cool coffee cups and maybe a tea set.  Invite your neighbors over for coffee, tea and little bites of love.   Something as simple as this ends up being a big deal to your guests
Dance while you are cooking.   Jam to funk as you sear a chicken breast, do some ballet moves while you listen to vivaldi and stir your lentil soup which fills your home with an earthy smell
Remember that you live in this house for a reason.   You may not know the reason yet but always try to make the best of whatever you have in your house, your kitchen and your world.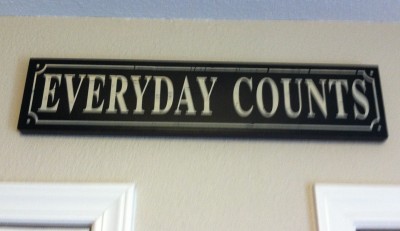 Last but nowhere least, cook things from old recipes handed down from your mother, your aunt, your brother,  your grandmother.  Anyone who stirs wonderful memories of food and warmth.  It's the way you fill your home with culinary love and pass it on to others.
These are some of my mother's recipes which will be part of my cookbook.   Most people could not begin to understand them but through the chicken scratch and unfinished sentences on the little pieces of paper,  I remember every detail.   These are worth more than gold to me.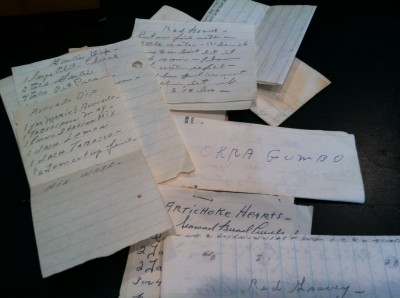 This week's recipe is something very special to me.  It can be made with things laying around your kitchen and doesn't cost much but tastes like a million dollars.
Fresh Tomato Basil Sauce
Makes about 3 quarts
5 pounds tomatoes
2 medium onions
a big handful of chopped garlic
4 large basil leaves
2c water
tomato paste
olive oil
salt
black pepper
Saute onions in olive oil.  Add tomatoes and garlic. Add salt and pepper.   Let the mixture cook until tomatoes are completely soft adding water a bit at a time until it's a gravy texture.   Cook until it's reduced by a 1/4 and strain through a chinois or put through a ricer so the seeds and skin are left behind.   Put sauce back in pot and add 2 tablespoons of tomato paste.   Adjust seasoning if necessary.   Reduce until the sauce is thick.  If it's too acidic,  add some sugar.   Add basil.   This sauce is good on chicken, over italian sausage, tossed with any pasta or on a shoe. This sauce freezes well also and you can freeze it in ice cube trays to use a little at a time.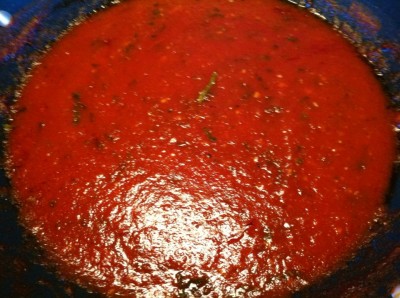 Enjoy this special 8WomenDream Guest Contributor story submitted by new and experienced big dreamers throughout the world, edited and published to capture a dream perspective from different points of view. Do you have a personal dream story to share with 8WomenDream readers? Click here to learn how to submit dream big articles for consideration.
Note: Articles by Guest Post Contributors may contain affiliate links and may be compensated if you make a purchase after clicking on an affiliate link.