Last updated on July 8th, 2022 at 05:08 pm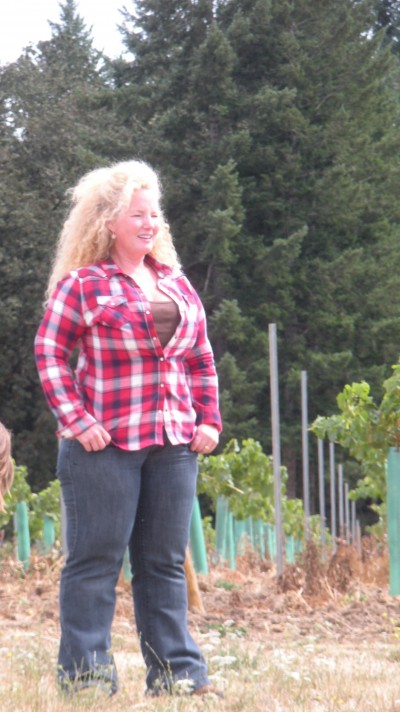 "Please God," I whispered.
"Please no please, PLEASE God please, please NO." I continued to whisper as I fell to my knees in front of the kitchen sink.
I couldn't see straight.  I mean, my eyes were shaking.  I couldn't think of what my next move was.
This had been happening fairly regularly for the past year or so, but this time my heart was beating very erratically and I couldn't get her back on track and it started to feel painful, filling me with the overwhelming urge to cough and vomit all at once.
The eye shaking and tingling in my hand, through my fingertips, was awfully annoying in the weeks past, but at this moment gave me such alarm as to think I really might be dying.
"Where is my phone?"  "Please God, not in front of my babies." "Where is my phone!?!… Don't cry, Shellie!… Don't do this! Please God where is my phone?"
I began to whisper-sob, as I crawled to the bedroom to get my phone because I didn't want my little son and daughter to hear the fear that started to consume me, and crawling because I didn't want to faint and hit my head on the way down if I were to stand and walk.
"I need you to come home and drive me to the E.R. now, I think I'm having a heart attack."  I calmly told my husband from the floor in our bedroom where I thankfully found my phone.  "Something is very wrong and I can't see things well." "I love you."
At least now my husband was on his way home and although the fifteen-minute drive from the winery to our house in the vineyard seemed like an eternity, I was relieved he would be here for the children if I fell unconscious — or worse.
I was quickly admitted into the hospital, descended upon by Emergency Medical Technicians, shuttled by wheel-chair to a hospital bed where I was hooked up and the needle stuck, questioned about everything from my last menstrual cycle to medications I might be taking, and the most dreaded of all inquiries . . .
How much did I weigh?
For the next several hours, while lying in the hospital bed, I thanked God and made some new promises. I swore to God and to myself that I would really begin honoring the life I have been blessed with.  I decided right there on the gurney, naked and obese, to set some goals and make the changes to my health I must make to fully live my dream life.
The emergency room physician explained, rather coolly, that I was not having a heart attack.  The monitors tracked some tachycardia arrhythmia and he strongly advised me to see my own doctor to further determine what I needed to treat this problem.
What the ER doc was not hip to was, that the very reason I hadn't gone to my doctor for the year or so that I had been experiencing this irregular heartbeat thing, was because I knew I would be told that I was obese and to change my eating habits and get some exercise and just altogether stop being so fat!
He didn't know that I was waiting to lose weight before I went to my doctor. He also didn't know that I don't like to go to the doctor because that's where sick people go.  Further, he was obviously unaware that I had lost 38 pounds over the last four months.
Okay, and also, gained back twenty or so pounds–But, Urgh, ignorance gets me peeved.
When I walked back out through the doors to the mini-van, to my family, I knew I had better be wearing a smile, because they must've been going crazy with worry for the time I was unable to see or speak with them. It was dark now and the sight of my son asleep in his car seat made my eyes well with tears, which were then mixed with my little daughter's as our cheeks came together in kisses, fear, relief, and sorrow for every crossword either of us had ever spoken to one another.
I held my little girl in my arms until she was ready to go home.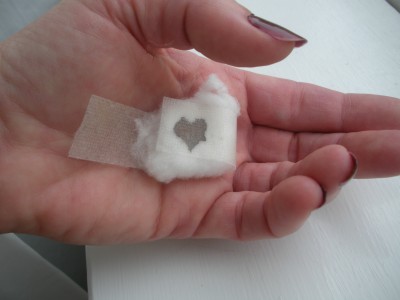 My husband just kept staring at me, silent during the night drive until we were back inside our cozy home.
Life came crashing in on my family this day and we were rocked by this experience, literally feeling the weight of it all.  The change had come knocking on the door of our little house in the vineyard and as the lady of this house, I graciously invited change in.
Getting ready for bed that night, I removed the medical tape and cotton ball from the spot on my arm where some blood was taken for testing.  The perfect shape of my blood made me fall to my knees for the second time on the same day.
My husband was astonished by the symbolism as well.
I will have this keepsake for the rest of my life.  Falling asleep, as usual, I counted my blessings. I added "my good health" to the list this time and the next morning began implementing all of the tools I had in my collection to ramp up the weight loss with a heavy emphasis on setting weekly goals and meeting them.
My life-changing lesson, combined with gratitude and pursuing a deeper level of understanding of how the heck I ever got to this size, has me healthier and happier than I have ever been.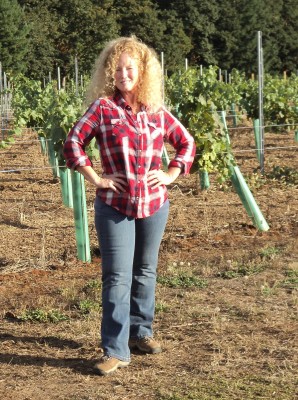 I went from a size 14 jeans in an XL top to a size 4 in one year.
I didn't kill myself doing it, either, although if I hadn't changed, I believe I was staring directly into the end of a loaded pistol with my own hand on the trigger.
Wearing my heart on my sleeve, I share how my life was very good before I made this transformation, but now living my version of the American dream —  My Life is Grape!
Shellie Croft
Shellie Croft is an Assistant Winery Manager and Enologist who lives a happy life on her farm in the Willamette Valley Wine region of Oregon.

Enjoy this special 8WomenDream Guest Contributor story submitted by new and experienced big dreamers throughout the world, edited and published to capture a dream perspective from different points of view. Do you have a personal dream story to share with 8WomenDream readers? Click here to learn how to submit dream big articles for consideration.
Note: Articles by Guest Post Contributors may contain affiliate links and may be compensated if you make a purchase after clicking on an affiliate link.