Last updated on July 12th, 2022 at 02:37 pm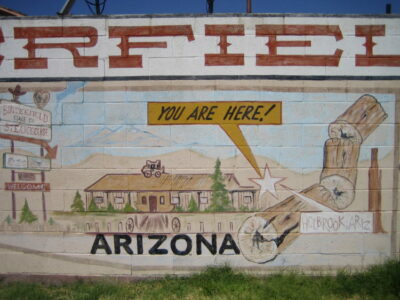 We all went away this past weekend. My boyfriend went back to Chicago for the Bears' game.
My roommate went camping in Marble Canyon for her birthday. My other roommate headed to Zion National Park with a permit to climb the most beautiful "Subway" in the world.
As for me, well, I stayed put. And thankfully so. It's been months, possibly years that I have had a weekend to myself with no agenda. I have to admit, it was rather nice.
I know all I really talk about on here is how much I want to travel away from whatever my current "here" is.
My mind is constantly flooded with possible travel plans to:
–live in Colorado and become a ski bum
–take off for Australia for no good reason
–spend a year traversing South America
–teach English abroad in an exotic land
–head to a tropical island and bartend on a sunny beach
All of the above travel dreams will most likely never happen. It took some time to heal from the pain of those words, but I think I'm OK now. I think.
I know I love to travel. I know I dream about travel. But the reality is, I can't always get away. I have to stay put. I have a job I like that gives me a steady paycheck. One moment I am fine with all these steady things, but then this negative voice in my head screams,
"Why aren't you in Europe right now?"

"Why can't you get a job abroad like some of your college friends?"

"If you don't buy that 'round-the-world ticket now, you'll never be young enough again to do it!"

"ENOUGH!" I say.
Part of the pain of wanderlust is always thinking "there" is better than "here." The grass-is-always-greener mentality. The trick is to know that you are exactly where you are meant to be. Travel is a great escape. But sometimes we don't always have the money or PTO to get out into the world. We don't have to because we can travel without traveling. Enter my being-realistic-about-travel manifesto:
We don't have to go far to marvel at something.
We don't have to change time zones to change our perspective.
We don't have to go to a faraway land to get close to our true selves.
We don't have to stamp our passports to leave a mark on anything or anyone.
Travel is not about the distance we go to, but the destination in ourselves we get to." ~ Katie Eigel (You read enough travel quotes, and one day you start spitting them out left and right.)
While my roommates and boyfriend were conquering canyoneering and sport spectating feats, I was arriving at important destinations within myself while traveling about 2 miles north of my apartment. Instead of thinking how amazing the balmy breeze of a Balinese beach feels–and how jealous I am of my cousin who is there right now–I went around the travelers jealously and made the most of my own backyard. (Probably saved $2K, as well.)
I made my "here" just as valuable as any "there" I could dream up with:
8 Ways to Travel Without Ever Traveling
1. Enjoy the bounty of the season in your area.
If I were back in the Midwest, I would be eating Honeycrisp apples, drinking homemade apple cider, and carving a pumpkin from the farm down the road.
Here in Arizona, the different climate allows for a bounty of 80-degree, sun-drenched days. Whatever Mother Nature is sending your way, embrace it.
2. Listen to live music.

Music in and of itself has a way to transport us to a different place. Let it.
This Sunday, I strolled onto this local strumming his six-string for a crowd at one of the breweries in town. Not only could I listen to something new, but I met some new people in the process.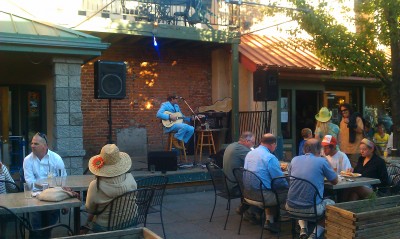 3. Eat something new.
Either dive into a brand new culinary excursion in your own kitchen or pay the tip to have someone else prepare it for you.
Travel is a sensory experience. Travel without traveling can be just as sensual and rewarding.
4. Drink something new.
Wine. A bottle is a living, breathing representation of the area from which it came. The soil. The sun. The weather. And the tender love and care of the area's winemaking that has been past on through the generations.
Uncorking a bottle from an appellation you've never tasted will bring you to that place sip by sip. You can heighten the sensory experience by combining #3 with this one–cook or eat the food unique to that region, as well.
5. Explore art.
Do this at a museum, a workshop, or a gallery. Or make your own in your home.  Art is a universal expression of inward perspective. Find yours or someone else's.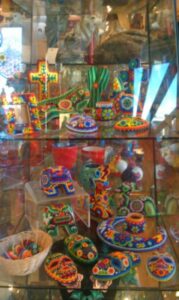 6. Hang out where travelers do.
Spend some time at the train station, hotel lobbies, or local coffee shops. (Note: Don't be creepy, there's a line when it comes to people watching.) Take a pad and paper and jot down ideas, inspirations, or future travel plans.
Taking time to watch the world go by will make you feel like you are moving along with it.
7. Go to your local library and check out some travel books.
In the age of e-readers, this might sound silly, but there's something to seeing big glossy travel photos up close and personal that isn't delivered to your eyes digitally.
8. Watch the sunrise.
Watching our closest star rise and fall is a mainstay of vacations. Doing it in your hometown will conjure up similar feelings.
I suggest the sunrise because it starts your day by shifting you into a different perspective from the get-go, and it gives you the rest of the day to conquer.
Katie Eigel
Katie Eigel is a self-proclaimed Wine-Geek-In-Training who spends her days writing for various wine and travel publications.

Enjoy this special 8WomenDream Guest Contributor story submitted by new and experienced big dreamers throughout the world, edited and published to capture a dream perspective from different points of view. Do you have a personal dream story to share with 8WomenDream readers? Click here to learn how to submit dream big articles for consideration.
Note: Articles by Guest Post Contributors may contain affiliate links and may be compensated if you make a purchase after clicking on an affiliate link.