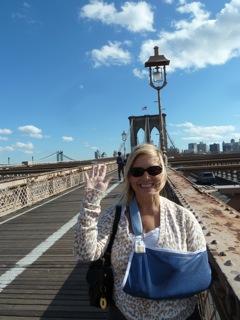 How I actually lost weight during a theater week in New York City.
A month ago I flew to New York City on an anniversary trip with my husband. We were treating ourselves to a week of Broadway shows, New York shopping and fine dining.
To make it a little more interesting, a week before our trip I caught my shoe on uneven pavement and broke my left shoulder.
Strapped up tight with painkillers in my pocket we flew cross-country and began an adventure that included my newly acquired eating guidelines.
My first rule was eating protein and fruit at breakfast — and I did that most mornings. But I was in New York and I wanted to eat a fresh bagel, toasted, slathered with butter, which did not resemble the healthy yogurt butter I use at home in any way.
My nutritionist told me that when I cheat — CHEAT! Â "Enjoy it!" But know that it's a cheat and try not to cheat twice a day. And after cheating get right back up on the healthy eating horsie.
Several morning we enjoyed sitting on stools in the windows of an Upper West side deli, people watching. I sat there smiling knowing that one bagel was not going to make me instantly fat. We took off walking with bananas in our pockets for a mid-morning snack. We ordered nutritious lunches that included Chipotle burrito bowls, gourmet truck food, and mushroom omelets with turkey bacon and fruit on the side.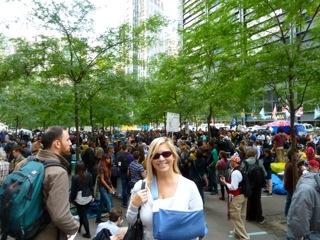 We used the subway and walked for miles, including hot-footing it over The Brooklyn Bridge. Each night we took in a show with our adult beverages in snap-lid sippie cups.
There were days when my shoulder hurt so much — or a subway turnstile whacked me, reducing me to tears – but I sucked it up and kept walking visiting Rockefeller Center, Ground Zero and standing in line each morning for half-price same day theater tickets.
Flying home, I figured having followed my plan for the most part; I would certainly have maintained my weight.  The worst-case scenario would be gaining a pound or two.
Did I mention that we went to our favorite bistro Le Loup where I literally had a huge plate of pom frites for dinner?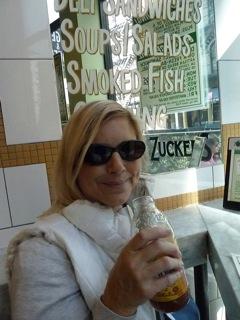 My vacation ended as my 10-week program with my nutritionist also concluded. During that time I had re-wired my brain about food, re-written my shopping list and realized that what we eat creates eating patterns.
With help I had developed a pattern of losing an average of one to two pounds per week.
If I could enjoy a vacation that included an occasional mindful "cheat" treat or meal and not let it derail me, maybe I really had learned the most important lesson: What we eat translates into how we care for ourselves, how we nurture ourselves, even how we love ourselves.
I stepped on my scale, looked down and smiled.
Maybe I shouldn't have been surprised. Could it really be possible that during my wonderful vacation I had actually lost four pounds?
I had indeed, thanks to education, encouragement and turkey bacon.
Lots and lots of turkey bacon.
Rayne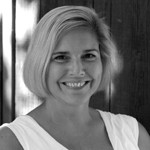 Rayne Wolfe is a freelance writer, and a former New York Times, Seattle Times, San Francisco Chronicle, and Sonoma Media, journalist. Her first book, Toxic Mom Toolkit: Discovering a Happy Life Despite Toxic Parenting (CreateSpace) was released in December 2013 and is available on Amazon. Rayne's non-fiction work is published in the Chicken Soup for the Soul series and Glamour Magazine.
Note: Articles by Rayne may contain affiliate links and may be compensated if you make a purchase after clicking on an affiliate link.