Last updated on November 1st, 2019 at 05:30 pm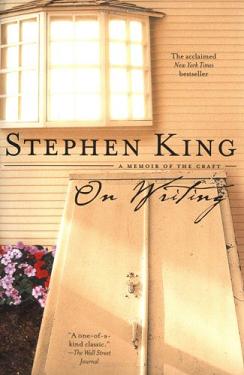 Part of my dream to become a writer of horror and science fiction involves research. We need to read and research authors in our genre to help us become better writers. My latest book is On Writing by Stephen King. On Writing is an autobiography and writing guide that covers King's experiences as a writer.
It shouldn't have taken me nearly this long but it may have something to do with the two 600+ page books of fiction I just couldn't put down. Reading is such a wonderful thing. I found On Writing to be inspiring; this could be because I find it easy to connect to his writing style. I happen to find Mr. Stephen King pretty dang funny.
There was a lot of good advice in the book. Probably the most important thing I am walking away with is the determination to write a certain number of words every day.
Mr. King gives other great words of wisdom like –
Sit down and just crank out the first draft and then put it away to let it "rest." When you come back to it later to edit, it reads more clearly and the mistakes and items that need correcting stand out.
Cut 10%. De-clutter your text, clean it up – make it tight. Take out the stuff that only matters to you.  Think of the reader.
Be honest.
Read books – read magazines – read all the time.
On criticism – "Show your piece to a number of people – ten, let us say. Listen carefully to what they tell you. Smile and nod a lot. Then review what was said very carefully. If your critics are all telling you the same thing about some facet of your story – a plot twist that doesn't work, a character who rings false, stilted narrative, or half a dozen other possibles – change that facet. It doesn't matter if you really liked that twist of that character; if a lot of people are telling you something is wrong with your piece, it is. If seven or eight of them are hitting on that same thing, I'd still suggest changing it. But if everyone – or even most everyone – is criticizing something different, you can safely disregard what all of them say."
If you are thinking of a career in writing or starting a blog – On Writing should be your bible. You can read more of Stephen King's advice at the website Great Writing – Everything You Need to Know About Writing Successfully: in Ten Minutes by Stephen King.
This week I intend to concentrate on meeting my daily writing goal.
What is the one thing you can do for your dream this week?
Dawnda Schaefer

Enjoy this special 8WomenDream Guest Contributor story submitted by new and experienced big dreamers throughout the world, edited and published to capture a dream perspective from different points of view. Do you have a personal dream story to share with 8WomenDream readers? Click here to learn how to submit dream big articles for consideration.
Note: Articles by Guest Post Contributors may contain affiliate links and may be compensated if you make a purchase after clicking on an affiliate link.