Last updated on July 12th, 2022 at 02:12 pm
Welcome back to the beginning of the week, everyone!
I know Mondays get a bad rap, but think of today as a fresh start to begin your week by doing something that you have been meaning to do.
Something that's been on the back of your mind for a while.
Maybe it's something you've been avoiding? If that's the case, let's attack it this week!
One thing I have been meaning to do is seek out some publications where I can submit a travel story.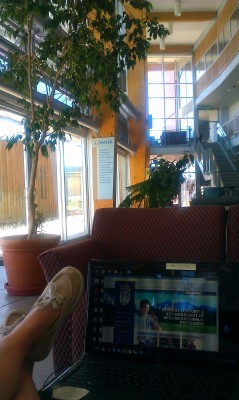 Me (and my canvas boat shoes) hard at work and daydreaming about publishing travel writings.
I guess it's safe to say I have been avoiding this one. I know it's a dream of mine to travel write, but, like many people, when faced with a dream, I freak out.
I start thinking:
I am not good enough.

I don't have enough credentials.

Who am I to write about travel? I don't travel enough.

Who's going want to read it?
My negative voice in the back of head is not a nice person–I'm sure yours has a similar taste in word choices.
When I actually (and sadly) listen to this voice, I get nowhere. I don't submit any stories and I stay stuck wandering around directionless towards my wannabe wanderlust dream. Not good.
But like I said earlier, this week will be different. This week, I will draft my story and find a place where I can submit it.
If you dream of seeing your travel stories in print, then follow me. Find your potential publication this week. No excuses. And no more listening to that mean person that lives in the back of your head and only speaks negativese or negativian.
Here's 4 publications–magazines, books and websites–we can aspire to send our travel stories to:
Win $500 in this travel writing contest, but hurry! The deadline is quickly approaching, which could actually work to your advantage. Nothing like the last minute to motivate a writer.

Photo: Amazing Travel Stories.com
The ultimate publication prestige for any travel writer or photag. Check out their writers' guidelines to keep this dream alive.

Logo credit: National Geographic Traveler site
Win an amazing trip to an exotic location in their WanderWomen Write Travel Writing Contest. (The next contest opens in October.)
This is one of my favorite sites. I meet the creator, Beth, at a Travel Conference in Chicago a while back. She continues to provide fresh content and offerings on her site. Check back frequently for giveaways.

Logo credit: Wanderlust and Lipstick site
This publishing powerhouse offers a variety of books that you can submit to. Click the TT title above–it'll take you to their submission page. What I like about them is their "women-only" categories for humor and the best women's writing. Not that we have anything against our male counterparts, but sometimes it's nice to have our own clubhouse.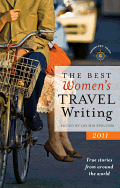 Book cover from Travelers' Tales
Katie Eigel

Enjoy this special 8WomenDream Guest Contributor story submitted by new and experienced big dreamers throughout the world, edited and published to capture a dream perspective from different points of view. Do you have a personal dream story to share with 8WomenDream readers? Click here to learn how to submit dream big articles for consideration.
Note: Articles by Guest Post Contributors may contain affiliate links and may be compensated if you make a purchase after clicking on an affiliate link.