Last updated on May 17th, 2012 at 07:52 am
Welcome back to the work week, everyone–at least for most of us here.
While a majority of you are probably reading this from your office – cubicle or coffee shop – I'm going to make a guess that you often spend chunks of the 9-5 grind daydreaming about leaving the corporate world to explore the real world.
What if ….
Good news is – it can be done.
The even better news is – it has been done.

Nomadic Chick's blog header
She's spent the last year traveling the world after leaving her cubicle.
And she's here today to share her incredible story with us of how traveling around the world certainly can be done–especially by yourself.
What's your physical location right now?
Vancouver, Canada! Back for the summer, then next I'm doing the Ultimate Train Challenge with some adventurous bloggers and onwards into China, and finish off some of SE Asia that I missed the first time.
How long did you dream about starting the Nomadic Chick blog? What sparked the inception of this original travel intention?
I actually had a personal blog prior to starting Nomadic Chick, but it felt hollow sometimes, I had yet to find my voice. It wasn't until I began planning my RTW trip did it occur to me that I could combine two things I love the most – traveling and writing.
The real reason I started the blog was to share my journey in hopes others might relate or even help them realize some truths about themselves. I honestly thought I'd have 5 readers, but at least those 5 might glean something from my experience. It's been a surprising response!
Did you ever think your travel visions wouldn't come to life–even after starting your blog? If so, how did you get "unstuck?"
I have no idea what's even going to happen tomorrow, let alone back then. In the past, I always got caught up in the outcome, instead of the process. When I stopped doing that, giving up control, making my visions come true was much easier than I expected. Either way, I knew I had to try no matter what.
An unfortunate, or serendipitous, thing happened when you got laid off from your corporate job. How did that change your outlook and initial world travel plans?
A firm, strong hand thunder-bolted from the sky, grabbed me, gave me a vigorous shake and told me to GO. I stonewalled on my departure date a lot, telling friends I planned to delay it. So, the irrefutable fact that my severance allowed me to start when my heart wanted showed me that there just might be magnetizing forces out there. What you focus on can give you some kind of answer. As for my plans, they started just on time.
It was last June when you left Vancouver to traverse the world. What was the toughest part about making the move to the nomadic lifestyle?
Giving up my bed! Oddly enough, it can be some of the tiny comforts. I miss my own bathroom at times. Sounds silly, but the emotional raking I was about to get? So ready for. People need to shake the cobwebs, and often, we don't, then we wonder what happened to our lives.
Knowing what you know now from your travel and transitional experiences, what the best way to morph from a "cubicle dweller" into a "gypsy traveler?"
Understand your priorities. While I whinge about a pillow soft bed with a down comforter, the fact is I gave up those things for so much more. I feel like I've lived a lifetime in only one year, so transitioning involves letting go of expectation, and as I said earlier – control.
Control is an illusion that institutions like corporations want us to believe we have at all times, wrong. What we can't control, we can't face, and I assert these fears are probably the rocks you want to be looking under.
For women, especially, we sidestep our dreams for "North American milestones that are supposed to bring happiness…." What do you think it will it take to get more women out and traveling into the world?
Every society has cultural norms that the majority of the population adheres to, I challenge women to ask themselves if these norms really work? Not always. Sometimes women don't want the white picket fence, or the strict monogamous arrangement. Sometimes we want adventure.
I think it takes living examples of other people doing it. Then sharing those stories far and wide. Feminists defer to the pioneers, and women have been adventuring long before I did, and will be long after I've laid down my last quill.
Money is a big factor that keeps people away from long-term travel. How do you support yourself financially to fund your next trip?
I tend to travel in third world countries, not out of sheer thriftiness, those places can be the most interesting! I also saved a lot from my corporate job, but at some point I will be doing some kind of work again, whatever it is shall be close to my heart. There's sort of no choice, since I can't go backwards.
You make no secret that you are over 35 years old, even though you don't look the part. Do you think there's an "ideal" age or stage in life to travel?
I use to. Which is why I felt sorry for myself for a good year. Now I know that's bollocks. Anyone can travel at any age, so long as they can push luggage on wheels or throw a pack on their backs. It just becomes a different kind of travel as you age. It might be lingering travel, shorter bursts with lots of rest or if you are an energizer bunny you might even keep pace with the younger set. I've had my brilliant moments.
What's the best travel or life advice you ever received?
I could scribble down my own advice, but I'll turn it over to Brad Pitt (from Benjamin Buttons):
"For what it's worth: it's never too late, or in my case, too early to be whoever you want to be. There's no time limit, start whenever you want. You can change or stay the same; there are no rules to this thing. We can make the best or the worst of it.
I hope you make the best of it. I hope you see things that startle you. I hope you feel things that you never felt before. I hope you meet people with a different point of view. I hope you live a life you're proud of. And if you find that you're not, I hope you have the strength to start all over again." Enough said.
What did you dream about when you were a kid? What's your current big dream?
Adventure, some kind of action oriented life, and as I got older this sounds bizarre, I pictured the person I am right now. Even before I had reached womanhood. My goals are to keep exploring the planet, writing, expanding as a person and see where that leads me.
Oh, and finally, finally learn how to scuba dive.
Thank you so much, Nomadic Chick, for sharing your story with us. You do inspire us to dream up a bigger life for ourselves in this world.
Your blog keeps us laughing, keeps us dreaming and makes us emotional at times.  Thank you for always being true to your travel dream and honest in your words.
Be sure to keep up with all of Nomadic Chick's worldly adventures and upcoming Ultimate Train Challenge on her blog: Nomadic Chick.
What will it take for you to leave the cubicle and travel the world?
TGIM,
Katie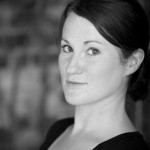 Katie dreams to complete her career transformation from corporate copywriter to world traveling health coach. In one year she'll document the launch of her wellness travel business, Real World Wellness, on 8 Women Dream. Follow her progress–or procrastinations–every Monday.

Enjoy this special 8WomenDream Guest Contributor story submitted by new and experienced big dreamers throughout the world, edited and published to capture a dream perspective from different points of view. Do you have a personal dream story to share with 8WomenDream readers? Click here to learn how to submit dream big articles for consideration.
Note: Articles by Guest Post Contributors may contain affiliate links and may be compensated if you make a purchase after clicking on an affiliate link.