Last updated on March 25th, 2013 at 02:36 pm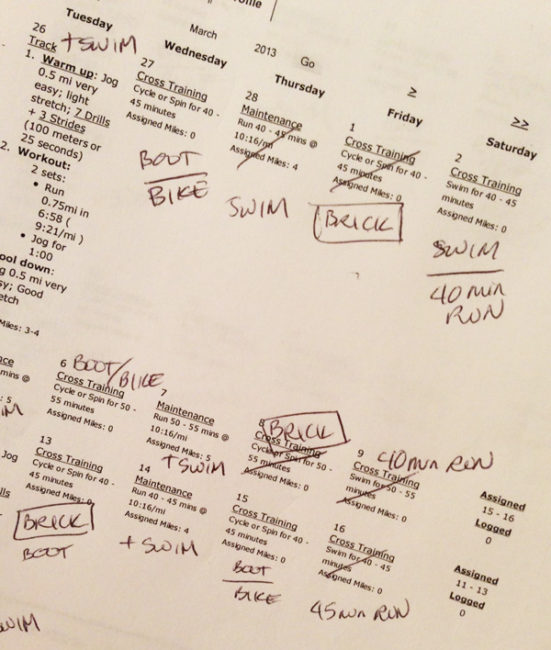 Are you training for your dream goals? Big dreams require big work which means no matter what your dream is, you will need dream training along the way.
Feel free to Insert eye roll and big sigh here.
This is not new information. You will hear something similar from all the dreamers here on 8 Women Dream that you can try to fake it until you make it, but the odds of getting there in a timely manner are really low, or non-existent, without steady dream training.
You are the only one who make your dream training happen
A few weeks ago I talked about my next big dream challenge that is coming up in just 6 weeks. As time gets closer, the reality of planning for this event sinks in.
Just this past weekend, a fellow swimmer in the performance swimming course we are taking, competed in one of the triathlons I had considered. It's was a perfect location – literally in my parents back yard – but the timing for me to be ready would have been rough.
This is not her first triathlon, so I took the opportunity to pick her brain about  gear and training when she asked me:
Have you decided what you are racing in yet?
The easy answer to that is "Clothes!", and to someone not familiar with triathlon it seems like a ridiculous question. Then you consider what you'll need to be doing during the race and realize it's a valid question that needs answering.
Part 1 – swim in open water, somewhere cold (unless you are lucky enough to race in Hawaii or other tropical climates) so plan on getting wet and freezing
Part 2 – Immediately after swimming, bike over a distance, ideally not in clothing that would make this comfortable (i.e.: without chafing)
Part 3 – Right after that bike ride, run over a distance, again in clothing and footwear that would make this comfortable
My heart rate spiked and I looked away saying that I hadn't decided yet, while my mind screamed:
Crap! I haven't figured this out yet!
Dream training = Working your dream
Not thinking about it. Wishing it would happen. Working on it. Daily.
This will be different for everyone. For my dream of completing a triathlon before my next birthday, this is mostly physical training. That doesn't mean there aren't things outside of actually running, biking and swimming I need to take care of, as illustrated by my panicked realization above.
One of the challenges I've had is putting together my training program. I mentioned a while back that I took a combination of several training programs and put them together. This photo is a close up of just a few days for this month of March.
Have I mentioned the race is 6 weeks away?
The funny thing I have noticed about all this training is the amount of time I spend just making sure my gym bags are properly set up.
Yep, you read that right. Gym bags, plural.
That's the other detail about dream training. Do you have what you need?
Once again, the tools of dreaming can vary wildly from one dreamer to the next. No matter what the tools, if you ask any dreamer what they would do without their dream action tools, and the answer would most likely be looks of panic.
That look of panic is what you see when I realize that I've forgotten my gym bag.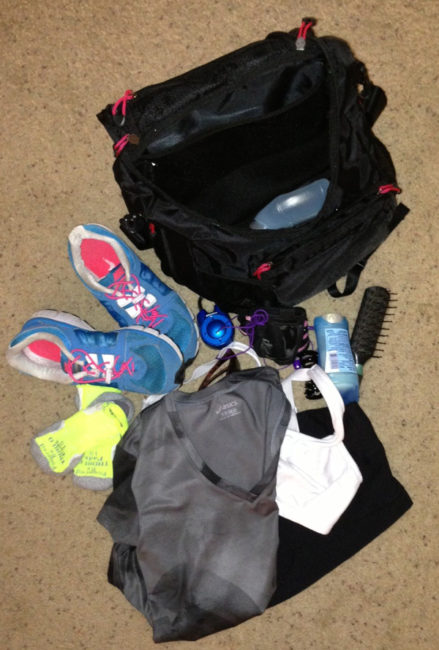 My dream tools, as I'm sure you can guess, are typically packed in one of my gym bags. The one that I keep packed for any running or biking activities has the usual suspects:
Running shoes – I keep my better pair in this bag

Socks – I've used everything from super cheap socks, to the ones I am now addicted to by Thorlo. The super thick padding under the heel and ball of your foot feel so good no matter how far you can run.

Workout bra – I love my workout bra… it's not pretty, but then again it doesn't have a clamorous job to do. I'll be offering a review of several brands in the near future so you can pick one you love too!

Workout top and bottom – I regularly see people working out in a cotton t-shirt at the gym. There is nothing wrong with working out with what you have available, but I can tell you that ever since I switched to shirts that are meant for a workout – typically referred to as "tech shirts" – the workouts are so much more comfortable.
Cotton gets heavy and clingy when you start to get sweaty. Frankly, I don't want anything annoying me while I'm trying to burn calories. That process is annoying enough on it's own.

Hair stuff – brush, bands and clips. Again, anything to keep my hair away from my sweaty face and neck during my workout.

Water bottle – I keep water and/or a sports drink with me on al my workouts. If you are feeling thirsty, you may already be getting dehydrated. Keep the fluids flowing anytime you are sweating.

Deodorant – I really don't want to offend my co-workers after my lunch time workout.

Lock – most gyms require a lock now and no matter how secure you think your stuff is without a lock, something will walk away eventually.

Sport armband – that black thing in front of my bag with the purple octopus of wires is my armband. It holds my iPhone to keep music pumping while on the treadmill or running outdoors.
I found out early on that without a beat to keep up with, my energy will drain fast. Having only the sound of my heavy breathing to keep me company gets really annoying after about 10 minutes.

Thong (not pictured) – I love you all but no one needs to see that. Really.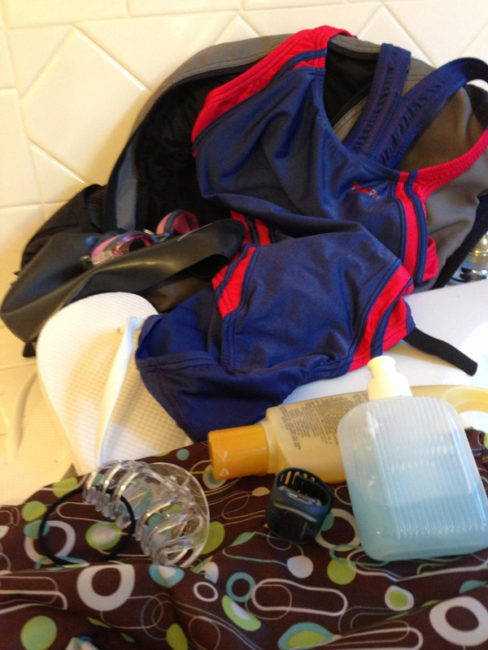 Swimming is a whole other matter. And another gym bag.
Suit – This is my one and only suit. It's meant for swimmers that want to go fast. You don't need anything fancy, but a fitted suit will make you more streamline in the water. If you can swing it, get two. I really want another one since getting this suit to drip dry in time for my next swimming session is tough.
On a side note, do you have one of those cats that love to play with water? One of my cats is trained to know when I've come home from swimming and will follow me into the bathroom and meow, loudly, until I've hung up my suit to drip. One drippy swim suite is hours of entertainment for one kitty.
Goggles and cap – When I first started back in the pool I avoided getting a swim cap and goggles. I felt like a fake. There was no way I would pull off looking like I knew what I was doing. My advice? Just go for it. The ability to see underwater and keeping your hair out of the way is so worth the initial impression that I look like an idiot.

Lap timer – not a necessity, but being the total geek I am I wanted to know how far I was going, and I just couldn't keep count. The little blue ring looking thing at the front of the photo fits on my first finger and I just hit the counter every time I reach one end of the pool.

Wet bag – You can guess that this is where I keep my wet suit in transit. The cool thing about this leak proof bag is that they are small enough to pack anywhere but will hold all my stuff.

Shampoo and body wash – swimming may be an excellent workout, but the water itself can seriously damage your hair. The chlorine smell is pretty distinctive too, so getting that off after every swim is a priority.
What are your dream training tools?
All my tools are fairly easy to pinpoint that it's the basics of what I need for running, biking and swimming.
What are yours? Are you using tools with your dream training? Tell me your story in the comments.
Go get your fit on – Heather

Heather Montgomery is a fitness writer, triathlete, and serial entrepreneur who is devoted to sharing what she has learned about becoming a triathlete after age 40. She uses her Metabolic Training Certification to help other women struggling to get fit in mid-life. She lives and trains in Santa Rosa, California, the new home of the Ironman triathlon. You can find her biking the Sonoma County wine trails.
Note: Articles by Heather may contain affiliate links and will be compensated if you make a purchase after clicking on an affiliate link.