Last updated on May 11th, 2010 at 01:36 pm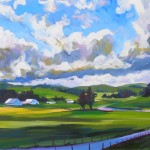 I spent the day teaching in my studio and then came home to spend the evening helping my fifteen year old son with his French video assignment. This week I got a reality check on just how unorganized I can be.
Some of those moments included: teaching an extra free hour of painting because I forgot to change my studio clock for daylight savings, having to go twice to the Board of Equalization to get my sales permit because of forgotten paperwork, and almost missing an art deadline because I thought I had another week.
Sometimes I feel like I am juggling too much and get overwhelmed if I allow myself to think of all the different components of my life. Getting organized is going to have to be moved up to the top of my goal list if I am to achieve my dream.
On a positive note, I have been working further on my definition of what a successful international artist is. I know that some of the steps to get there will have to include: creative marketing, good work habits, travel (Yippee) and contact with other artists who have already achieved my dream. I recently purchased a book titled Art Marketing 101 and am working through the first chapter.
Thanks to my mother (my biggest most supportive fan), my son and I will be having the opportunity to travel to Puerto Vallarta this summer. This will give me the chance to visit some of their galleries and make contacts. I also realized today that I have two distant family friends that fall in the "International Artists Category" and I plan to contact them.  My homework assignment this week is to create an art calendar that lists all the shows that I apply to during the year with deadlines so that I can refer to it in the future and to continue working on chapter one of Art Marketing 101.
Well it is almost midnight and my brain have moved into slow gear making me reread all my sentences but barely registering their meanings.  I teach art at a private school and every week I give my students an art related quote.  This is one of my favorites "The universe is full of magical things patiently waiting for our wits to grow sharper". Eden Phillpotts
I wonder … who is your favorite international artist?
Wendy
(Wendy's dream is still to become a influential international artist, but she left 8 Women Dream in March of 2010 to complete grad school.  She is still a strong supporter of 8 Women Dream and you will see her in the comments on the blog.)

Enjoy this special 8WomenDream Guest Contributor story submitted by new and experienced big dreamers throughout the world, edited and published to capture a dream perspective from different points of view. Do you have a personal dream story to share with 8WomenDream readers? Click here to learn how to submit dream big articles for consideration.
Note: Articles by Guest Post Contributors may contain affiliate links and may be compensated if you make a purchase after clicking on an affiliate link.