Last updated on June 23rd, 2011 at 10:38 am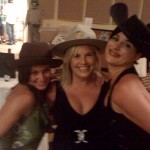 Like a lot of daughters of toxic mothers, I struggle with the care and feeding of friends. I've had friend "droughts" by choice and have been known to talk to myself in my bathroom mirror during parties, telling myself,
These are your friends, you like them, you wanted them to come.
My friends always laugh at me when I say I don't have a lot of friends. Their noses scrunch up; they tilt their heads back and guffaw. I'm so easy to be around, they say. I'm so sweet, funny and smart, they insist.
As a child I had all the friends a happy little roller-skating girl could handle. I knew all their moms, their houses, their garages as well as my own. I had the great city kid experience of growing up among a pack of kids on our block. I had home friends, school friends, playground friends, summer camp friends, and friends of my friends.
I was one of the same group of 30 kids — give or take — who went from kindergarten with Miss Carr to sixth grade with Mrs. Ryder at Cabrillo Elementary. We learned folk dancing for May Day celebrations, dragged pillow cases behind us on Halloween and showed off our hauls from Christmas morning to each other for years and years and years.
We were all nervous when we entered junior high and soon after that my parents divorced and we moved across town.

For the first time in my life I felt utterly friendless.
The new school was bigger, the classes were bigger and I felt small. I had the dorkiest experience of thinking about leaving school one day and like a rat in a maze not being able to find my way OUTSIDE.
After I mastered my new school's floor plan, taking into consideration where monitors stood and teachers sightlines ran, I took to skipping out before lunch to ride a bus from my new life back to my old life a couple of times a week. Eventually my old school caught on and teachers would eject me from campus on sight.
You know how newspapers always have those stories of seniors with Alzheimer's walking away from home and being found miles away, or in the next town and nobody can figure out how they got there in one piece? I always identify with those stories, because I've been there in that tiny, panicked fugue state of wanting to get away but having no place to go.
High school was another no man's land for me. I was suddenly dressed in a plaid skirt and Peter Pan collared blouse walking the halls of a strict Catholic girl's school where all the students had known each other since their confirmations. Plus, I'm not Catholic.
Not to say I had no friends in high school. I was loosely associated with a band of misfits who hated school as much as I did. A few might have hated their home lives for the same reasons I did. Hard to know. We never discussed stuff like that. We were too busy talking about bands and boys.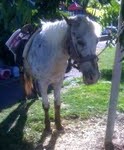 My mother was deep in her denial about her sad life and too busy dragging my brother and me along behind her to notice I had no friends. No sleepovers, no vacations, no social outings for me or my brother.
I wouldn't have suggested a friend visit our house any more than I would have demanded a pony for my birthday. My parents could fight or my mother could be lit and loud and embarrassing. It would have been too risky.
And so, I turned inward and lost the gift of girlfriends, friends, social intercourse, discovery and emotional risk-taking. Did I know that had happened? Had I lost trust in other human beings? Not really. I did trust some people; a few kind-hearted souls. And I believed in my friendships from childhood despite loss of contact.
This is a common experience of daughters of toxic mothers. Having friends seems risky to a kid who doesn't trust her own mother.
As a young adult I made friends but I never truly believed they were really, really my friends. No college so there were no dorm friends, no covey of weddings and babies and reunions. I made friends of all ages through work and dating and Jazzercise at the community center.
I realize now what I didn't then; that not believing in friendships has everything to do with not being open with your friends. I had secrets about my life and family. I knew I had very sad aspects to my life and I hid them. How could anyone be my true friend if they didn't really know me?
Fast forward, 20, 30 years.
Fast forward through love, therapy, hope and dreams focused on a normal, happy life.
These days I have plenty of friends and they know that I adore them.
Is it because I've learned to adore myself?
Well, let's not get carried away.
I have a nice group of diverse friends; men and women, young and old. I actually initiate contact and welcome spontaneous get-togethers. (Yes, the doorbell still makes me cringe, but I'm working on it.) Unlike my approach in the past of forcing myself to make plans, then dreading them and fighting my impulse to cut things short — because really, who would want to hang out with me? – I enjoy get-togethers.
My friend Katherine giggles at my friendship issues. She knows all about how I struggle. Over a girl dinner recently she tipped her head back and laughed until her eyes crinkled up. She loves the idea that I constantly question friendships and doubt my own friend worthiness. She's comfortable telling me that I am so ridiculous because we've been friends for years.
And you? Do you have healthy relationships with your friends?
Rayne Wolfe's dream is to write her first book Confessions of an Undutiful Daughter by the end of 2011. She completed her dream journey May of 2011 on 8WD after a year living her dream. You can find her at Toxic Mom Toolkit on Facebook.

Enjoy this special 8WomenDream Guest Contributor story submitted by new and experienced big dreamers throughout the world, edited and published to capture a dream perspective from different points of view. Do you have a personal dream story to share with 8WomenDream readers? Click here to learn how to submit dream big articles for consideration.
Note: Articles by Guest Post Contributors may contain affiliate links and may be compensated if you make a purchase after clicking on an affiliate link.