Last updated on April 8th, 2012 at 07:59 pm
We all have read books that have an impact on our lives.
There are books we read because we want to change. Sometimes we take action with the advice they offer.
Mostly not.
This is my path to really analyzing what The Dip by Seth Godin means to me as an entrepreneur, and someone who dreams of multiple streams of income equaling very large sums of money.
So I did the homework.
Really – there's homework involved.
If you haven't already caught up on my previous posts dealing with The Dip, go to Your Dream Will Make You The Best In The World and How To Accelerate Your Dream Through The Dip.
Just past the 2/3 mark into Seth Godin's The Dip is a section titled, "Three Questions to ask before quitting."
Seems simple enough.
Granted, getting through this book with your passion and drive intact is difficult in itself. As a clue, the intro is titled, "If you're not going to get to #1, you might as well quit now."
No pressure.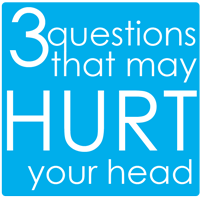 Question #1: Am I panicking?
I took a good look at this question form both my current state of business as past. I could immediately spot my reaction to panic had been a major factor of several FUBAR decisions over the past several years.
Taking deals that I thought would be great opportunities (panic decision)
Signing contracts because I thought it was the best offer (panic decision)
Investing in systems I thought would solve a problem (panic decision)
"When the pressure is greatest to compromise, to drop out, or to settle, your desire to quit should be at its lowest" ~ Seth Godin, Business & Blogging Guru
Since I can't time travel and slap some sense into myself, I can only keep this in front of mind every time I start felling that panic attack creep in.
What was the last decision you made under panic?
Question #2: Who am I trying to influence?
This one is fairly easy to define. When I put a proposal together for a client, I am typically influencing the business owner/decision maker.

"If you're trying to influence one person, persistence has its limits."
In response to that statement I would have to agree. What kind of response do you get from follow-up with clients? My experience varies from being thrilled I kept in touch after 6 months, and those I never hear from again.

"Influencing one person is like scaling a wall. Influencing a market, on the other hand, is more of a hill than a wall."
What market are you trying to influence?
Some examples from my world:
Forward Motion Studios — web development company
General market – companies with more then 10 employees that have a marketing manager, but not an in-house design support team.
Ideal market — Lifestyle businesses (wineries, resorts, etc.).
For Your Adornment — couture jewelry
General market — women who are looking for a unique art jewelry to highlight their style.
Ideal market — retail boutiques in the bay area.
Question #3: What sort of measurable progress am I making?
Progress is measurable, even in small bits. The trick is to make sure you are making forward movement.

"You're either moving forward, falling behind, standing still. There are only three choices."
Reality check on progress of my ventures . . .
Forward Motion Studios had jumped into social media 2 years ago (with the copious hard work of Catherine):
For Your Adornment officially started selling last year:
First 3 months of 2010, sold 1 piece of jewelry
The last 3 months, sold 6 pieces in retail boutique
Why do we stick with the things that may not be moving us forward to a successful life?
"That choice — to stick with it in the absence of forward progress — is a waster. It's a waste because of the opportunity cost — you could be doing something far better with your time, and far more pleasurable, with your time."
When you put it that way.
There are always things we all find as a distraction. The latest TV show, the web surfing marathon of 4 hours. Some people use housework as a distraction. That one is just not a problem for me.
No matter how you get yourself to focus, make sure you aren't in a state of panic, know your audience, and have a way to measure success.
What do you need to excel at? Are you ready to quit or be #1?
Put it in the comments – see you there!
~ Heather

Heather's dream is to have multiple streams of income, starting with launching an e-commerce website that showcases her one-of-a-kind designer jewelry, which are crafted by her. Her newly launched sites are couture jewelry available through For Your Adornment, and Twitter background designs on Twitter And Beyond Dot Com. She also teaches Social Media tactics for business, besides being CEO of her own web design company. Heather's post day is Thursday.
All quotes are credited to Seth Godin, The Dip

Heather Montgomery is a fitness writer, triathlete, and serial entrepreneur who is devoted to sharing what she has learned about becoming a triathlete after age 40. She uses her Metabolic Training Certification to help other women struggling to get fit in mid-life. She lives and trains in Santa Rosa, California, the new home of the Ironman triathlon. You can find her biking the Sonoma County wine trails.
Note: Articles by Heather may contain affiliate links and will be compensated if you make a purchase after clicking on an affiliate link.