Last updated on January 31st, 2020 at 05:06 pm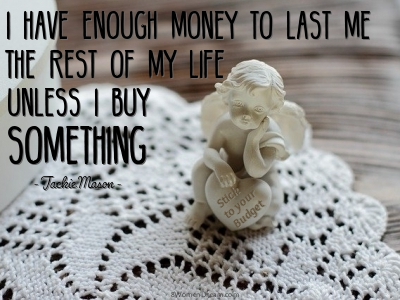 If you haven't read any of my previous articles here on 8WomenDream, you should be warned that my big dream is to be financially strong. Yes, I am that dreamer who writes about money, finances, and budgeting.
If you want to run away now, I won't hold it against you.
But lately, I've been thinking about habits that work to save money I've learned since declaring my financial big dream to the world.
And for once, I chose this article topic of my own free will, and not because I'm in a panic that I have spent too much money or feeling shame over my past expenditures. I'm proud to say that I stuck with my end-of-the-year budget. I did not overspend this past holiday season.
Of course, it helped that my significant other, "Virgo Man," received an unexpected end-of-the-year bonus, and we sold our old wedding rings (from our past marriages). Still, even without those surprise inflows of cash, I've been doing well at sticking to my financial plan.
Gosh, I guess writing about my big dream has done something for me after all! Who knew!
8 Ways I've Learned to Save Money
1. Avoid temptation.
I find it amazing that I have weaned myself off of my yarn habit. The other day, a friend told me that she had been in the neighborhood of my favorite yarn store and she had a few minutes to kill, so she wandered into the shop. She hates knitting, but her daughter likes it, so my friend thought she'd buy a ball of yarn as a stocking stuffer. Even she–avid non-knitter that she is–wanted to buy one of everything on every shelf. "It's so pretty in there," she enthused. "And so soft!"
Exactly.
That's why, during the first six months of my financially stable budget, I kept myself out of any yarn store. I broke my yarn-buying-for-no-reason habit. Not only do I no longer look for reasons to drive 30 miles just for an excuse to go into the yarn store, but I can even go into one now when I'm legitimately in the area and say to myself, I have enough yarn. I can leave the store, not having purchased one single thing.
I'm guessing I saved at least $1000 just by staying out of the path of temptation.
2. No debt allowed.
Back in high school, I dated a guy who truly believed that you should never buy anything on credit. He said, "Jayne if you want something, save your money until you can afford it, and then buy it outright." I thought that was just crazy, old-fashioned thinking. Flash forward thirty-five years to our high school reunion, where I saw said boyfriend for the first time in an eternity. He now owns fifteen to twenty houses, a private plane, and a boat that he docks in Mexico and lives on two months out of the year. I, who avidly rode the debt train, do not own anything of the sort.
Who's crazy NOW?!
Since starting to work on my dream, I have not officially used debt, although I have had checking account overdrafts more times than I like to say, and that's nothing more than a costly form of debt. But one step at a time, right?
3. Rustle up some vittles.
I love to feed people, and my grocery budget is, shall we say, extravagant. I will often stand in front of the pantry and find nothing to make a meal out of among the packets of dried exotic mushrooms, Spanish saffron, Mexican oregano, rice noodles, and heirloom beans.
My "Virgo Man," on the other hand, is genius at what he calls "rustling up some vittles." Rules of culinary convention unbind him. He focuses on what we do have available at home, not what we don't have. If we have two leftover chicken legs, some rice, a couple of green onions, and (always) a bottle of sriracha. Ta-Da! It's a meal.
Never mind what we don't have in the refrigerator. Let's eat!
4. Don't hoard, consume.
Related to #3 above is the concept of consuming what you've got instead of hoarding it. This new habit has been a tough one for me. I'm a collector more than a consumer, by nature. But I'm working on it.
Most recently, I've been consuming Dungeness crab and how. "Virgo Man," as regular readers know, is an avid ocean fisherman with lots of fisherman friends. He's got a system down for Dungeness season, where he leaves the crab pots out in the ocean full-time, and whenever he gets a minute, he'll run out and pull the crab out.
Since the beginning of the season, I'm willing to bet that 100 Dungeness crabs have come through my kitchen. We've had steamed crab, crab Louis, crab cocktail, Thai hot pepper crab, and crab wonton soup. I am sick unto death of crab–poor me. But it's what we've got, and hoarding it isn't practical. We find ever more ways to consume it.
Last Fall, it was tomatoes. Here in Northern California, we had a weirdly cool summer, and the tomatoes didn't ripen until late September, at which point they went madly insane. My local organic, biodynamic tomato grower was selling them for $1 per pound. They weren't pretty, but they were tasty, and there were lots of them. I know all the ways to eat tomatoes, trust me.
And by the way, consuming what you've got around you is not just about eating. I used up a bunch of yarn this Fall, making the most adorable hats, which I am now giving as gifts each time the occasion arises. "Virgo Man," and I had our old wedding rings lying around, so we used those up too. I have not bought hand lotion in months. I've simply used the partial tubes and bottles that have been buried at the far back of the bathroom cupboard. Once you get into it, disposing of "collections" is fun and rewarding. It also gives you a sense of renewed energy.
5. Buy (and sell) Used.
Where I live in the historic town of Sonoma, California, there seems to be a consignment shop on every street corner. But it's still a money-saver to buy used items. Used women's clothing is almost always a bonanza.
I don't know what it is about women that make us buy clothes and then only wear them a time or two, but whatever, it means the used clothing stores are full-to-bursting with really lovely, very gently used clothes at a fraction of their original price. My cupboards are stocked with used dishes. Just about every stick of furniture in my house is used. And I always buy used cars, drive them until they die, and then buy used again. For cash, of course! No debt allowed, especially for vehicles.
Selling or consigning stuff you no longer use is another great money saver, although you have to be careful with this one. I once sold a whole collection of books on interior design and another big pile of cookbooks. The manager of the store I sold them to said he was going to set up a window display in my honor.
About a week later, I walked by the store, and he had done just that. I stood there looking at the display, regretting several of the books I'd sold, finally went in, and repurchased them. Don't let this happen to you.
6. Sleep On It.
An early goal in my first year of dreaming big was: I vowed to write down anything I want to buy and not buy it until at least 24 hours have passed. This way of recording my urges is important for me because most of my purchases are small and, on the surface, harmless. Like, $25 or less.
Add a few of those up, and they start to be serious money, though.
I kind of forgot all about my writing it down strategy until recently, but I'm back on the wagon now. I use Evernote to save e-mails about software or books or knitting patterns. I use a notebook that I keep handy for everything else. And guess what? If I write it down, I rarely buy the thing I wrote down, and I can't recall ever once regretting it. Whereas I often lament over something I buy on impulse.
7. Read like a Victorian Gentleman.
Back in the Victorian age, people did not read books cover-to-cover. They would pick one up, read it for a while, and make notes and copy excerpts in a Commonplace Book. Then they'd pick up another book and do the same. This was a way of establishing a broad, general understanding of any topic.
Amazon has made this practice easy by allowing access to free samples of e-books. And you don't even have to have a Kindle to take advantage of it. Their e-reader software is available, free, for Mac and Windows. Sampling books sates the rabid book addict within–the "try a sample" button is a lot like the "buy" button!
This practice works well for two reasons. One, a good author always summarizes the thesis of the book in the introduction or the first chapter, so the sample is like an executive summary. And if you want more, you can always buy it. Two, those sample chapters can pile up fast.
By the time I get around to reading something, I've often moved on to another interest and am asking myself what it was; I found so interesting about this book. It cuts down on the actual buying behavior, kind of like sleeping on it does (see item #6 above).
8. Barter.
The original marketplace was all about bartering–trading what you had or could do for a service or commodity that someone else had or could do. Money was invented to make bartering more convenient. In truth, we're all still bartering; we don't think about it that much because the money acts as a buffer. Don't even get me started on that rant; I'll save it for another finance story.
But why not take bartering back to its original foundation?
"Virgo Man" has often said he'd like to find someone who raises beef so he could swap salmon and Dungeness crab.
We have a friend who is an avid gardener, and we trade him highly valuable compost (fish carcasses and fallen apples) for tomatoes, cucumbers, and corn.
I am experimenting with bartering my business coaching expertise for a share of a company's profits.
Let me tell you, bartering makes you much more conscious of how much of your energy you are giving, and what your return on investment is likely to be.
Whenever I am struggling against the urge to spend money on something I want, I search the Internet for people writing about healthy money habits to feel inspired to stick with my plan and to forgive myself for having these impulses. The important thing about making your big dreams come true is the determination to work through any issue as they arise.
It's foolish to think that my old financial habits and urges are going to go away overnight. It takes me being mindful of my daily habits, note when I am holding myself back, and set up a few simple counter-measures for when I begin to drift away from my dream plan. And that's a financial strength I can enjoy building upon.
Jayne Speich
Jayne Speich is a small business coach/consultant who writes, thinks, and coaches extensively on customer service, business finance, and ways to thrive in the new economy.

Enjoy this special 8WomenDream Guest Contributor story submitted by new and experienced big dreamers throughout the world, edited and published to capture a dream perspective from different points of view. Do you have a personal dream story to share with 8WomenDream readers? Click here to learn how to submit dream big articles for consideration.
Note: Articles by Guest Post Contributors may contain affiliate links and may be compensated if you make a purchase after clicking on an affiliate link.