Last updated on July 3rd, 2022 at 01:10 pm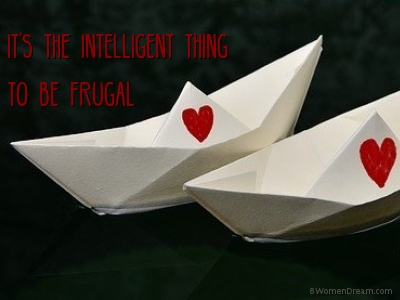 In my dream quest to be financially savvy before I die, I am glad to discover the trend of women wanting a lavish traditional wedding may be on its way out.
Research has shown that couples who spend less on their wedding tend to divorce less often than those who have expensive weddings. A smart frugal rule to follow is for couples not to spend more than one percent of your combined household income on a wedding. So as a couple, if you make a combined income of 70 thousand dollars, you shouldn't spend more than $700.00.
Stop and think about that for a moment.
Yes, the bride's parents still contribute about 50% of the costs on average. Still, with more people living longer, it's not financially smart for mom and dad to damage their savings or retirement monies for a wedding, especially when 40-50% of all marriages end in divorce.
After reading several of my financial stability stories here on 8WomenDream, wedding expert, Cara Davis, sent me a list of eight new wedding trends that seem to indicate couples are starting to think more financially frugal about their marriage celebrations. Four of the eight trends that caught my eye I feel are worth writing about.
4 Frugal Wedding Trends that Caught my Attention
1. Non-traditional wedding dresses.
The part that interested me was not so much the changing style, although I get it–who needs a 35-pound wedding dress that will probably never be worn again that costs so much that your conscience requires you to preserve and store it for the rest of your life at no small expense?
Now, some brides are spending as little as $40. I paid $80 for my wedding gown, back in 1986. I got it at Loehmanns, a chain of off-price department stores. I wore it on several occasions other than my wedding, too. (My ex-husband spent $900 on his suit, but let's not go there.)
2. Less Elaborate Desserts.
Don't get me wrong; I have a kind of stunned fascination with watching TLC's popular show, The Cake Boss. Still, I've never sampled a wedding cake–or any large, heavily decorated cake, for that matter–that tasted anywhere near as good as it looked.
And did you know that the number of slices usually prices a wedding cake? It can cost as much as $12 per slice or more. Yikes! I like the idea of an ice cream sundae bar or a tier of cupcakes. Cara Davis says, "How about Whoopie Pies?" Yum.
3. Food Carts instead of Salmon en Croute.
One of my dear friends used to be a wedding planner, and she told me that if you order the same food for two events, and one is a wedding, the wedding price will be significantly higher. Why? Just because they can, I guess. The bride feels like she's showered with gifts and cash, and the least she can do is feed the people doing the showering.
The caterer has the wedding couple at an emotional disadvantage. I say, bring in a taco truck! Or any food truck for that matter–they're all the rage. You can find falafel trucks, gourmet burger trucks, pizza trucks, all kinds of trucks.
4. Alternative Gift Registries.
This new trend strikes me wrong. It's a polite way to say, "We are registering for cash instead of for china." My hesitation is that I don't think one should ever assume a gift from a wedding guest or anyone who receives an invitation and then dictate what the gift should be.
I guess I have that problem with traditional wedding registries anyway, but I think it hits a higher rung on the crass ring to say you'd like your gifts in cash. Your job as the recipient of a gift is not to control the gift-giving. It's to say thank you for whatever presents you receive and be gracious.
I have seen lavish wedding fever from a pretty close, but still safe, distance.
I once worked with a guy who spent $50,000 on his wedding. It was shocking to everyone around him, but he just laughed ruefully and said his future wife would accept only the best, and he wasn't about to let her down before she even said I do. They didn't just send "save-the-date" notes; they sent hand-folded origami boxes containing "save-the-date" notes. They were dimensional, so they had to be packed into rigid shipping boxes to prevent smashing and mailed to 200 people.
They reserved an entire floor in a 4-star resort hotel (during tourist season) for the wedding party, for three nights. They hosted golf outings for the guys and spa outings for the ladies. The rehearsal dinner was not just for the wedding party but for any invited wedding guest who wanted to pop in a day early.
They didn't have a caterer. They had a chef. And so on.
The drama and stress of planning this wedding for a full year were so compelling that when the wedding was over, a kind of emotionless twilight settled over the poor guy. He couldn't figure out where all the excitement had gone. I still wonder what happened when the bills started rolling in.
For myself, I might say that even a cheap wedding costs too much.
I've been married once, and that was a planned elopement. I'm not married to that guy anymore, but it didn't have anything to do with the fact that we eloped. I have a different partner-husband now, and that was even cheaper than eloping since we didn't get married.
Why?
Because our accountant told us that being married was a wrong tax move, so we decided to make our commitment to one another privately. We didn't have the occasion catered, and I didn't buy a new dress. Every couple of days, we renew our vows by clinking glasses. His is beer, and mine is a wine from Trader Joe's.
Now that's cheap, and so far it's sticking. Maybe I'm better at this financial savviness dream than I first thought.
Jayne Speich
Jayne Speich is an Online Instructional Designer, Associate Teacher, small business coach, and Tubbs Fire survivor residing in the Northern California wine country.

Enjoy this special 8WomenDream Guest Contributor story submitted by new and experienced big dreamers throughout the world, edited and published to capture a dream perspective from different points of view. Do you have a personal dream story to share with 8WomenDream readers? Click here to learn how to submit dream big articles for consideration.
Note: Articles by Guest Post Contributors may contain affiliate links and may be compensated if you make a purchase after clicking on an affiliate link.