Last updated on January 22nd, 2019 at 02:09 pm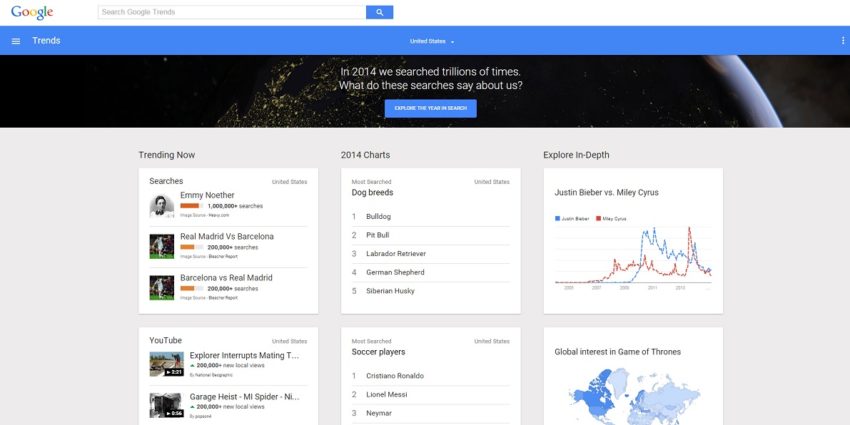 When writers first begin showcasing their craft on the Internet they usually start with subjects that only they want to tell the world. It's natural to want to "push out" subjects that have long been sitting inside your brain looking for a place to land.  For this reason, I always recommend that people have two blogs.  One that is focused on a particular subject that you are passionate about and another one (like on Tumblr, for example) where you just write whatever your heart and brain feels like creating.
But if you write online long enough, eventually the professional writer in you will begin to ask yourself what is is that you love to write about that people will actually want to read about.  This is often the point where the writer becomes interested in reviewing blog statistics to see what visitors are reading, if anything, and seeing which stories resonates with the reader the most.
If the visitor numbers are low, writers will yearn to expand a writing dream beyond just hitting the publish button.
Writers will ask:
"Why isn't anyone reading my blog?"
You may even notice a statistic called bounce rate and flesh out that many of your blog visitors are only looking at posted stories for 4 seconds, or less — obviously not long enough to read the story.  Staring at the statistics makes you question whether you have any writing talents at all.
There can be many reasons for this, but the obvious first choice is that you, the blogger, however great you are — aren't somehow writing with the reader in mind. Writing on a blog is a two-way conversation, and if you are a blogger who recognizes that this could be an issue for you, then you need to ask yourself this at the end of every article you write for the Internet:
If I am at a party and telling this story . . .

1. Would you still tell it in the way you are writing it?

and

2. How would you adjust the story for the person you are telling it to?
For example, let's say there are a lot of distractions at this party … would your story remain as long? How would you change the structure and the timing of your delivery? And most importantly, is it even a story the listener would want to hear?
Enter Google Trends
When the you are ready to expand your online audience and write with the reader in mind, Google Trends can be an online writer's best friend.
Google Trends will tell you what the world is interested in reading and sharing with their connections. This doesn't mean that you have to change your writing niche, it just means that you need to adjust some of your writing so that it resonates with what the reader is currently relating to in their lives.
And if you don't know who your reader is, then we have an even bigger problem.  You should know their: age, sex, marital status, income, hobbies, and education. You should have a mental photo that conceptualizes your ideal reader right above you in your writing space.
In discussing using Google Trends to expand your blog readership here,  I'm going to assume you know who your reader is.  So I am going to walk you through how I use Google Trends.
A trend is often a pop culture fad, but it can be anything that suddenly catches the Interest of a certain group of people — it doesn't necessarily have to be the world.  Think about trends as being those subjects you might chat about around the water cooler at work.
For example, a popular trend is: "make dreams come true."
If you go to www.Google.com/Trends you will see what is currently hot on the Internet and have the ability to search trends for ideas for "make dreams come true"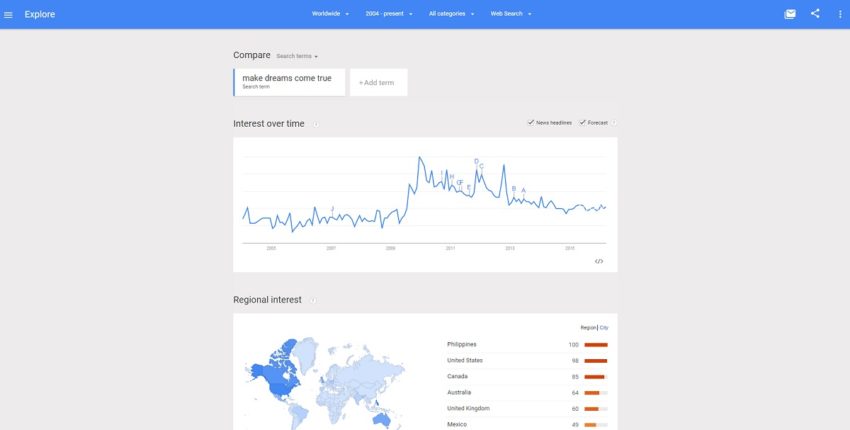 When you enter a phrase like "make dreams come true" in the search window, Google Trends will return a graph showing how this item trends over time on the Internet.
Looking at "make dreams come true" you can see that it was a rising trend in 2009, then dropped  some in 2013 and has remained pretty steady ever since.
The average 8 Women Dream reader is looking to make their dreams come true. The trending phrase works with our demographic and believe it or not, 8 Women Dream is not in the top four positions in Google search for "make dreams come true."  This is a problem that needs to be fixed and 8 Women Dream should be focusing on using this term as regularly as possible.
Here's How to use Google Trends for the term "Make Dreams Come True" —

Create stories around the trending term that use the phrase in your title, keywords, meta description and images as well as in your content.  Make sure the trend relates to yoru topic and here's how we do it on 8 Women Dream with different dreamer's subjects:
Thankful Thursday dreamer and empowerment speaker, Sue Faith Levy shares how positive affirmations can make dreams come true and offers her own examples of positive affirmations.
World traveler and Saturday travel blogger, Natasha von Geldern offers creative ways to finance your dream of traveling the world and how to make your world travel dreams a reality.
Catherine Hughes, the director of 8 Women Dream reveals the 5 things you need to make dreams come true.  Understanding what motivates you is key to having the ability to make your dreams a reality.
Fitness blogger, Heather Montgomery lost 100 pounds after joining 8 Women Dream and went on to become a triathlete after the age of 40.  In this post, Heather declares her top 50 weight loss quotes that motivated her in making her dreams come true.
Life coach and author, Lisa Powell Graham acknowledges letting her dream of publishing her novel fall aside to other events in her life and how to start over when you've been ignoring your dream.
Therapeutic photographer and artist, Iman Woods discusses what life is like after her divorce and how she makes dreams come true from the heartache that divorce can bring.
Motivational speaker and comedian, Kelly Swanson explains how to create products to sell as a motivational speaker and how doing this can make dreams a reality.  Multiple streams of income are a dreamer's best friend and a way to help finance your dream journey.
Create a place specifically dedicated to a trend–as long as it matches what your site is all about.  It makes sense for 8 Women Dream to have an archive page dedicated to stories about making your dreams come true.
Attempting to ride a trend means that you write how this trend effects your niche blog topic, and in our case, our dreams.
Looking at Google trends in a niche
You can also use Google Trends to search what might be trending in your chosen blog niche when you have writer's block to see what the world is finding interesting on your dream subject.  For example, we could just enter the term "life purpose" and see what is currently trending around the subject of live purpose: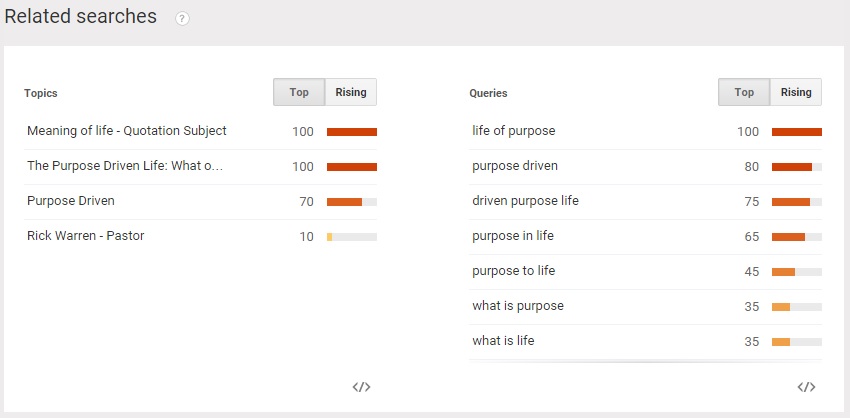 A subject that is currently tending on the Internet for "life purpose" is the The Purpose Driven Life- What am I Here For? by Rick Warren. If my niche was about finding a life purpose then I might want to think of ways in which I could line my stories up with Rick Warren's book on The Purpose Driven Life.
The best trends are the ones you catch as they begin to happen.  One such trending topic post on 8 Women Dream landed 10,000 new readers in a day.
You can also look at the home page of Google trends for global trends that (if you are lucky) may be trending on a subject you'd like to write about.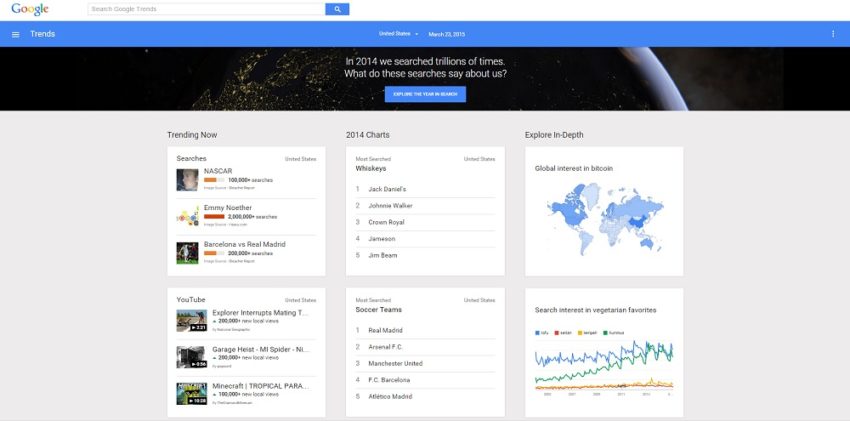 The idea behind riding a trend is that when the world begins to ramp up their search for your trending phrase you have a good chance of showing up high in search for your phrase, and if your title is interesting enough too, visitors will click on your article and come check out your blog — in droves!  And if your trending phrase matches what your writing is about then it is possible to go viral if your content is good and develop a new following of loyal fans and readers.
Wouldn't that be a dream come true?
Catherine Hughes
Share your dream online.
[fbcomments]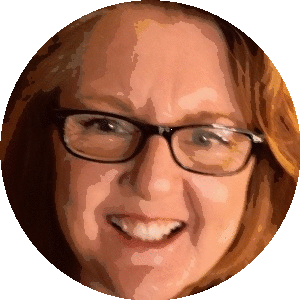 Catherine Hughes is the founder, content director and editor-at-large of 8WomenDream. She is passionate about helping women step out of their own way and strike out into a world waiting for their special talents. She's a published author and a former award-winning mom blogger. Catherine has helped companies both large and small create engaging web content, social media narratives, and unique blogging platforms. She claims to be a redhead, but don't hold that against her.
Note: Articles by Catherine may contain affiliate links and may be compensated if you make a purchase after clicking on an affiliate link.