Last updated on January 22nd, 2019 at 02:09 pm
Our mentors; Part I
A few weeks ago while writing about my dream of starting over at mid-life, I wrote about friendship. More specifically, I wrote about how women need friendships with other women.
Today, I want to go a little deeper – into a type of friendship that is so rare, it only comes along once in a very long while. In fact, this type of friendship is the most mysterious of all; it's the "mentor" relationship.
Often, a mentor, like an angel – walks into our lives, imparts whatever we need, and then is gone. But no matter how many years pass, when these special friends reunite, it's as if they were never apart. I've had the pleasure of having a few mentors in my life.
The most recent is an amazing writer, who is also an amazing person; J.A. Jance.
Mentor (definition): someone who teaches or gives help and advice to a less experienced and often younger person; a trusted counselor or guide. – Merriam-Webster.com
I met Judith Jance when she was in Walla Walla, Washington for a book signing. She hit a milestone last year – publishing her 50th novel!  I was at the signing that day because I admire writers – especially females who became authors against-all-odds.
I'd listened to her keynote speech at the Pacific Northwest Writer's Association conference a few years earlier.
As I listened to her story, I was impressed. She was a woman of determination; she wasn't even allowed into the writing program at the University of Arizona when she first started writing. The reasoning at the time was this; women should be nurses or teachers.
Yes, Judy wasn't allowed in, because she was a girl.
Years later, when her first novel was finally coming out, her real name of Judy Ann, wasn't used. Afterall, nobody would believe that a girl could write a police procedural. Thus, J.A. Jance was born. It's an amazing story of survival and perseverance. So, when I heard she was coming to town, I grabbed my friend, Christine – a screenwriter, and we went downtown to meet her.
I wandered into our local independent bookstore, bought her book of poetry (not what she usually writes), and then stood back for a bit. It's not that she was busy. I'd come toward the end of her scheduled time.
It's just that, well…I was intimidated. She was famous. I was not.
She'd published 40+ books, and I was still working on my first. I stood back, watching her, and chatting with my friend until finally Christine practically pushed me to the long table where Judith sat.
The silver haired lady with a kind smile also had an easy laugh. I introduced myself and shook her hand. We exchanged niceties and the weird thing (to me) was that she seemed to want me to stay. She wanted to talk. She pointed out a few of her poems in the book, and spoke about them briefly.
As the socially appropriate time came to an end, my heart pounded. I had a burning question.
And finally I blurted it out, beginning with some background;
"My father is a WWII veteran," I said. "On his 81st birthday, he gave me more than 400 pages of letters he wrote to his parents during the war. He started having symptoms of PTSD a few years ago.
He was having terrible nightmares and flashbacks, so I started trying to figure out a way to help him. We began having breakfast together every Wednesday so I could ask him questions. Anyway, slowly, he told me the real story. He was a top secret code breaker during the war – and nobody knew – not even my mom."
I came up for air.
If I was going to be embarrassed by my speed-racer monologue, I didn't have time. Judith related to the story right away. She asked questions and clarified points I had made. After chatting about my father, she asked if he was with me, there in the store. He wasn't and she was disappointed. She wanted to shake his hand.
"I just got back from a writer's conference," I continued. "I spoke to two publishers and I've got to make a decision."
At the writer's conference, just a week prior, I'd presented my book, a memoir to two separate publishers. I told them about my journey to help my father through his flashbacks and nightmares, and how I learned what he really did during the war. Writers will tell you that the best case scenario at one of these conferences is to land a contract with one of the top New York publishers.
Well, Book Publisher #1 was indeed one of the top NY publishers.
The editor I spoke with asked for the first 50-pages of my manuscript. But she had questions too; lots of questions. She asked me about the famous people I knew; which was zero. She said that a book like this just won't sell, because I am not a celebrity.
So, I would need to go out and get celebrity endorsements. By the end of our conversation, I felt like I'd had to "sell" her on the book idea. I had to convince her it was worthy. Still – getting a contract with that publisher is many writer's dream.
Book publisher #2 was not a New York publisher.
It was however the largest female run independent publishing company in the country. I'd done my research, and I liked that. Their company may have been smaller, but the editor who heard the same schpeel that the NY one had, didn't question anything about the book. In fact, I remember his words exactly.
He said, "So, it's like our parents had these lives before us, that we don't know anything about." In my mind I said, "He gets it." Instead of questioning, he confirmed.
And finally, option #3 was to self-publish.
I'd already set a deadline month and year – and if I didn't have a contract by that quickly approaching time, I would self-publish.
Now I stood with Judith, in a very small bookstore, posing the question.
"What should I do? Do you have any advice? Some of my writing friends already think I'm crazy for not automatically going with the New York agency."
"First of all, this is a great story that needs to be told. And you shouldn't have to convince anyone of that," she said emphatically.
She went on to practically scold the NY editor. And she wasn't all that positive about self-publishing either. But she still insisted that the decision was mine to make.
Then she asked a question.
"What does your heart tell you?"
"My heart?" I asked.
I'd been trying to leave my heart out of it. I was aware that this was a business decision and the most important decision of my writing life.
"Your heart," she repeated. "You can weigh the options all you want. But you really need to do what your heart tells you."
Someone was now waiting behind me, to get their book signed. I thanked her for her time, and left with my signed copy of After the Fire in my hands.
I made my decision that very night. And I quickly sent a note to Judith, thanking her for her time and her advice. To my surprise, she wrote right back, giving me more advice, and inviting me to let her know what happened.
That was the beginning of our relationship – the beginning of the mentorship.
Though we only met a few times, our email correspondence continued. When I signed a contract for my book, she offered advice, including, "Run, don't walk…to Toastmasters."
Much as most writers would like to just write, speaking has become a big part of marketing a book. Nobody can talk with passion about your book like you can!
And if Toastmasters was good enough for Judith, it was good enough (though extremely intimidating) for me.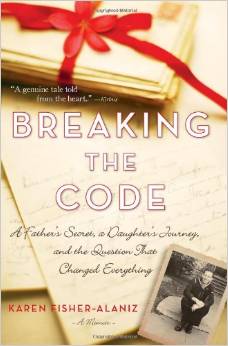 When my book, Breaking the Code: a Father's Secret, a Daughter's Journey, and the Question That Changed Everything came out on November 1, 2011, I sent her a copy. Not long after, she wrote me an email. She loved the book. And it wasn't just hollow praise. She also wanted to do something she'd never done on her website/blog before.
She wrote a post about the book for her followers to read.
When an author event was scheduled for the Seattle area, I had a huge turnout. After speaking about the book, I moved to a table where I could sign books. Reader after reader told me they'd come because Judith told them about me and about the book!
I was just amazed.
True mentors come along so rarely. I feel blessed to have Judith in my life. She's taken what could have been a really rough ride, and smoothed it out with her advice and wisdom. I'm a better person and a better writer for knowing her. And that decision to go with the smaller, independent publisher? I haven't regretted it for one moment.
Two weeks ago, I realized I hadn't sent Judy an update in a while, and well…to be honest, I was more than frustrated with my progress, or lack-there-of, on my current book. So, I sent her an email.
I kept it rather general, but she got the gist of it, and sent me back a note – encouraging me to look at the book with a critical eye. She compared it to her own experience with her book, and referred to a New Year's post on her Seattle Post Intelligencer blog about The Three Legged Horse.
I read the post, took her advice, and sent another email. This time, I went into more specifics. I told her all about how complicated this book was. The subject, Michael Reagan, had led an interesting, complicated, and multi-faceted life. He was a Vietnam Veteran, a talented artist, and had drawn portraits of everyone from the Playboy Bunnies, to the Pope.
He'd raised more than $10 million for charity.
One would think that too much information would never be a problem for a writer. But it is.
Wrangling it all can be a huge problem. Knowing what to leave out can be just as important as what to leave in. There were other problems too. I wrote them all up and hit the "send" button.
The next day I got an email back from her. When I read it, my heart sank.
Our Mentors, Part II to be continued next week.
Karen Fisher-Alaniz
Starting Over at Mid-Life
[fbcomments]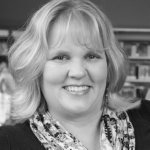 Karen Alaniz is a writer, published author, and a home renovation expert now that she's remodeled an old farmhouse by herself. She strives to help women who are scared it may be too late to start over after a certain age and she encourages empty-nest women to invent a new, prosperous and full life–just like she has done. You can read more about Karen on her Amazon Author page.
Note: Articles by Karen may contain affiliate links and may be compensated if you make a purchase after clicking on an affiliate link.