Last updated on October 3rd, 2023 at 10:48 am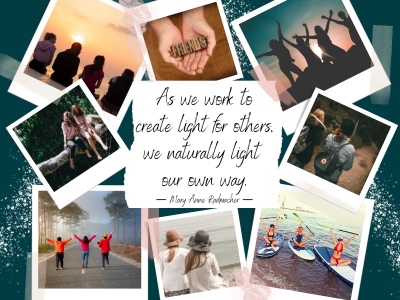 When your dream progress seems stalled, or you feel discouraged, doing something uplifting for someone else can help inspire you to keep working on your big dream.
Let's face it: our fast-paced, dream-achieving lives are filled with digital distractions and constant communication, which can leave us feeling depressed or dissatisfied with our progress. Expressing our heartfelt sentiments to a friend can be a profoundly touching gesture and remind us of the importance of living our lives purposefully.
Author Mary Anne Radmacher, renowned for her inspiring words and thought-provoking writings, has a beautiful practice: she writes What I Wish for You letters to her friends.
These letters are not just a simple exchange of words but profound expressions of love, support, and encouragement. There is an art to writing such a letter, why it matters, and how to create a heartfelt message of your own.
Why Write a What I Wish for You Letter?
1. Personal Connection: In an age of texts and emails, receiving a handwritten letter conveys an unparalleled sense of thoughtfulness and personal connection. It shows you've taken the time and effort to communicate more intimately and deliberately.
2. A Source of Encouragement: Life can be challenging, and everyone appreciates a source of encouragement from time to time. A What I Wish for You letter provides the perfect opportunity to offer words of inspiration and support.
3. Reflection and Gratitude: As you craft the letter, you'll reflect on your friendship and the qualities you cherish in your friend. This process of gratitude can be an enriching and cathartic experience.
How to Write a What I Wish for You Letter
• Choose Your Words Thoughtfully: Start thinking about the person you're writing to. What qualities do you admire in them? What are their strengths? What makes them unique? Your letter should reflect your genuine feelings and thoughts.
• Begin with a Heartfelt Greeting: Start your letter with a warm and heartfelt greeting. Use their name and express your love and appreciation for them.
• Share Your Wishes: This is the core of your letter. Share your wishes and hopes for your friend. Be specific and detailed. For example, you might wish them to find happiness in meeting a partner, discovering new travel adventures, or experiencing boundless joy through their art.
• Offer Support: Let your friends know you are there for them, no matter what. Express your willingness to lend a helping hand with their big dream, lend an empathetic ear, or provide guidance whenever they need it.
• Reflect on Your Friendship: Share a personal anecdote or memory highlighting your special bond. This adds a personal touch and strengthens the connection between you.
• End with Warmth: Close your letter with another heartfelt expression of love and support. Sign it with love or a personal note that holds meaning for both of you.
• Handwritten and Personal: Consider handwriting your letter to add a personal touch. This shows you've invested time and effort into creating something unique for your friend.
Writing a What I Wish for You letter, inspired by the wisdom of Mary Anne Radmacher, is a beautiful way to strengthen your friendships and spread love and positivity in the world. These letters are not just words on paper; they embody your care and appreciation for your friends. So, pick up a pen and paper, and let your feelings flow onto the page. Your heartfelt wishes may brighten someone's day and deepen your connection with them in ways you never imagined.
What is it you wish for your dear friends?
Please take the opportunity to tell them.

Enjoy this special 8WomenDream Guest Contributor story submitted by new and experienced big dreamers throughout the world, edited and published to capture a dream perspective from different points of view. Do you have a personal dream story to share with 8WomenDream readers? Click here to learn how to submit dream big articles for consideration.
Note: Articles by Guest Post Contributors may contain affiliate links and may be compensated if you make a purchase after clicking on an affiliate link.