Last updated on April 2nd, 2012 at 11:02 am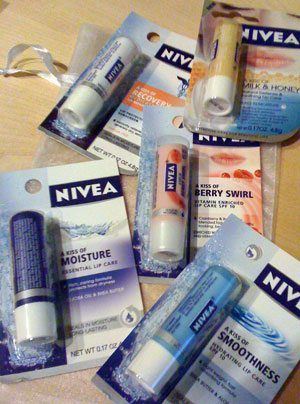 Is it too early to think about your New Year's Kiss? It's never a bad time to think about romance in my book. The product review I bring you this week has a bonus. I get an opportunity to offer a Nivea "New Year's Kiss Prep Kit"to a lucky winner! Keep reading to get the details.
A classic element of romance is of course a kiss. The Nivea's line of lip care products with the teaser title of "A Kiss Of" has fun and practical lip care option. From smooth and fruity, to repairing moisture, they have your soft lips covered for that perfect kiss.
What makes this product different?
The twist on "A Kiss of…" makes it easy to use for all their different options. The timing for this review is perfect since my skin is really letting me know it's the second week of November. Dry and dehydrated from the cold outdoor workouts, my lips apparently need some attention.
First one I opened was the Berry Swirl. Pretty color and great light scent. I'm loving the non-greasy feel and how it glides on super easy. It feels almost too decadent for lip care.
The packaging is clear and makes it easy to figure out which one would help with various issues. Dry and sensitive lips? Recovery is the way to go. Need extra hydration? Pick up the Smoothness.
Most of the Nivea lip care had an SPF of 10 or 15, which helps since I tend to forget about sunscreen in general during the winter.
I'm surrounded in pretty packaging when my husband walks into my own personal lip care testing party, asking what I'm up to now. Conveniently he was complaining his lips are chapped so I didn't even have to convince him to give one a try. I handed over the Recovery Medicated and told him to get back to me with a verdict. This is a man that has a lip balm in his pocket at all times. Along with a handkerchief. What can I say? He's old-fashioned that way.
His report? His lips stopped hurting immediately and it wasn't greasy or tacky. He was able to make it through dinner and a glass of wine before feeling like he needed to re-apply. All thumbs up from the testosterone corner.
Next up for me was the Smoothness, meant for hydration and with SPF 10. This will be going in my purse. The name says it all. Not only does it go on smooth but after a few minutes, my lips seemed to soak it up. This may not be a good sign for the natural hydration of my lips, but it left a nice feeling of moisture that is still going strong.
So now that you know how to make your lips kissable soft, what will you do? Kiss in front of millions, of course!
Have you ever wanted to kiss your love in front of millions? Frankly the thought scares the crap out of me, but I know there are some out there that wouldn't mind sharing the love.
New Year's is approaching once again and NIVEA is unveiling its biggest New Year's program yet with its "Kiss of a Lifetime Contest" on Facebook.  They're in search of America 's most deserving couple to ring in the New Year with Bill & Guiliana Rancic on the NIVEA Kiss Stage in New York City 's Times Square !

Awww, they're so cute!
If you are a couple that wouldn't mind showing your love in front of millions of spectators, this contest sounds pretty intriguing.
Tell us how you and your loved one triumphed in 2011 for the chance to win an unforgettable midnight kiss in front of a million people at the start of the New Year.
Are you planning on entering this contest? Let us know. Be sure to comment here so we can keep an eye on the contest and cheer you on!
Share the romance and get some of your own
We want to give you your very own Nivea products to get you ready for that New Year's kiss. The Nivea "New Year's Kiss Prep Kit" includes several samples of full-size Lip Care products.
If you want a chance to win the kit, you have to comment on this post with the answer to this question:
What was the most romantic gesture you ever received?
For those who know me, my husband's marriage proposal ranks #1 in my books – candles, my man in a tux, bubble bath, poems, champagne, chocolate strawberries… Oh, and there was a ring too! It's quite the story, but this is about you. Share in the comments!
We will be deciding the winner of our own give-away by November 25th, so be sure to get your comment in soon.
– Heather
Disclaimer: A sample of Nivea "New Year's Kiss Prep Kit" lip care products were provided to me by New Media Strategies. Any opinions expressed are my own, and opinions are based solely on my experience with the Nivea products and brand reviewed.

Heather Montgomery is a fitness writer, triathlete, and serial entrepreneur who is devoted to sharing what she has learned about becoming a triathlete after age 40. She uses her Metabolic Training Certification to help other women struggling to get fit in mid-life. She lives and trains in Santa Rosa, California, the new home of the Ironman triathlon. You can find her biking the Sonoma County wine trails.
Note: Articles by Heather may contain affiliate links and will be compensated if you make a purchase after clicking on an affiliate link.