Last updated on January 10th, 2019 at 08:42 am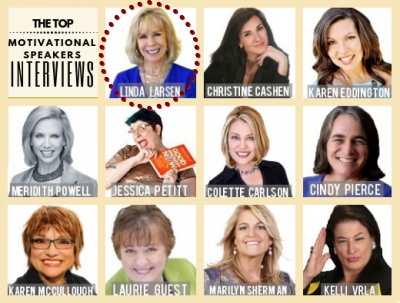 Is your big dream to be a top motivational speaker? If so, then you are in for a big surprise!
I cornered eleven of the most powerful women motivational speakers, and I got them to share their best secrets on what catapulted them into public speaking stardom.
These eleven dynamic speechmakers are willing to share their best speaker business success advice with you! Aren't we lucky?
I asked my speaker interviewees to each answer ten questions. Since their answers are so informative, I've broken each speaker and their responses down into several pages because once I put their answers together here, it was too large of an article to load on a device like a smartphone.
To start, here's a list of the speakers who agreed to be interviewed for this article and a little bit about them:
1. Linda Larsen | www.LindaLarsen.com

Linda Larsen, BSW, MFA, CPAE, is a member of the National Speaker Association Speaker Hall of Fame®, joining such notables as General Colin Powell, President Ronald Reagan, and Brian Tracy.
You can read Linda's full bio on her website, here.
2. Christine Cashen | www.christinecashen.com

Christine Cashen is a member of the National Speaker Association Hall of Fame®. She travels throughout the US, Canada, South Africa, and Australia, teaching people how to have more fun, lower stress, and communicate more effectively.
You can read Christine's full bio on her website, here.
3. Karen Eddington | www.kareneddington.com

Karen Eddington is a 15-year identity researcher and author of Understanding Self-Worth, with a background in clean stand-up comedy. Her speaking focus is based on her original research from The Under Pressure Project.
You can read Karen's full bio on her website, here.
4. Meridith Powell | www.meridithelliottpowell.com

Meridith Powell was voted one of the Top 15 Business growth experts to watch by Currency Fair. She is an award-winning author, keynote speaker, and business strategist.
You can read Meridith's full bio on her website, here.
5. Jessica Pettitt | www.goodenoughnow.com

Jessica "Jess" Pettit has been educating college and university staff members to support and guide diverse students to success. She holds a Certified Speaking Professional designation from the National Speakers Association.
You can read Jessica's full bio on her website, here.

6. Colette Carlson | www.speakyourtruth.com
Colette Carlson is a human behavior expert and CPAE Hall of Fame motivational keynote speaker who inspires organizations and individuals to connect and communicate in real and relevant ways.
You can read Collette's full bio on her website, here.
7. Cindy Pierce | www. cindy-pierce.com

Cindy Pierce is a leading social sexuality educator and comic storyteller who has been performing her one-woman comedic show and providing educational program around healthy sexual behavior and choices since 2004.
You can read Cindy's full bio on her website, here.

8. Karen McCullough | www.karenmccullough.com
Karen McCullough is a nationally known keynote speaker and expert on change, generational opportunities and workforce trends. Karen is also an author, Branding Expert, Social Media Enthusiast, and a Gen X and Y Evangelist.
You can read Karen's full bio on her website, here.
9. Laurie Guest | www.solutionsarebrewing.com

Laurie Guest, CSP is a highly sought-after speaker who meeting planners call upon event after event to deliver top-notch content with a good dose of motivational laughter. Laurie is an NSA Certified Speaking Professional.
You can read Laurie's full bio on her website, here.

10. Marilyn Sherman | www.marilynsherman.com
Marilyn Sherman is a National Speaker Association CPAE Speaker Hall of Fame keynote who motivates audiences to get out of their comfort zone and get a front-row seat in life. Marilyn is the author of four motivational books.
You can read Marilyn's full bio on her website, here.
11. Kelli Vrla | kellivrla.weebly.com

Kelli Vrla, CSP is a member of the National Speakers Association and serves on the board of the NSA-North Texas division. Since her radio days at ABC, Kelli has successfully helped people enhance personal and professional skills.
You can read Kelli's full bio on her website, here.
———-
The Top Motivational Speaker Interviews – Interview #1 of 11:
Linda Larsen
Q-1: What made you want to be a motivational speaker?
A-1: I know how important it is to have hope when you feel like you have none. I want to give people hope that there is something better for them. I want to let them know that they absolutely are capable and deserve to have a safe, happy, healthy, rich productive life.
As a social worker, I gave people hope in a one-on-one situation, but I needed to reach more people. And as a professional actor, I knew that my skills as a performer and entertainer could be combined with my knowledge of human behavior and–viola!
The logical platform for me was as a professional speaker.
Q-2: From the time you decided to become a motivational speaker, how long did it take for you to start making a living at it?
A-2: Right away. I specialized in full-day training sessions on communication, creative thinking, leadership skills, and confidence/credibility skills for women with an international training company.
They put me to work immediately.
Q-3: Name 3 things you are really great at as a motivational speaker.
A-3: First, humor. Second, storytelling. Third, honing in on the issues that audience members are facing.
Q-4: What was your biggest mistake in the business of being a paid public speaker?
A-4: Not treating my motivational speaking career like a business from the very beginning. Everything from setting up proper systems and learning how to create an effective one-sheet, website, and demo video before I went out and created a one-sheet, website, and demo video.
Q-5: What was the one thing you did right when you started as a motivational speaker?
A-5: I joined the National Speakers Association right away. THERE'S where you learn how to be a great public speaker!

Q-6: What do you think is the hardest thing about having a motivational speaking career?
A-6: For many women dreaming of a public speaking career, I would say it would be the amount of money it takes to do things right the first time. For some, it would be the amount of training, feedback and work it takes to get up on that stage and be really, really, really good. Some people think,
"Oh, I'm a good speaker. People laugh at my stuff. I can do this!"
But the fact is that most people in your audiences (large or small) will not give you straight feedback about what you need to improve upon. Or they don't know what you need to improve upon. Or they don't want to hurt your feelings. You can't just be "sort of" good up there on that platform.
You have to be great. And for most speakers, "great" doesn't just happen. You have to work hard at it.
Q-7: What is your favorite type of audience?
A-7: Women. Women. Women! They look you straight in the eye, they nod unabashedly, they guffaw, they dance if you ask them to, and they let you know they are with you 100%.
Q-8: The motivational speaker business can be stressful. What do you do to stay sane?
A-8: Play and being grateful. Playing with my doggies. Play with my husband. Playing with my friends. Reminding myself every, single day how grateful I am for a bazillion things.
Q-9: Motivational speaking takes a tremendous amount of work; how do you balance your personal life with your speaking career?
A-9: I'm not great at balancing it. If I get work–I'm gone–regardless of what might have been planned at home. If I have client calls to make or stuff to get out, I'll work at my home desk until midnight. But I'm also very impulsive. I will just walk away from work and go to the movies.
As I said, I'm not so great at this one.
Q-10: What advice would you give to women who have decided their big dream is to be a motivational speaker?
A-10: Three things:
1. Have something that you KNOW will help people in a profound way and be convinced that you MUST share it with them.
2. Learn how to give a great, no, make that BRILLIANT speech.
3. Join the National Speakers Association to learn how this business works and what you have to do to be successful.
———-
On behalf of 8WomenDream and myself, I would like to thank Linda Larsen for providing these generous answers to my ten motivational speaker questions.
I believe that women motivational speakers are worthy of recognition and celebration. I much appreciate Linda's time and assistance in getting her answers to me about her public speaking business and her work-life balance advice. Thanks again, Linda!
Kelly Swanson
Kelly Swanson is an award-winning storyteller, motivational speaker, published author and TV personality who is passionate about helping women harness the power of their stories to connect, influence, and get the results they dream of accomplishing. Laughing the whole way, Kelly teaches women how to master the art of connection through the power of strategic storytelling. You can find her on The Fashion Hero show airing Fall of 2017 on Amazon Prime or on her website MotivationalSpeakerKellySwanson.com.
Note: Articles by Kelly may contain affiliate links and may be compensated if you make a purchase after clicking on an affiliate link.