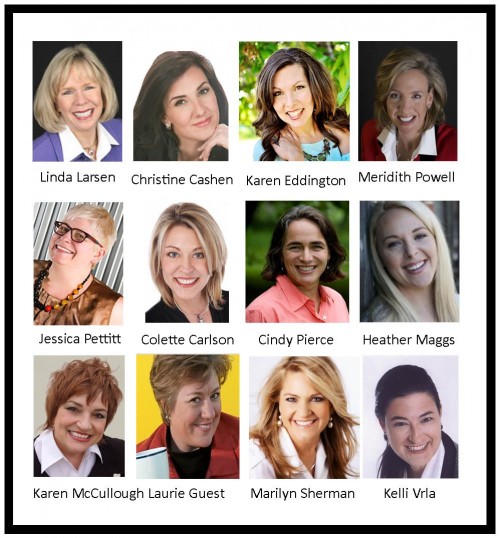 A Dozen Powerful Women Motivational Speakers Sharing The Secrets That Took Them To The Spotlight
A Dozen Dynamic Women, all in various stages of the motivational speaking business, share their best advice with you in this encouraging powerful blog post. Take a peek at the women behind the stage – to see what got them there.
Today I Invite You To Take a Peek Behind The Stage
I asked twelve women motivational speakers (all in different stages and walks of this business) to answer ten questions. Here are their replies – straight from the heart.) But first, let's meet the speakers.
Due to the fact that this blog post is already REALLY long, I'm just giving you their names and their websites below, in the hopes that you will first go check them out, to really get to know each woman and her business model.

1. Linda Larsen  2. Christine Cashen  3. Karen Eddington  4. Meridith Powell  5. Jessica Pettitt  6. Colette Carlson  7. Cindy Pierce  8. Heather Maggs  9. Karen McCullough  10. Laurie Guest  11. Marilyn Sherman  12. Kelli Vrla
Now On To The Women Motivational Speakers Secrets Interviews:
1. What made you want to be a speaker?
Linda Larsen:
I know how important it is to have hope when you feel like you have none. I wanted to give people hope that there was something better for them. I wanted to let them know that they absolutely were capable and deserved to have a safe, happy, healthy, rich productive life. As a social worker I gave people that hope in a one-on-one situation, but I knew I needed to reach more people. And as a professional actor, I realized that my skills as a performer and entertainer could be combined with my knowledge of human behavior and – viola! The logical platform was as a professional speaker.
Christine Cashen:
I wanted to make a living and make a difference. The only part of every job I had that I loved was the "speaking" part and I wondered if there was a job like that. After some research-VOILA!
Karen Eddington:
I didn't start out wanting to be a speaker. I was going to be a high school cheer-leading coach. But, in the high school gym I started seeing the impact people have. People matter. At the same time I recognized I have a unique message that I'm insanely passionate about.
Meridith Powell:
I'm not sure I ever set out to be a speaker… but after doing it a few times, I wanted to 'be a speaker" because it is so amazing to have an idea, craft it into a story and a speech, and share it with an audience and it touches, impacts and changes their life. It Rocks!
Jessica Petitt:
I kept getting fired and I had something I wanted to say. It started as a back up plan – then I listened to my own message, gained confidence, and now have the best job for me – though I do fire myself a lot.
Colette Carlson:
I'm a teacher at heart who loves that speaking plays to my passion of helping others grow and learn, while holding me accountable to do the same.
Cindy Pierce:
My friends bossed me into taking my stories to the stage because they wanted more people to experience my self-deprecating stories and feel better about themselves the way they did. I couldn't imagine that people would be interested in the topics (sex and all the incidents that unravel in that soup, female pleasure, birth, an encounter with a urinal mint to name a few). It became clear that people of all ages were desperate to feel more normal, and they responded well to my approach.
I remember my first audience of college women ferociously wanting more information about female pleasure. Soon after, I had an audience of college men who were equally confused about what women want. I was completely shocked to realize that the handy Internet was so overwhelming for people that finding helpful information under the layers of distracting crap was too daunting. It became clear that social sex education and specific information about sex was desperately needed.
My recipe of decades of conversations with boys, girls, men and women about sex and relationships combined with my shameless, humorous approach to conveying information opens people up and provides relief.
Heather Maggs:
I wanted to become a speaker because I saw the founder of Girls Fight Back!, Erin Weed, speak at a conference. I was instantly drawn in by her message and inspired to make changes. I thought "I'd like to have that kind of positive influence on others."
Karen McCullough:
1999 I closed down my retail stores,and needed a new career. I went to a NSA meeting with a girlfriend and saw their Speaker Protrack graduation. 10 speakers were doing their bit and I told my friend that I wanted to do what they did. I joined NSA Houston and signed up to be in the 2000 Protrack Group. My first program was a public keynote.
I rented the Junior League ballroom and invited all my friends and customers. 300 people showed up to see The Seven Women Inside You- How to Live, Love and Dress All of you! It was a runway show featuring seven fashion personalities… and I had all sizes of women – real women on the runway… it worked. But there was very little profits.
Laurie Guest:
I became a speaker because talking in front of a crowd has always come easy to me. I come from a long line of story tellers and I found that groups of people would respond to my points if I wrapped them in story.
Marilyn Sherman:
I saw a speaker (Roger Crawford) when I was in high school and his message was so impactful, I decided at age 17 I wanted to be a professional motivational speaker. Then, of course I had to graduate from high school. But seriously, I started attending seminars and workshops and I approached every speaker and asked them for advice. All of the advice centered around 'Speak as much as you can.' So I started volunteering to speak at meetings, events, and eventually created my own events. Then I had to graduate from College and get a real job.
Kelli Vrla:
Being very Greek, I love to eat, talk, and laugh. (Instead of ethos, logos and pathos, it's Eat-those, Talk-os, and Laff-os). I was inspired at an early age to love great & funny performance art. My cousins and I used to hold our relatives hostage and do variety shows in our garage "theater" at reunions. Loved connecting with just the right word or phrase to get them to nod, laugh or elbow each other because we hit a nerve.
I worked as a broadcast sales exec in radio in Dallas. I was a junkie for motivational speaker audios and seminars. I listened to the cassettes until they literally wore them out. I sold my sales manager on letting me go to seminars on the condition I would teach the staff a few nuggets of what I learned. I thought the world of the speakers who showed me new ways of looking at things, how to set and each milestone goals, and how to realistically deal better with life's challenges.
I credit my positive mindset to those speakers.
2. From the time you decided to become a speaker, how long did it take for you to start making a living at it?
Linda Larsen:
Right away. I specialized in full day training sessions on communication, creative thinking, leadership skills and confidence/credibility skills for women with an international training company. They put me to work immediately.
Christine Cashen:
Six months, but it was working as a contract trainer for a seminar company.
Karen Eddington:
I might be in a different category on this one because I am a mom with young children. I choose to speak less at this time in my life and that alters what "make a living" means for me. (There is only so much breastfeeding one can do in hotel rooms.) But I will say this, it has taken a good five years for me to refine my skills, understand the needs of meeting planners, learn that marketing matters, and take the steps to run a business.
Meridith Powell:
I worked for nothing for at least year; started making $250 to $500 a speech in year two.. and it took until now – six years later to say the majority of my living comes from speaking.
Jessica Pettitt:
If "making a living" means a profit comparable to what I was making when I had a job that others considered a job… 7 years. This is an incredibly expensive job – to make enough money to have money left over after the bills, is an amazing event.
I literally pay my bills, taxes, invest in my own business and others, create marketing strategies, pay for my own professional development, and then have money left over to celebrate, support other's and their projects, and give back to my community – there is nothing like that – and it took 7 years to really become my reality.
Colette Carlson: Years. I was still young without a clear message or platform so I cut my teeth working for professional sales trainers Tom Hopkins and Brian Tracy. Then I decided I needed corporate experience so I became a National Sales Trainer for a major corporation, and suddenly I was also a wife and mother.
This tortoise took time off to raise my daughters before jumping back in on my own. From that point it took a few years before I was earning an income comparable to my prior salary.
Cindy Pierce:
I started out with a bang making a lot of money on my first few shows in 2005. It was up and down for a few years. In the past three years I have started to make a living by combining college speaking, comic shows about parenting and some educational comedy for high school and middle school students.
Heather Maggs:
I did a lot of speaking for free because the message was more important to me than the money. I supported myself with a performing career. Once I was hired by Girls Fight Back! it was only a matter of months before I started making a living off of speaking about this topic I am so passionate about.
Karen McCullough:
Right away… I was broke and needed the money. I guess you could call me a scrapper. I remember I made 40,000 the first year GROSS–but–I never thought about not doing this…. I just called every group I knew and then got lists from networking and corporate peeps. I started doing lunch and learns for the oil companies and one thing lead to another.
My big break came with BP- they hired me to do a lunch and learn about casual dress… that lead to women and leadership workshops that lead to communications workshops for both men and women. My second year in speaking BP gave me over 12 gigs… it was the beginning. In 2001 I booked Enron and then Arthur Anderson… I thought I was heading to easy street… then 9/11 and the falling of Enron… in 2002 I was starting over.
Laurie Guest:
Speaking in a niche industry was part of my "real job" for many years before I went out on my own. I was able to match my corporate salary two years after my first paying gig. However, I spent several years in preparation of that level. (In other words, I didn't quit my day just until I had a bunch of bookings on the calendar).
Marilyn Sherman:
I went the route of speaking for a seminar company. When I left my corporate job as a trainer in human resources, I immediately made more money working as a contract trainer for this seminar company. They dictated my calendar, and how many dates I was on the road, but it was a good living. Then I discovered that I could cut out the middle man, get hired directly and raise my fee and speak less and make more money. Once I went on my own, it took another 6 months to get a booking. I did not navigate that transition very well!
Kelli Vrla:
Short answer: "Making a living" is a relative term, if you consider 10 Ramen Noodle soups for a dollar as living large! If you mean, when did I make a living from only speaking—the first year I jumped out of radio and into stand-up. Then I gave myself a "raise" and crossed over to corporate speaking, while weaning myself from my stand-up tour schedule. The raise started at only $100 more per day. Whoo! Whoo! The big time!
Long answer: Does this year count? Just kidding! I'd love to say I started my trust fund early…Halfway through my radio career, I left a cushy 401K job and hit the road as a stand-up comic. Hindsight—what was I thinking?? I had been sneaking into open mics around town and won a couple of joke contests. It was a whirlwind 3 ½ years, traveling, doing 7 shows a week for around $250. My radio professionalism helped get me bookings, as some comics were late to gigs or just didn't show at all–that's when you'd get "promoted."
The club owner comes to you 5 minutes before showtime and says, "Hey, um, Joey's not going to make it tonight—can you fill his 45 minutes?" Gulp! Command performances were good if you could work the crowd—and spontaneous "funny filler" became my hallmark—it was sink or swim bootcamp, and I treaded water as fast as I could. In the comedy (and speaking) business good news travels fast, and bad news travels faster—my 2nd year in the biz, a club owner told me Phyllis Diller had picked me from a slew of videos to open for her Southwest tour.
It was surreal and an honor. Many of my audiences today are too young to even know that she and Joan Rivers were trailblazers for women in comedy. She did 380 jokes in 55 minutes–every show—every night. Every punchline hit every 12 seconds—like clockwork—and sounded as if she just thought of it. Perfect timing and delivery: I learned so much from watching and visiting with her.
Although I loved stand-up, it didn't fulfill the lightbulb moments I got from my motivational speakers. I preferred my audiences to be more sober, so they could remember my key points and optimize their lives. Comedy clubs were places to unwind and escape the self-improvement world. So, I set my sights on speaking to corporate groups. I had experience training my teams, working in various radio entities, like ABC and CBS. Other industries asked me to train their teams. A few groups asked me to roast their executives.
I heard about National Speakers Association and found my local Dallas chapter and joined that day. I met a lot of crazy people—who were just as insane about stuff as I. I'd found my 'people,' and as scary as we might seem to the outside world; I was finally home. I was asked to serve on the board as "new blood." I attended my first national conference and Susan Abar-Lowery,a co-board member, signed me up for an audition with a national seminar company.
They hired me to be one of their contractors on the spot and gave me my first six days of business. I had 30 days to learn the course curriculum. I added many topics to my folio and was delivering up to 21 days a month. It was a grueling schedule—similar to stand-up—yet I was being paid to hone my craft almost every day of the month! I have to stay diligent to make sure bureaus DON'T label me a comedienne or comic—as that lends only towards an entertainer. I'm an "Irritational Speaker" –meaty content with a festive and fun delivery.
3. Name 3 things you are really great at.
Linda Larsen:
Humor. Story telling. Honing in on the issues that audience members are facing.
Christine Cashen:
Making people laugh, making people feel comfortable and bringing energy to a room…oh and sleeping.
Karen Eddington:
I'm very good with energy, processing information, and smiling at people. (and if you're a woman you know that is a hard question to answer)
Meridith Powell:
Making people feel comfortable; Taking a vision and creating the path of how to achieve it, and eating ice cream everyday and not gaining weight
Jessica Pettitt:
1. holding a space for people to learn while laughing
2. making lists and crossing things off of that list
3. tied between listening, verbalizing my thoughts, and burning dinner
Colette Carlson:
Making others feel comfortable, communicating with heart, and playing.
Cindy Pierce:
1. Engaging an audience. I am fearless about any topic and have zero stage fright. I also make fun of myself enough that the audience trusts me.
2. The people who bring me to speak find me to be low maintenance and easy to work with. I am flexible, humble and self-reliant.
3. Finding humor rather than shame.
Heather Maggs:
I think I'm really great at making my contacts feel at ease about the program. I also think I do a really good job at feeling out my audience and responding to their level of interest. But the thing that makes me a really great speaker is my willingness to look like a total jackass in front of a room full of people. :-)
Karen McCullough:
I am a creative thinker and I love putting cool things into my speeches- video, music, stories. I am a life learner and embrace technology. I am a fantastic grandma and mother.
Laurie Guest:
Humor, creativity, spontaneity
Marilyn Sherman:
I am really good at connecting with my audience: greeting people when they come in and showing sincere gratitude that they are there. Also, I am good at being myself on stage. I never have an exact presentation that I deliver because I am very much in the moment. I know what stories I will tell, but I am known for adding something that was a part of the conference earlier in the day or week for example. Finally, I'm really good at inspiring people with my stories. I love emotional stories that make people laugh, cry, and contemplate. The response I get from my audiences is why I do what I do. I love this business!
Kelli Vrla:
1. Reading the room and coming up with quick-witted summaries of what's going on in a room/event/corporation.
2. Creative ways to connect and bring a message home to a group.
3. Being "IN" the moment
4. What was your biggest mistake in this business? (Or more than one)
Linda Larsen:
Not treating this like a business from the very beginning. Everything from setting up proper systems and learning HOW to create an effective one-sheet, website and demo video BEFORE I went out and created a one-sheet, website and demo video.
Christine Cashen:
Hiring an out of state marketing person who ended up being a fraud. I listened to gurus who made it seem like there is ONE way to do things. There are MANY ways to make it in this business.
Karen Eddington:
When I first got started I didn't recognize the work it takes to be good. I made the mistake of looking at brilliant speakers and thinking that I could do that instantly. No way! I learned the hours and hours and hours of dedication it takes to be a brilliant speaker. Nothing will replace hard work and just having experience with a microphone and with people. My mistake was expecting success the moment I started. I know, I know, it sounds entitled but I thought just because I had a message meant that I deserved to work with amazing audiences. There is no substitute for work and effort.
Meridith Powell:
Letting the fear of looking stupid keep me from trying off the wall ideas; Being everything to everybody; and Taking work that did not fit my expertise; waiting three years to truly get 'real' on stage – to get authentic – and tap into my humor… and the list goes …
Jessica Pettitt: Where do I start –
1. not working to manage relationships with supervisors, key contributors, stakeholders, etc.
2. It is hard for me to ask for help and this option doesn't seem to pop up until I am so overwhelmed that I end up babbling to someone when trying to ask for help – so then I get embarrassed and never ask them for help again.
3. Not saying NO fast enough. I can do anything, but not everything. The point of owning your own business is to be in JOY and not STRESS! I forget this all the time – I have a picture of a cubicle on my desk next to a picture of my 3rd grade self. I actually get to choose what kind of work environment I want to work. Just like I get to choose which 22 hours a day to work.
4. I said YES with my check book. I created a sense of urgency and wrote A LOT of checks when I really wasn't focused. I didn't realize fast enough that I can't buy focus. Buying all of that stuff might have had some advantages, but too many projects at once prevented me from gaining and staying focused. Whatever it is, I have lived without it my whole life – let's do this right, one thing (OK 5 things) at a time (but not 500), and when the timing is right.
5. You asked for one mistake – but there have been so many – feel free to choose whatever you like. I just needed to include one more… Ideas! I can create ideas until they become monsters that haunt me. I recently moved and found old idea notebooks. I was and still am amazed that I had many many ideas repeat themselves. I believe that if I don't act immediately on an idea it will disappear and I will miss the opportunity – but it turned out that I often had the exact same idea multiple times and didn't remember it being a repeated one from my past. As the idea re-popped up, the timing was a little better and the idea was a little more developed. Me forgetting an idea actually gave it room to simmer out of sight until the time was right. Sigh of relief…
Colette Carlson:
Not realizing upfront how much "business" goes into the business. Even though I have both a bookkeeper and an accountant, just keeping track of my payroll taxes is taxing!
Cindy Pierce:
Almost every mistake led me in another direction that worked out well and informed the evolution of my career. The thing I don't do well is self-promote. I missed opportunities because I am incapable of shameless self-promotion.
Heather Maggs:
Not budgeting appropriately for the downtime!
Karen McCullough:
Not getting involved in NSA National and making national friends. Growing the brand is huge.
Laurie Guest:
My biggest mistake was assuming that people who liked my work and said they wanted to hire me would actually place the call. I should have done a better job in the early part of my career in getting the leads and following up quickly.
Marilyn Sherman:
Not taking the money side of the business seriously. I spent a ridiculous amount of money on people who promised me they could help me build my business and then paid more when that didn't work out. I wish I developed my tribe earlier whereby I could call my girls (my speaker buddies) and get feedback. I would have saved probably $100,000 if I just picked up the phone before I engaged certain people in 'coaching'.
Kelli Vrla:
There have been many: I'd say not being as aware of the whole business picture early on. I feel like I missed the early boat on repurposing product, capturing video, getting my happy clients to write a glowing referral in the heat of the moment after a standing ovation, learning more about the passive income side (for when I get too old or cranky to travel much).
5. What was the one thing you did right? (Or more than one)
Linda Larsen:
I joined NSA (the National Speakers Association) right away. THERE'S where you learn how to be a great speaker.
Christine Cashen:
Inviting potential buyers to come see me at a program live- so much better than a demo clip. In addition, whenever I visited a city I would farm the NSA directory and invite an accomplished speaker to dinner and through this, built some great relationships. Of course, you pick up the tab.
Karen Eddington:
I keep a generous spirit. I started off speaking by creating a non-profit entity and working for free in after school programs. I was asked by a woman to come do a self-esteem event for free for 9 very troubled girls. I did it. That same woman called me later for a state level conference. At that state event I gave back 20% of my back of the room sales without anyone requesting it of me.
Then she called me for a national event. I have found that when you are generous to others they are generous back to you. But I don't do the generosity-thing so I can get something in return, I do it because I love it.
Meridith Powell:
Kept speaking.. if I did not have a paid gig – I would speak everywhere and for everyone getting me more comfortable and confident on stage; Committed to writing and grasping the power that writing has in helping you find and deliver your voice; Lack of ego and openness to learn from anyone, anywhere, any time! Best piece of advice I have gotten in this business came from a 62 year old administrative assistant in St. Louis MO.
Jessica Pettitt:
Very early on I made two BIG decisions and I stuck to them. I decided exactly who my audience was going to be. I can see their faces; they have names; life stories; etc., so when I am making marketing choices or developing new projects, I keep these "people" in mind. This helps me pick what they want – therefore they are more likely to buy – than what I like or think "they" need.
I also decided early on that I didn't want to be a good fit for everyone. Instead of looking at this as losing work, I refer the wrong fit person to another colleague/friend of mine that is a better fit for them. I want to be me. I can do that pretty good. I want to work with people I like to work with and love it then it works out for both parties. This allowed me to focus on my message, technique, products, etc., that align with ME. No one else can be me – even if they say the same words.
My grandmother used to say; "Be yourself, everyone else is taken."
Colette Carlson:
The smartest decision I made was to attend NSA meetings from the beginning, and continued to attend as a guest during the years I was home raising my daughters. The relationships and education I received by showing up at annual conventions was, and still is, priceless.
Cindy Pierce:
Dive in and not be afraid to fail. Failure is such a gift – it informs, guides AND creates more funny stories.
Heather Maggs:
Finding amazing people to serve as my mentors and partners.
Karen McCullough:
1. I have an in-house videographer so I do lot of video.. putting the right talented people into my- life- graphics, web, video,ideas , creative thoughts.. I am an extrovert and I need a community to help me- dog walker, house sitter… it has helped.
2 I keep learning and adding new and relevant material to my programs.
3. I tapped into what I love (music and dancing like Ellen with the audience) and added it to my keynote and now I have something uniquely mine.
Laurie Guest:
Developing themes for the keynotes that meeting planners want to buy.
Marilyn Sherman:
I let go of jealousy and resentment of other speakers doing better than me and re-focused on my craft of speaking. When I focus on what I do best and not compare to others, I'm free to fly.
Kelli Vrla:
1. I always got back with people very quickly—returning calls and emails. Many would say, I was the first to respond.
2. I still feel I can always learn more—every day, every client, every presentation.
6. What do you think is the hardest thing about this career?
Linda Larsen:
For many people it would be the amount of money it takes to do things right the first time. For some it would be the amount of TRAINING and feedback and work it takes to get up on that stage and be really, really, REALLY good. Some people think, "Oh I'm a good speaker. People laugh at my stuff. I can do this!"
But the fact is that MOST people in your audiences (large or small) will not give you straight feedback about what you need to improve upon. Or they don't KNOW what you need to improve upon. Or they don't want to hurt your feelings. You can't just be "sort of" good up there on that platform. You have to be GREAT. And for most people "great" doesn't just happen. You have to work at it.
Christine Cashen:
Juggling all the pieces: social media, creating new material, book/blog writing, working on technique and wearing high heels for extended periods of time.
Karen Eddington:
If you don't connect up with other speakers it can be lonely. Yes, you may be on a stage surrounded by hundreds of people but you go back to a quiet hotel room by yourself. You have to motivate yourself. You have to lead out. You will have times you stand alone and it might be scary. Listen to and become friends with other speakers who understand this life.
Meridith Powell:
How much confidence it takes to put yourself out there over and over again.. it is simultaneously the hardest and most rewarding part of this business. To be a speaker takes inner confidence.. inner strength. A tough thing to build.. and amazing gift to yourself once you do.
Jessica Pettitt:
I call this riding two horses at one time – like in the circus. One foot is firmly planted in how awesome you are – the ego horse. This is how you sell, promote, market yourself as a thought leader not to mention take in standing ovations, positive feedback, and hear the impact that your message really has. The other foot is firmly planted in fraud, imposter, and other self-destructive stories we have about ourselves as well as humility, eagerness to learn more, and our wide eyed curiosity.
If you only ride one horse – your career will fail sooner or later – no matter how fast or slow you ride. It takes a complicated dance between both to stay accessible, humble, and be able to charge others for your experiences, thoughts, feelings, ideas, and the like.
Bonus answer – it is really hard to understand realistically the level of good you are at. If good – your bad might be better than their bad. If bad – your good might never be attainable.
Colette Carlson:
Realizing that the time you're actually speaking is miniscule to the time you will spend on all other aspects of running the business.
Cindy Pierce:
Self-promotion
Heather Maggs:
The varying income and schedule
Karen McCullough:
It's very isolating. Not a lot of people to talk to and discuss challenges and joys- I live alone, office alone… sounds scary! Also for me this line iof work is consuming. I am always thinking about what's next…To quote Shep Hyken, I find it easier to DO THE GIG than it is to GET the GIG- finding the right audience is key
Laurie Guest:
Figuring out a pricing structure that is fair to all involved and not concern myself with what my colleagues are getting for a fee. Its' not apples to apples.
Marilyn Sherman:
Actually, the thing I struggle most is identifying what I do that 's different from other motivational keynote speakers. It's funny too, because I'm a professional speaker and can speak for 60-90 minutes on stage and rock it out. But ask me to articulate in 2 sentences what I do? I turn into a bumbling idiot. So differentiating from others is hard, unless they see me live or watch my demo video. Then they can see the difference. The other thing is having consistent flow of work. I have not mastered that yet.
Kelli Vrla:
To understand that luck and timing play a huge part in how your career unfolds. There is NO substitute for great platform skills—to always try to push the envelope in cranking up your performance each time you present is paramount to survival.
7. What is your favorite audience?
Linda Larsen:
Women. Women. Women. They look you straight in the eye, they nod unabashedly, they guffaw, they dance if you ask them to, they let you know they are with you 100%.
Christine Cashen:
People who WANT to be in the room!
Karen Eddington:
A room full of tired young mothers. Oh-how I love them because I understand them.
Meridith Powell:
My niche is professionals in financial services – banking, cpas, financial advisors… My favorite is that niche of female professionals
Jessica Pettitt:
Again with the multiple answers –
I love reminding people that they can laugh and learn. I love welcoming people to a conversation that they have felt left out of or judged during. I love speaking to an audience that can relax and really celebrate being together.
Generally, my favorite audiences are those that are so exhausted they need to remember, the super conservative straight christian usually men that are interested in talking about social justice without being told they are the problem (it isn't their fault after all), and the groups that aren't sooo worried about 1% decline to really enjoy friendship, mutual respect, and the joy of supporting one another through the full journey of working together – through the good times and everything else!
Colette Carlson:
Women. We're cut from the same cloth, so you can get deeper or sillier faster.
Cindy Pierce: College men are so grateful for my informative, honest approach that they will ask any question and share their own experiences freely. They show their vulnerable side and teach me a lot with their questions.
Heather Maggs:
Since we teach a women's empowerment topic, I love speaking to sorority groups. They are so much fun and really understand the concept of sisterhood and looking out for each other.
Karen McCullough:
Men and women all ages but I love Gen X- they get me … 1000 or more who want to succeed- sales teams, executives, career driven women… they are my fave
Laurie Guest:
Large associations that are gathered to have fun. I love the kick-off spot where I help set the tone of the meeting.
Marilyn Sherman:
I love an audience that is open to learning and laughing. I recently spoke at school district foodservice group and they laughed hysterically and cried too. I felt everyone on the edge of their seat. They were lunch ladies ready to learn and laugh. Then I spoke to a group of municipal clerks – overworked, underpaid, and they showed so much love with their reactions, it was great. So it's not just women, not just business owners, not just corporate. It's any group that is open to learn and laugh – they tend to be my fav!
Kelli Vrla:
Open-minded people who come to learn nuggets to help them in their lives. Quieter crowds are a little tough to perform for, as you're never really sure what they're thinking. I had a group of actuaries (they calculate when you're going to die for insurance groups—I thought they'd done the math and decided my expiration time was just before the end of my speech) and was surprised to be asked back 3 times because they were so low key during my event.
I really enjoy a group that's ready to have fun while they learn. Women's groups can create a really electric frenzy that's contagious and wonderful! Love to do dance breaks and flash mobs with any group that's ready to have a blast while learning great tips!
8. This business can be stressful. What do you do to stay sane?
Linda Larsen:
Play and be grateful. Play with my doggies. Play with my husband. Play with my friends. AND – remind myself every single day how grateful I am for a bazillion things.
Christine Cashen:
I make sure to make time for girlfriends, massages and wine. I also enjoy boxing.
Karen Eddington:
Laugh. Write jokes about struggles. Laugh some more. I know this re-charges me.
Meridith Powell:
Exercise, eat right, and laugh baby laugh. Surround myself with amazing friends who have a great ability to laugh at themselves. We are funny and laughing at ourselves seriously keeps us sane.
Jessica Pettitt:
Unfortunately, I got sober BEFORE becoming a speaker –so that isn't an option. I try to building local food, friend and family visits so that I can talk to people that haven't paid me to talk to them, snuggle with surrogate dogs and cats, do laundry, and plan what I am going to do during my off stage time. I need structure. When not on stage, I am in a hotel, driving, sitting at a gate, on a plane, or something like that.
So, I set goals of things to get done during these times.
These goals may be, find good pizza, get a pedicure, finish reading a novel, crochet, mail the book and/or the crochet project to friends and family, visit local land marks, stay up to date on my news programs, watch TED Talks, cook, sleep, lay in the grass, get a massage. I use Facebook to see if there are other speakers, friends, colleagues, past clients, etc., that are in the same area as me to have meet ups.
Often I don't know where people are living currently or where they are traveling at the time – so this is mutually fun for both parties. Last night, I rolled into town, played with a dog, saw two friends new home, had the best crab cakes in a hole in the wall within walking distance of my parking space, caught up, and laughed. I slept so good and awoke ready to face the day.
Colette Carlson:
I'm sure my sweetheart would tell you some days I'm not, but I keep it in perspective and live a life of gratitude. When all else fails, I drink wine with funny friends.
Cindy Pierce:
Exercise and meditate.
Heather Maggs:
I ALWAYS have a nice meal after every program. It serves as a reward for a job well done and a break from all the airport cuisine.
Karen McCullough:
I have lots of interests, gym, swimming, yoga, zumba, painting, cooking, movies, walking dog, and I am an extrovert so I make sure I am busy. I belong to a breakfast club 200 women and I have lots of friends. I am in a variety show coming up in September and that's fun. I am close to my kids, all my nieces live it town, my nephew Mike is my videographer… so I am connected to people who love and care about me… I need that
Laurie Guest:
Surround myself with funny, positive people who are grounded in their values and ethics. Remind myself daily to keep the ego in check and be thankful for the privilege of getting to go this career.
Marilyn Sherman:
I really really love what I do. With all the stress of negotiating the deal, negotiating travel, negotiating getting to my room, negotiating a healthy meal vs. all the junk on the road, with all the negotiating that is stressful – once I get on stage, I am on fire. That's what keeps me sane – getting on stage and connecting with people knowing that somewhere in the crowd, I'm about to change that person's life.
Kelli Vrla:
1. Talk to myself a bunch! These Bluetooth headsets are heaven sent! I can walk around practicing my speech or just having an Inside Voice debate and no one's the wiser!
2. I also workout a ton; I'm on track for my first Half Ironman this year, so I work a lot of my stress out on the swim/ bike/ run course doing around 15 hours of training a week. I am too tired at week's end to be stressed.
3. I have a touch-base group of go-to friends and colleagues. We can catch up, share war stories and support each other with calls, texts, meet-ups, etc. So much of our time is spent as satellites on the road, it's important to stay grounded and connected with a precious few who know your strengths and limitations and can honestly call you on your stuff and help hold you accountable to your goals.
9. Speaking takes a tremendous amount of work – how do you balance your personal life with this career?
Linda Larsen:
I'm not great at this. If I get work – I'm gone, regardless of what might have been planned at home. If I have client calls to make or stuff to get out, I'll work at my desk until midnight. But I'm also very impulsive and will just walk away from work and go to the movies. Like I said, I'm not so great at this one.
Christine Cashen:
I really don't. With 2 elementary school children, this is always a struggle for me.
Karen Eddington:
I set priorities. Extreme prioritizing.
Meridith Powell:
? Ha, ha, ha!!! Oh sorry thought that was a joke. I work like a dog on the road and play when I am home. Don't know that I achieve balance.. but I LOVE my life!
Jessica Pettit:
Sorta answered this when talking about staying sane – it is so imperative. I also write letters home, Skype, text, and call often. I think that a piece that some people may not think of – to balance personal life with this career – I also had to learn and now remember that life at home doesn't stop. They haven't been frozen in time while I have been away. Moreover, they never get to go anywhere – suck it up – and use your miles to give them some benefit of being without you and take them some place.
Yes, this means you will have to get on ANOTHER airplane. My partner was also not excited by upgrades and lounges – these were new areas – sitting in coach and at the gate is exciting enough. Try and be a typical traveler. Clock out – don't talk about planes or corporate mergers with flight attendants while on vacation with family – even if you know their name – clock out and be with your family.
Also – take the lead to setting up child or pet care – recognizing that my partner has never been able to rely on me being home for any trip no matter how short is really a burden I didn't think about. Remember you are 100% responsible for every relationship in your life.
Colette Carlson:
I don't believe in daily balance. In fact, in my programs I encourage people to find balance over time. So, if I've been running hard for a chunk of time, I simply stop and go play with the people I love. Having said that, I take advantage of airport layovers to reach out to friends and family to catch up. With my own college-age daughters and sweetheart, I block time to do something they enjoy one-on-one. It's not easy, and it will never be so I accept this as part of my career choice.
Cindy Pierce:
Embrace the scattered nature of the whole experience. My husband and children are supportive of my work. They are very understanding when I need to be away. When I am home, I work hard to be present and soak up my family life – even the minutiae.
Heather Maggs:
I balance by choosing times to complete cut work off, so that when I have time with my family, it is about my family and I don't have my mind on other work-related things.
Karen McCullough:
I believe in NO BALANCE – that philosophy works best for me. I love my work and it comes first unless a baby is involved. I do stop for grand-kids- I have 4 under the age of 4. Critics might say I am a workaholic. I say I am so blessed to have a career and a life that work together and I am passionate about both…
Laurie Guest:
I use my time wisely. Travel is not down time for me, it is creative thinking and development time. Also, if it is a nice trip I will try to take someone I love with me. It helps.
Marilyn Sherman:
I'm lucky in that sense. I have no kids so I don't have the added challenge of balancing childcare while on the road. All I do is speak and travel and have fun with my Frenchie!
Kelli Vrla:
(See answers above) I also treat every trip as a mini-vacation. I try to find out as much as possible about the places I visit and ask people what not to miss as a visitor. It's an added bonus if there's a triathlon in the area when I'll be there. Some of my groups have cyclists, runners and swimmers, so it's been fun to get a group activity going when I come in early. I also try to plan meet-ups with friends and family when I know I'll be in their neighborhoods.
10. What advice would you give to a woman who has decided she wants to be a speaker?
Linda Larsen:
1. Have something that you KNOW will help people in a profound way and be convinced that you MUST share it with them.
2. Learn how to give a great, no, make that BRILLIANT speech.
3. Join NSA to learn how this business works and what you have to do to be successful.
Christine Cashen:
Find a topic you are passionate about AND one that people not only want to hear, but are willing to PAY to hear. Join the National Speakers Association and save money to attend the National Convention. Get damn good.
Karen Eddington:
Be patient. Be yourself. See other people before trying to project yourself. Your success has nothing to do with you, ultimately it is about understanding people
Meridith Powell:
Look hard and find those people who truly want to help you, those that are open and willing to share. Take risks, and listen to your inner voice. Take the time to enjoy the ride that building this business is.. and if nothing else find people you can laugh with – key to success!
Jessica Pettitt:
Spend money on good luggage, shoes, bras, and black slacks. Everything else can be cheap.
Befriend every women that does similar work as you to learn from them and give them work. This will come back to you ten fold.
Whatever you need to be successful on and off stage – figure out how to provide that for yourself. Do not depend on your customer to keep you sane – that is just dumb.
No matter the question – the answer is in your message. If you disagree – your message is too complicated – simplify and find the core of your message – this will keep everything in perspective.
Colette Carlson:
Similar to raising children, it will be the toughest job you'll ever love. Be clear on your message, hone your skills, and run your business like a business. There is plenty of opportunity for everyone, so go for it!
Cindy Pierce:
Dive in and try it with a trusted audience first and expand from there. Gather a crew of good friends who will give you honest feedback and laugh with you when it doesn't work well. Read Daring Greatly: How the Courage to Be Vulnerable Transforms the Way We Live, Love, Parent, and Lead.
Heather Maggs:
Find other speakers that you admire and seek out their advice and input. Let your intuition guide you to the folks who are in it because they are passionate and who want you to be your best. Don't focus on "competition" just be honest and share your message with integrity.
Karen McCullough:
She needs to have Talent then after that we all need – Passion, Persistence, Patience – Unless you've got a lot of passion for this, you're not going to survive. You're going to give it up. And success doesn't usually happen overnight… time allows you to grow
"Passion won't protect you against setbacks, but it will insure that no failure is ever final. Passion is the emotional fuel that drives your vision. It's what you hold onto when your ideas are challenged and people turn you down, when you are rejected by 'experts' and the people closest to you. It's the fuel that keeps you going when there is no outside validation for your dream." Steve Jobs
Laurie Guest:
Try to find a way to say the same old stuff in a different way. Be the same person off stage that you are on stage. Make sure you know how to sell.
Marilyn Sherman:
Focus on your craft – find your tribe of like minded people so you can develop trusting relationships. You're going to need them! Join the National Speakers Association and hang out with the best in the business. And if they want to call me anytime, feel free to reach out!
Kelli Vrla:
Find your niche, know your stuff, always strive to learn more, join networks like NSA, major in the minors (details) and have a generous heart when asked for advice!
And It's A Wrap!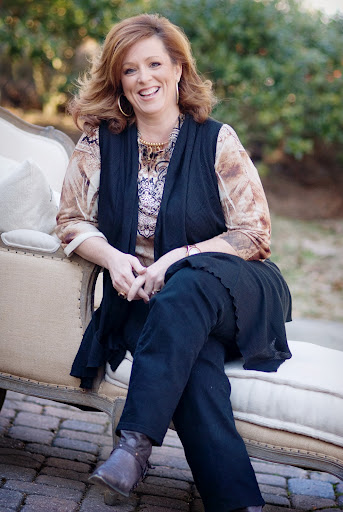 I would like to thank each and every woman who took the time to share her heart and her wisdom with us today.  And I hope that every woman (and man too) reading this blog, will see that there is not one hard and fast path to a dream. We are all motivational keynote speakers, but everyone of us got there a different way. There's room for all of us.
Until we meet again – enjoy the journey!
Kelly Swanson
You. Your Story. Make an Impact!
[fbcomments]