Last updated on October 16th, 2018 at 10:15 am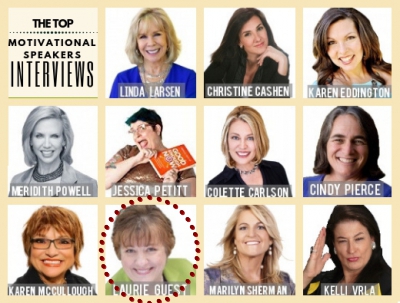 Is your big dream to be a top motivational speaker?
Customer service keynote, trainer, author and motivational speaker, Laurie Guest specialty is customer service, staff development and improving customer engagement. Laurie is known for her imaginative ideas and fast-paced, entertaining speaking style. In this interview, she reveals the lessons she has learned in the speaking business along the way.
This article is professional speaker interview number nine of my series "11 Top Women Motivational Speakers Share Their Best Advice" featuring motivational speaker, Laurie Guest.
For my "what it takes to be a motivational speaker" series, I cornered eleven of the most powerful women speakers, and I got them to share their best secrets on what catapulted them into public speaking stardom.
Each speechmaker in this series shares their best speaker business success advice. It's important to learn the new rules of speaker success if this is your big dream! Today's interview is about the journey on the road to becoming a highly sought-after motivational keynote speaker.
I asked my speaker interviewees to each answer ten questions. Since their answers are so informative, I've broken each speaker and their responses down into individual pages because once I put their answers together here, it was too large of an article (10,000 words) to load on a device like a smartphone.

Laurie Guest, CSP is a highly sought-after speaker who meeting planners call upon event after event to deliver top-notch content with a good dose of motivational laughter. Laurie is an NSA Certified Speaking Professional. You can read Laurie's full bio on her website, here.
The Top Motivational Speaker Interviews – Interview #9 of 11:
Laurie Guest
Q-1: What made you want to be a motivational speaker?
A-1: I became a speaker because talking in front of a crowd has always come easily to me. I come from a long line of storytellers, and I found that groups of people would respond to my points if I wrapped them in a story.
Q-2: From the time you decided to become a motivational speaker, how long did it take for you to start making a living at it?
A-2: Speaking in a niche industry was part of my "real job" for many years before I went out on my own. I was able to match my corporate salary two years after my first paying gig.
However, I spent several years in preparation of that level.
In other words, I didn't quit my day just until I had a bunch of bookings on the calendar!
Q-3: Name 3 things you are really great at as a motivational speaker.
A-3: Humor, creativity, spontaneity.
Q-4: What was your biggest mistake in the business of being a paid public speaker?
A-4: My biggest mistake was assuming that people who liked my work and said they wanted to hire me would then place the call to do it. I should have done a better job in the early part of my career in getting the leads and following up quickly.
Q-5: What was the one thing you did right when you started as a motivational speaker?
A-5: 1. Developing themes for the keynotes that meeting planners will want to buy.


Q-6: What do you think is the hardest thing about having a motivational speaking career?
A-6: Figuring out a pricing structure that is fair to all involved and not to concern myself with what my colleagues are getting for a speaking fee. It's not apples-to-apples.
Q-7: What is your favorite type of audience?
A-7: Large associations that are gathered to have fun. I love the kick-off spot where I help set the tone of the meeting.
Q-8: The motivational speaker business can be stressful. What do you do to stay sane?
A-8: Surround myself with funny, positive people who are grounded in their values and ethics.
Remind myself daily to keep the ego in check and be thankful for the privilege of getting to be a speaker as a career.
Q-9: Motivational speaking takes a tremendous amount of work; how do you balance your personal life with your speaking career?
A-9: I use my time wisely. Travel is not "down time" for me; it is creative thinking and development time.
Also, if it is a nice trip I will try to take someone I love with me. It helps.
Q-10: What advice would you give to women who have decided their big dream is to be a motivational speaker?
A-10: Try to find a way to say the same old stuff differently.
Be the same person offstage that you are on stage.
Make sure you know how to sell.
———-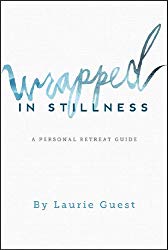 On behalf of 8WomenDream and myself, I would like to thank Laurie Guest for providing these generous answers to my ten motivational speaker questions.
I believe that women motivational speakers are worthy of recognition and celebration. I much appreciate Laurie's time and assistance in getting her answers to me about her public speaking business and her work-life balance advice.
Thanks again, Laurie!
Kelly Swanson


Kelly Swanson is an award-winning storyteller, motivational speaker, published author and TV personality who is passionate about helping women harness the power of their stories to connect, influence, and get the results they dream of accomplishing. Laughing the whole way, Kelly teaches women how to master the art of connection through the power of strategic storytelling. You can find her on The Fashion Hero show airing Fall of 2017 on Amazon Prime or on her website MotivationalSpeakerKellySwanson.com.
Note: Articles by Kelly may contain affiliate links and may be compensated if you make a purchase after clicking on an affiliate link.