Last updated on October 16th, 2018 at 12:46 am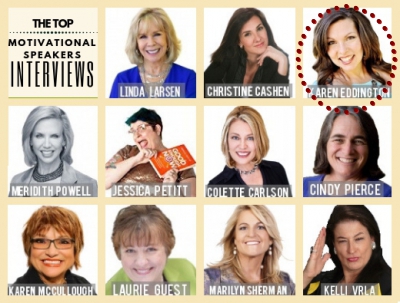 The US National Speakers Association has over fifty-thousand speakers worldwide; over three-thousand in the US alone.
With these speaker stats, is your big dream still to be a top motivational speaker? If so, read on.
This article is professional speaker interview number 3 of my series "11 Top Women Motivational Speakers Share Their Best Advice" featuring motivational speaker, Karen Eddington.
For my "what it takes to be a motivational speaker" series, I cornered eleven of the most powerful women speakers, and I got them to share their best secrets on what catapulted them into public speaking stardom.
Each speechmaker shares their best speaker business success advice. It's such great advice!
I asked my speaker interviewees to each answer ten questions. Since their answers are so informative, I've broken each speaker and their responses down into individual pages because once I put their answers together here, it was too large of an article (10,000 words) to load on a device like a smartphone. This 3rd interview is with Karen Eddington.

Karen Eddington is a 15-year identity researcher and author of Understanding Self-Worth, with a background in clean stand-up comedy. Her speaking focus is based on her original research from The Under Pressure Project. You can read Christine's full bio on her website, here.
The Top Motivational Speaker Interviews – Interview #3 of 11:
Karen Eddington
Q-1: What made you want to be a motivational speaker?
A-1: I didn't start out wanting to be a speaker. I was going to be a high school cheerleading coach. But, in the high school gym, I started seeing the impact people have. People matter.
At the same time, I recognized I have a unique message that I'm insanely passionate about.
Q-2: From the time you decided to become a motivational speaker, how long did it take for you to start making a living at it?
A-2: I might be in a different category on this one because I am a mom with young children. I choose to speak less at this time in my life and that alters what "make a living" means for me. There is only so much breastfeeding one can do in hotel rooms.
But I will say this, it has taken a good five years for me to refine my skills, understand the needs of meeting planners, learn that marketing matters, and take the steps to run a business.
Q-3: Name 3 things you are really great at as a motivational speaker.
A-3: I'm very good with energy, processing information, and smiling at people. And if you're a woman you know that is a hard question to answer.
Q-4: What was your biggest mistake in the business of being a paid public speaker?
A-4: When I first got started as a speaker I didn't recognize the work it takes to be good. I made the mistake of looking at brilliant speakers and thinking that I could do that instantly. No way! I learned the hours and hours and hours of dedication it takes to be a brilliant speaker.
Nothing will replace hard work and just having experience with a microphone and with people.
My mistake was expecting success the moment I started. I know, I know, it sounds entitled but I thought just because I had a message meant that I deserved to work with amazing audiences. There is no substitute for work and effort!
Q-5: What was the one thing you did right when you started as a motivational speaker?
A-5: I keep a generous spirit. I started off speaking by creating a non-profit entity and working for free in after-school programs. I was asked by a woman to come to do a self-esteem event for free for nine very troubled girls. I did it.
That same woman called me later for a state level conference.
At the state event, I gave back 20% of my back of the room sales without anyone requesting it of me.
Then she called me for a national event.
I have found that when you are generous to others they are generous back to you. But I don't do the generosity-thing so I can get something in return, I do it because I love it!

Q-6: What do you think is the hardest thing about having a motivational speaking career?
A-6: If you don't connect up with other speakers it can be lonely. Yes, you may be on a stage surrounded by hundreds of people but you go back to a quiet hotel room by yourself.
You have to motivate yourself.
You have to lead out.
You will have times you stand alone and it might be scary. Listen to and become friends with other speakers who understand this life.
Q-7: What is your favorite type of audience?
A-7: A room full of tired young mothers. Oh, how I love them because I understand them.
Q-8: The motivational speaker business can be stressful. What do you do to stay sane?
A-8: Laugh.
Write jokes about struggles.
Laugh some more. I know this re-charges me.
Q-9: Motivational speaking takes a tremendous amount of work; how do you balance your personal life with your speaking career?
A-9: I set priorities. Extreme prioritizing!
Q-10: What advice would you give to women who have decided their big dream is to be a motivational speaker?
A-10: Be patient.
Be yourself. 
See other people before trying to project yourself.
Your success has nothing to do with you, ultimately it is about understanding people.
———-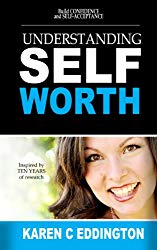 On behalf of 8WomenDream and myself, I would like to thank Karen Eddington for providing these generous answers to my ten motivational speaker questions.
I believe that women motivational speakers are worthy of recognition and celebration. I much appreciate Karen's time and assistance in getting her answers to me about her public speaking business and her work-life balance advice.
Thanks again, Karen!
Kelly Swanson


Kelly Swanson is an award-winning storyteller, motivational speaker, published author and TV personality who is passionate about helping women harness the power of their stories to connect, influence, and get the results they dream of accomplishing. Laughing the whole way, Kelly teaches women how to master the art of connection through the power of strategic storytelling. You can find her on The Fashion Hero show airing Fall of 2017 on Amazon Prime or on her website MotivationalSpeakerKellySwanson.com.
Note: Articles by Kelly may contain affiliate links and may be compensated if you make a purchase after clicking on an affiliate link.