Last updated on October 16th, 2018 at 12:32 am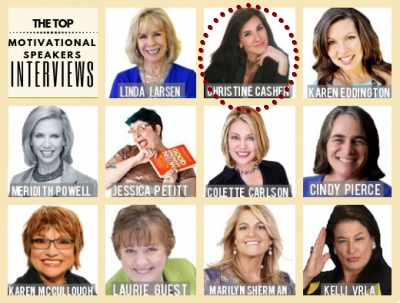 Is your big dream to be a top motivational speaker? This is professional speaker interview number 2 of my series "11 Top Women Motivational Speakers Share Their Best Advice" featuring motivational speaker, Christine Cashen.
For my series, I cornered eleven of the most powerful women motivational speakers, and I got them to share their best secrets on what catapulted them into public speaking stardom.
Each speechmaker shares their best speaker business success advice. Lucky us!
I asked my speaker interviewees to each answer ten questions. Since their answers are so informative, I've broken each speaker and their responses down into several pages because once I put their answers together here, it was too large of an article to load on a device like a smartphone. This 2nd interview is with Christine Cashen.

Christine Cashen is a member of the National Speaker Association Hall of Fame®. She travels throughout the US, Canada, South Africa, and Australia, teaching people how to have more fun, lower stress, and communicate more effectively. You can read Christine's full bio on her website, here.
The Top Motivational Speaker Interviews – Interview #2 of 11:
Christine Cashen
Q-1: What made you want to be a motivational speaker?
A-1: I wanted to make a living and make a difference. The only part of every job I had that I loved was the "speaking" part and I wondered if there was a job like that.
After some research-VOILA!
Q-2: From the time you decided to become a motivational speaker, how long did it take for you to start making a living at it?
A-2: Six months, but it was working as a contract trainer for a seminar company.
Q-3: Name 3 things you are really great at as a motivational speaker.
A-3: 1. Making people laugh. 2. Making people feel comfortable, and 3. Bringing energy to a room…oh and sleeping.
Q-4: What was your biggest mistake in the business of being a paid public speaker?
A-4: Hiring an out-of-state marketing person who ended up being a fraud. I listened to gurus who made it seem like there is ONE way to do things.
There are MANY ways to make it in this business.
Q-5: What was the one thing you did right when you started as a motivational speaker?
A-5: Inviting potential buyers to come to see me at a program live; so much better than a demo clip.
In addition, whenever I visited a city I would farm the National Speakers Association directory and invite an accomplished speaker to dinner and through this, built some great relationships. Of course, you pick up the tab.

Q-6: What do you think is the hardest thing about having a motivational speaking career?
A-6: Juggling all the pieces: social media, creating new material, book/blog writing, working on technique, and wearing high heels for extended periods of time.
Q-7: What is your favorite type of audience?
A-7: People who WANT to be in the room!
Q-8: The motivational speaker business can be stressful. What do you do to stay sane?
A-8: I make sure to make time for girlfriends, massages, and wine. I also enjoy boxing.
Q-9: Motivational speaking takes a tremendous amount of work; how do you balance your personal life with your speaking career?
A-9: I really don't. With 2 elementary school children, this is always a struggle for me.
Q-10: What advice would you give to women who have decided their big dream is to be a motivational speaker?
A-10: Find a topic you are passionate about AND one that people not only want to hear but are willing to PAY to hear.
Join the National Speakers Association and save money to attend the National Convention. Get damn good!
———-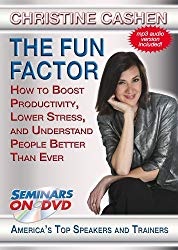 On behalf of 8WomenDream and myself, I would like to thank Christine Cashen for providing these generous answers to my ten motivational speaker questions.
I believe that women motivational speakers are worthy of recognition and celebration. I much appreciate Christine's time and assistance in getting her answers to me about her public speaking business and her work-life balance advice. Thanks again, Christine!
Kelly Swanson


Kelly Swanson is an award-winning storyteller, motivational speaker, published author and TV personality who is passionate about helping women harness the power of their stories to connect, influence, and get the results they dream of accomplishing. Laughing the whole way, Kelly teaches women how to master the art of connection through the power of strategic storytelling. You can find her on The Fashion Hero show airing Fall of 2017 on Amazon Prime or on her website MotivationalSpeakerKellySwanson.com.
Note: Articles by Kelly may contain affiliate links and may be compensated if you make a purchase after clicking on an affiliate link.