Last updated on October 16th, 2018 at 12:52 am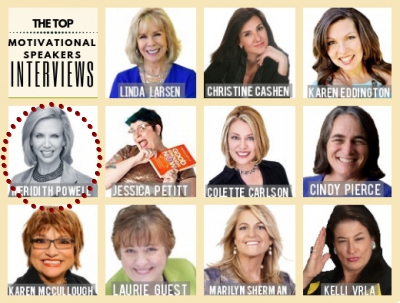 The U.S. Bureau of Labour Statistics predicts the market for conferences in the U.S. alone is predicted to grow 44 percent between 2010 and 2020. That's a lot of opportunity for motivational speakers if your big dream to be a top motivational speaker.
This article is professional speaker interview number 4 of my series "11 Top Women Motivational Speakers Share Their Best Advice" featuring motivational speaker, Meridith Elliott Powell.
For my "what it takes to be a motivational speaker" series, I cornered eleven of the most powerful women speakers, and I got them to share their best secrets on what catapulted them into public speaking stardom.
Each speechmaker in this series shares their best speaker business success advice. It's important to learn the new rules of success today! Today's interview is particularly auspicious because this speaker specializes in teaching how to attract more business.
I asked my speaker interviewees to each answer ten questions. Since their answers are so informative, I've broken each speaker and their responses down into individual pages because once I put their answers together here, it was too large of an article (10,000 words) to load on a device like a smartphone. This 4th interview is with Meridith Elliott Powell.

Meridith Powell was voted one of the Top 15 Business growth experts to watch by Currency Fair. She is an award-winning author, keynote speaker, and business strategist. You can read Meridith's full bio on her website, here.
The Top Motivational Speaker Interviews – Interview #4 of 11:
Meridith Elliott Powell
Q-1: What made you want to be a motivational speaker?
A-1: I'm not sure I ever set out to be a motivational speaker but after doing it a few times, I wanted to "be a speaker" because it is so amazing to have an idea, craft it into a story and a speech, and share it with an audience and it touches, impacts and changes their life.
It Rocks!
Q-2: From the time you decided to become a motivational speaker, how long did it take for you to start making a living at it?
A-2: I worked for nothing for at least year; started making $250 to $500 a speech in year two then it took six years more to say the majority of my living comes from speaking.
Q-3: Name 3 things you are really great at as a motivational speaker.
A-3: Making people feel comfortable; taking a vision and creating the path of how to achieve it, and eating ice cream every day and not gaining weight.
Q-4: What was your biggest mistake in the business of being a paid public speaker?
A-4: My biggest mistakes:
Letting the fear of looking stupid to keep me from trying off-the-wall ideas.
Being everything to everybody.
Taking work that did not fit my expertise.
Waiting three years to truly get 'real' on stage – to get authentic – and tap into my humor.
And the list goes …
Q-5: What was the one thing you did right when you started as a motivational speaker?
A-5: I kept speaking even if I did not have a paid gig. I would speak everywhere and for everyone to get me to be more comfortable and confident on stage.
I also committed to writing and grasping the power that writing has in helping you find and deliver your voice.
I certainly lacked ego and I was open to learning from anyone, anywhere, any time! Best piece of advice I have gotten in this business came from a 62-year-old administrative assistant in St. Louis, Missouri.

Q-6: What do you think is the hardest thing about having a motivational speaking career?
A-6: How much confidence it takes to put yourself out there over and over again. This is simultaneously the hardest and most rewarding part of this business.
To be a successful speaker takes inner confidence; an inner strength. It's tough to build but an amazing gift to yourself once you do.
Q-7: What is your favorite type of audience?
A-7: My niche is professionals in financial services i.e., banking, CPAs, and financial advisors. My favorite is the niche of female professionals.
Q-8: The motivational speaker business can be stressful. What do you do to stay sane?
A-8: Exercise, eat right, and laugh, baby, laugh.
I surround myself with amazing friends who have a great ability to laugh at themselves. We are funny and laughing at ourselves seriously keeps us sane.
Q-9: Motivational speaking takes a tremendous amount of work; how do you balance your personal life with your speaking career?
A-9: What? Ha, ha, ha! Oh sorry, I thought that was a joke! I work like a dog on the road and play when I am home. Don't know that I ever achieve balance, but I LOVE my life!
Q-10: What advice would you give to women who have decided their big dream is to be a motivational speaker?
A-10: Look hard and find those people who truly want to help you, those that are open and willing to share.
Take risks, and listen to your inner voice.
Take the time to enjoy the ride that building a speaking business is.
And if nothing else find people you can laugh with – the key to success!
———-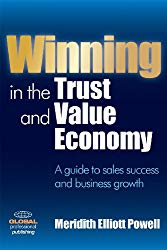 On behalf of 8WomenDream and myself, I would like to thank Meridyth Powell for providing these generous answers to my ten motivational speaker questions.
I believe that women motivational speakers are worthy of recognition and celebration. I much appreciate Meridith's time and assistance in getting her answers to me about her public speaking business and her work-life balance advice.
Thanks again, Meridith!
Kelly Swanson


Kelly Swanson is an award-winning storyteller, motivational speaker, published author and TV personality who is passionate about helping women harness the power of their stories to connect, influence, and get the results they dream of accomplishing. Laughing the whole way, Kelly teaches women how to master the art of connection through the power of strategic storytelling. You can find her on The Fashion Hero show airing Fall of 2017 on Amazon Prime or on her website MotivationalSpeakerKellySwanson.com.
Note: Articles by Kelly may contain affiliate links and may be compensated if you make a purchase after clicking on an affiliate link.