Last updated on October 16th, 2018 at 09:58 am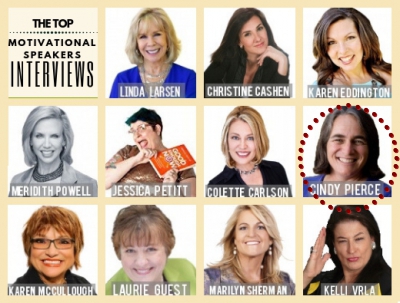 Motivational speaker, Cindy Pierce, believes more people need to learn healthy sexual behavior and choices. Combining humor and research, she enlightens audiences with the options and obstacles confronted in today's media-driven world.
Cindy is committed to continuing to use education and fun to promote a safer, healthier, and more enjoyable understanding of sex.
Is your big dream to be a top motivational speaker like Cindy Pierce?
This article is professional speaker interview number seven of my series "11 Top Women Motivational Speakers Share Their Best Advice" featuring motivational speaker, Cindy Pierce.
For my "what it takes to be a motivational speaker" series, I cornered eleven of the most powerful women speakers, and I got them to share their best secrets on what catapulted them into public speaking stardom.
Each speechmaker in this series shares their best speaker business success advice. It's important to learn the new rules of speaker success if you want to move forward on your dream. Today's interview is one of a kind because the Center for Gender and Student Engagement at Dartmouth College named Cindy Pierce a 'Vagina Warrior' for her work fighting for the empowerment of women and reduction of sexual assault on college campuses.
I asked my speaker interviewees to each answer ten questions. Since their answers are so informative, I've broken each speaker and their responses down into individual pages because once I put their answers together here, it was too large of an article (10,000 words) to load on a device like a smartphone.

Cindy Pierce is a leading social sexuality educator and comic storyteller who has been performing her one-woman comedic show and providing educational program around healthy sexual behavior and choices since 2004. You can read Cindy's full bio on her website, here.
The Top Motivational Speaker Interviews – Interview #7 of 11:
Cindy Pierce
Q-1: What made you want to be a motivational speaker?
A-1: My friends bossed me into taking my stories to the stage because they wanted more people to experience my self-deprecating stories and feel better about themselves the way they did. I couldn't imagine that people would be interested in the topics (sex and all the incidents that unravel in that soup, female pleasure, birth, an encounter with a urinal mint to name a few).
It became clear that people of all ages were desperate to feel more normal, and they responded well to my approach.
I remember my first audience of college women ferociously wanting more information about female pleasure. Soon after, I had an audience of college men who were equally confused about what women want. I was completely shocked to realize that the handy Internet was so overwhelming for people that finding helpful information under the layers of distracting crap was too daunting.
It became clear that social sex education and specific information about sex was desperately needed.
My recipe of decades of conversations with boys, girls, men, and women about sex and relationships combined with my shameless, humorous approach to conveying information opens people up and provides relief.
Q-2: From the time you decided to become a motivational speaker, how long did it take for you to start making a living at it?
A-2: I started with a bang making a lot of money on my first few shows in 2005. It was up and down for a few years.
In the past three years, I have started to make a living by combining college speaking, comic shows about parenting and some educational comedy for high school and middle school students.
Q-3: Name 3 things you are really great at as a motivational speaker.
A-3: 1. Engaging an audience. I am fearless about any topic and have zero stage fright. I also make fun of myself enough that the audience trusts me.
2. The people who hire me to speak find that I am low maintenance and easy to work with. I am flexible, humble and self-reliant.
3. Finding humor rather than shame.

Q-4: What was your biggest mistake in the business of being a paid public speaker?
A-4: Almost every mistake led me in another direction that worked out well and informed the evolution of my career. The thing I don't do well is self-promote.
I missed opportunities because I am incapable of shameless self-promotion.
Q-5: What was the one thing you did right when you started as a motivational speaker?
A-5: Dive in and not be afraid to fail. Failure is such a gift – it informs, guides AND creates more funny stories.

Q-6: What do you think is the hardest thing about having a motivational speaking career?
A-6: Self-promotion!!
Q-7: What is your favorite type of audience?
A-7: College men are so grateful for my informative, honest approach that they will ask any question and share their own experiences freely. They show their vulnerable side and they teach me a lot with their questions.
Q-8: The motivational speaker business can be stressful. What do you do to stay sane?
A-8: Exercise and meditate.
Q-9: Motivational speaking takes a tremendous amount of work; how do you balance your personal life with your speaking career?
A-9: Embrace the scattered nature of the whole experience.
My husband and children are supportive of my work. They are very understanding when I need to be away.
When I am home, I work hard to be present and soak up my family life, even the minutiae.
Q-10: What advice would you give to women who have decided their big dream is to be a motivational speaker?
A-10: Dive in and try it with a trusted audience first and expand from there.
Gather a crew of good friends who will give you honest feedback and laugh with you when it doesn't work well.
Read the book: Daring Greatly: How the Courage to Be Vulnerable Transforms the Way We Live, Love, Parent, and Lead.
———-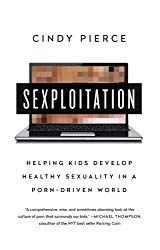 On behalf of 8WomenDream and myself, I would like to thank Cindy Pierce for providing these generous answers to my ten motivational speaker questions.
I believe that women motivational speakers are worthy of recognition and celebration. I much appreciate Cindy's time and assistance in getting her answers to me about her public speaking business and her work-life balance advice.
Thanks again, Cindy!
Kelly Swanson


Kelly Swanson is an award-winning storyteller, motivational speaker, published author and TV personality who is passionate about helping women harness the power of their stories to connect, influence, and get the results they dream of accomplishing. Laughing the whole way, Kelly teaches women how to master the art of connection through the power of strategic storytelling. You can find her on The Fashion Hero show airing Fall of 2017 on Amazon Prime or on her website MotivationalSpeakerKellySwanson.com.
Note: Articles by Kelly may contain affiliate links and may be compensated if you make a purchase after clicking on an affiliate link.