As I work on my dream of becoming an international motivational speaker,  I've begun to overdose on YouTube videos of famous women motivational speakers who dreamed big.
I asked myself this question:
If I could invite any 8 motivational speakers for dinner who would I invite? This question led to me Googling and doing some intense research of the speeches by women that inspired me.
8 Women Motivational Speakers I'd like to invite to dinner:
Sharon Frame is a Former CNN News Anchor, Awarding-Winning TV Journalist and Entertaining Empowerment Speaker.
Her motto:
Plug in! Power Up! Push Through!
Ms. Frame's core mission is to encourage, inspire and empower people to claim their space in life, use their gifts to enrich the world, and die empty. (Source: Sharon Frame Speaks)
Sharon in video:
Louise Hay is an American motivational author, professional speaker, and the founder of Hay House, a publishing company, established in 1990. She has authored several New Thought self-help books, and is best known for her 1984 book, You Can Heal Your Life. (Source: Wikipedia)
Her motto:
You can heal your life!
Louise in video:
Aimee Mullins was born without fibular bones, and had both of her legs amputated below the knee when she was an infant. She learned to walk on prosthetics, then to run — competing at the national and international level as a champion sprinter, and setting world records at the 1996 Paralympics in Atlanta. At Georgetown, where she double-majored in history and diplomacy, she became the first double amputee to compete in NCAA Division 1 track and field. (Source: TED)
Her motto:
Pamela Anderson has more prosthetic in her body than I do. Nobody calls her disabled.
Aimee in video:
Dr. Maya Angelou is one of the most renowned and influential voices of our time. Hailed as a global renaissance woman, Dr. Angelou is a celebrated poet, memoirist, novelist, educator, dramatist, producer, actress, historian, filmmaker, and civil rights activist. (Source: MayaAngelou.com)
Her motto:
A bird doesn't sing because it has an answer, it sings because it has a song.
Dr. Maya in video:
Elizabeth M. Gilbert is an American author, essayist, short story writer, biographer, TED speaker, novelist and memoirist. She is best known for her 2006 memoirs, Eat, Pray, Love, which as of December 2010, has spent 199 weeks on the New York Times Best Seller list, and was also made into a film by the same name in 2010. (Source: Wikipedia)
Her motto:
Happiness is the consequence of personal effort.
Elizabeth in video:
Mae Jemisonis an American physician and NASA astronaut. She became the first black woman to travel in space when she went into orbit aboard the Space Shuttle Endeavour on September 12, 1992. She resigned from NASA in 1993 to form a company researching the application of technology to daily life. She holds nine honorary doctorates in science, engineering, letters, and the humanities. (Source: Wikipedia)
Her motto:
Don't let anyone rob you of your imagination, your creativity, or your curiosity.
Dr. Mae in video:
In her late 20s, Angela Lee Duckworth left a demanding job as a management consultant at McKinsey to teach math in public schools in San Francisco, Philadelphia and New York. After five years of teaching seventh graders, she went back to grad school to complete her Ph.D. in psychology at the University of Pennsylvania, where she is now an assistant professor in the psychology department. Her research subjects include students, West Point cadets, and corporate salespeople, all of whom she studies to determine how "grit" is a better indicator of success than factors such as IQ or family income. (Source: TED)
Her motto:
Grit is living life like it's a Marathon
Angela Lee in video:
Rita Pierson, a teacher for 40 years, once heard a colleague say, "They don't pay me to like the kids." Her response: "Kids don't learn from people they don't like."  A rousing call to educators to believe in their students and actually connect with them on a real, human, personal level.
Her motto:
I am somebody. I was somebody when I came. I'll be a better somebody when I leave. I am powerful, and I am strong. I deserve the education that I get here!
Rita in video:
I invite you to take some time this week to watch each one of these videos and hear what these women have to say. You can see why they are a great success not only as public speakers, but as great humans on this earth.
I'm in the middle of a big move here in South Africa and I look forward to the dust settling and sharing my new dream life with all of you.
Remember to just pursue it.
And who would you invite to dinner?
-Sue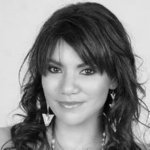 Sue Levy is the founder of the South African Just Pursue It Blog and Inspirational Women Initiative. She's a motivational writer and media designer, who is obsessed with everything inspirational with a hint of geek. She thrives on teaching women how to be brave and take big chances on themselves. You can find Sue on her Twitter page @Sue_Levy.
Note: Articles by Sue may contain affiliate links and may be compensated if you make a purchase after clicking on an affiliate link.