I am a dreamer of big dreams, an advocate for women empowerment, and most importantly, I am a public speaker.
I have a voice that I intend to use for sharing a message of hope to women and men everywhere.  I see my gift of being a accomplished public speaker as a blessing.  I have found my life's purpose: to spread the word on serious issues in my country, like teaching young men to respect women.
I want to motivate women AND men to change their lives and let go of limiting ways of being.
The best part of working hard on your dreams is that they can often expand into different facets of your life. My public speaking dream has spread to my relationship with my husband, Aslam. Being a motivational speaker is my everything. Aslam sees the hard work I put into marketing, my writings, and my speeches. His support of my dream means everything to me and it makes my life so much easier.
However, I did not expect my "passion" to become one of his passions. Here, we have a saying that when something is good it rubs off on another like perfume.
In October of last year, my husband and I did a combined talk at the Chrysalis Academy in South Africa. In his words, "It was life-changing." He even wrote a blog post about his first experience: The Day 170 Gentlemen Changed My Life
We were asked to speak to over 170 young men on how to be gentlemen. This time, Aslam took the stage as the main public speaker and I assisted with the section, "How Real Men Treat Women." It was a sad time in South Africa, a young girl had just been murdered by her friends. The issue was fresh and so important to me personally that I had to speak about it!
I'm an advocate for women empowerment so why not start in my own country?
On my personal blog, Just Pursue It, I created a controversial image because I was devastated by the murders going on and how many women endure abuse on a daily basis around the world.  Women are often silenced and warned never to disclose their abuse or abuser.
The image went viral on that day. It gained many shares on Facebook, lots of "Likes" and oh so many comments. It was a moment I was proud of, because I could use technology to spread a message that needed to be heard.
After my husband and I completed the talk at the academy, we held a Q&A session with the young men. We ended up staying longer than we had planned because so many of the men wanted to speak personally with us. I enjoyed offering advice, and I wished that I could have helped them further with their journey in life. I handed out my business cards and invited them to read my blog.
I knew that taking a stand about respect on behalf of women in my country would feel overwhelming at times, but the responses from the men left me emotional because so many of them said that they would begin to treat the women in their lives with more respect.
One young man even said,
"I wont hit my girlfriend anymore ma'am, I will try and talk about the issues first before wanting to hurt her."

and yet another commented,

"Thank you for your message. In the past I hit my mom, but today you really made me realize that I should respect my mom more."
I felt many emotions all at once.  I was upset that they lifted their hands to their girlfriends and moms, while at the same time I was glad that my message resonated with them and they were looking at their behavior towards women.
Many women and men live in countries where they are not allowed to speak out.  I feel blessed that I have the opportunity to be a public speaker and to promote respect among each other.
At times our dreams don't always pay the bills, but instead leave something more positive and life-changing in the world. My big dream is to create the same impact on the international stage by being an advocate for women's rights.  My dreams are so close to my heart and my vision of creating a better world.  I feel I am called to do this.
All we need to do is speak up and teach young men to respect women and teach women to respect themselves. You have a voice dreamers, use it to make a change for the better.  I challenge you to make this world a better place.  You can do it.
Just Pursue It!
~Sue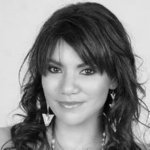 Sue Levy is the founder of the South African Just Pursue It Blog and Inspirational Women Initiative. She's a motivational writer and media designer, who is obsessed with everything inspirational with a hint of geek. She thrives on teaching women how to be brave and take big chances on themselves. You can find Sue on her Twitter page @Sue_Levy.
Note: Articles by Sue may contain affiliate links and may be compensated if you make a purchase after clicking on an affiliate link.