Last updated on July 1st, 2022 at 03:48 pm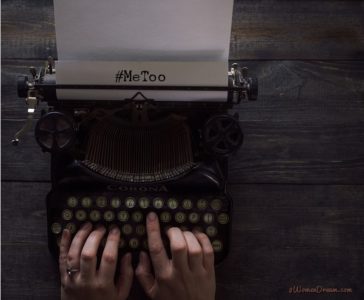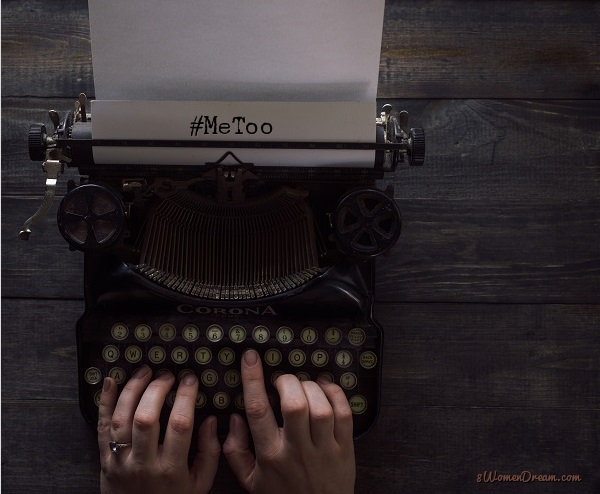 It is scary to stand up in front of a roomful of people and speak my #MeToo story out loud. It's the trauma that was my little secret, the dark parts of my past, everything I kept hidden for so long.
I am going to have to get used to this once my memoir publishes.
It's frightening to leave behind my carefully constructed image of someone who is happy-go-lucky, and has it all together, who acted for so long as if I'd never been through anything at all in my past–when frankly, many women have been through SOMETHING.
By speaking our #metoo stories out loud, I believe we can permit other women to express their #metoo truth, to bring into the light what is hidden, and hopefully heal from it.
Sharing a "MeToo" Story to Help Other Women
Last night I told this #metoo story of mine in a roomful of young women at Russell Sage College. The previous fall I was the keynote speaker at a Take Back the Night rally in Troy, New York for victims of sexual assault. That night, I met a young woman from Russell Sage College who befriended me, and we kept in touch. She organized last night's event. My talk was terrifying and also empowering. I couldn't look at my best friend in the audience, or I would have burst into tears.
Standing right in front of me was a row of fraternity students from RPI, twenty-year-old men watching me, eyes wide open, jaws agape, as I described being raped and stalked. I will never forget the expressions on their faces. I just powered through it and held back tears. I couldn't believe I was standing in front of a roomful of people telling them details about some of the worst things that had ever happened to me.
I decided upon a dream to write my memoir in part because I'd promised myself years ago that I would tell my #metoo story if I thought it would help others. I'd finally reached the point in my life last year where I felt ready, healed enough, to start sharing my story.
I thought and found it to be true that speaking it out loud would also take away some of the power my experience had over me. My story is about what happened to me in the past–it doesn't define me.
Showing Women They Can Do Anything
I want other women, especially young women, not to suffer as much as I did, to learn to love themselves sooner, to seek help if they need it. So I tell them the awful details of what happened to me, the years of dealing with symptoms of post-traumatic stress disorder, and how long it took me to find peace and happiness in my own life.
I tell them how I healed over time, hoping they will find shortcuts to happiness in their own lives and learn to love themselves sooner. The good news is I'm living my dreams now and believe other #metoo women can too–no matter where we come from, and what we've lived through, we always have a chance to live our dreams now.
As part of last night's talk, I asked the women in the room to write down their biggest dreams for their lives, and let them know I'd share some of those goals in this article.
There are college women who want to:
• Become a mayor and then a senator.
• Be a photographer and writer for National Geographic.
• Start a theater company in Salem, Massachusetts for battered women.
• Write a book of poetry.
• Find a cure for Down's Syndrome.
• Be a super-sexy attorney.
• Spread world peace through music.
• Be a psychologist and open her own business.
Aren't these big dreams awesome?
And one young woman quietly said she wants to "travel a lot, eat lots of food, meet lots of people, and play a lot of soccer." Amen to that!
Women Living Their Dreams
I asked the young women I met last night to keep in touch with me and let me know how their dream journies are moving along. Putting my dreams out there in front of other women helps motivate me during challenging times. I want to realize my dream of publishing my #metoo memoir in part to inspire women to speak out, stand up, and to live their dreams–in spite of what has happened in their past.
I believe that when survivors lift other women up as we work toward new achievements, it helps our healing along as well.
Isn't that what #metoo is also about?
Lisa Powell Graham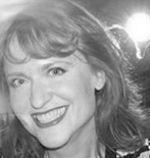 Lisa P. Graham is an inspirational writer, life coach, TED motivational speaker, and globe-trotter whose passion is to help others to find happiness and meaning in their daily lives. A political activist at heart, Lisa would like to empower more women to run for political office as a way to create positive change in the world. You can find her on her website or watch her TEDx speech on YouTube.
Note: Articles by Lisa may contain affiliate links and may be compensated if you make a purchase after clicking on an affiliate link.