Last updated on May 14th, 2019 at 12:44 pm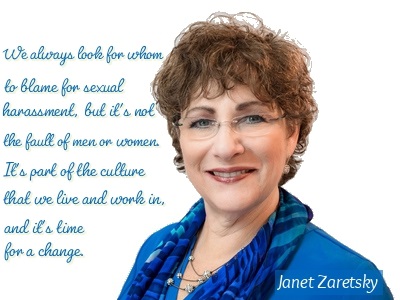 While pursuing a big dream, women may experience unwanted sexualized attention and harassment, especially when attempting dream goals that break away from the social norms for women.
The U.S. Equal Employment Opportunity Commission has reported that in 2011 alone, $52.3 million dollars in damages were received from sexual harassment claims.
With the #MeToo phenomenon and a roster of accused A-list perpetrators growing longer by the day, many women (and men) are wondering how to shift the culture of #MeToo to #NoMore.
"As confronting as it may be, women must stand up, speak out, and call out sexual harassment and assault every time it happens," says Janet Zaretsky, business success and confidence coach and author of the newly published, "Where'd My Confidence Go . . . And How Do I Get It Back?"

"This culture is inherently threatening to women as their livelihood and career advancement is at stake if they speak up and speak out about sexual harassment. Women often don't speak out of the fear that they cannot handle the repercussions. To be confident about who you are and that you can handle effectively what happens when you stand for yourself is critical if we, as a culture, are going to end the era where sexual harassment is the norm."
Zaretsky's book offers the following 4 tips for any woman who wants to overcome self-doubt and experience real confidence and power in the face of any circumstance, including sexual harassment and other inappropriate behavior.
4 Tips for Women Who are Dealing with Inappropriate Behavior
1. Acknowledge your inherent power.
Take a deep breath and ask yourself, "What's the worst thing that could happen?" Then ask yourself if you could handle that. Most of the time, when you stop and think about it rationally, you realize yes, you really could.
2. Stop with the apologies, already!
Women tend to reflexively apologize for all kinds of things. When you do that, it undermines your influence and power.
3. Stand up for others.
If you see or hear someone being mistreated and don't speak up, you are, by default, condoning the behavior, and you become part of the problem.
4. Give up being nice.
Being deferential and staying silent isn't about having good manners, it's something that keeps the status quo – and what doesn't work – in place. When you're not being treated respectfully, speak up.
On Owning Your Power and Magnifying Your Brilliance:
"Sexual assault and harassment are pervasive throughout our society, and if anyone has doubted how underreported they are, all they have to do is watch the news," adds Zaretsky.

"Women owe it to themselves and each other to do everything they can to rediscover their confidence, stand up for themselves, and be powerful agents of change."
Janet Zaretsky
Janet Zaretsky is a master business success and confidence coach for executive women and small business owners who is a popular speaker and author. Her company, The Zenith Business (www.thezenithbusiness.com), offers both individual coaching and workshops designed to help women rediscover their power and confidence and produce greater career results.
—–
SOURCES:
The Zenith Business
PR Newswire
Vimeo

Enjoy this special 8WomenDream Guest Contributor story submitted by new and experienced big dreamers throughout the world, edited and published to capture a dream perspective from different points-of-view. Do you have a personal dream story to share with 8WomenDream readers? Click here to learn how to submit dream big articles for consideration.
Note: Articles by Guest Post Contributors may contain affiliate links and 8WD will be compensated if you make a purchase after clicking on an affiliate link.