Last updated on January 22nd, 2019 at 01:50 pm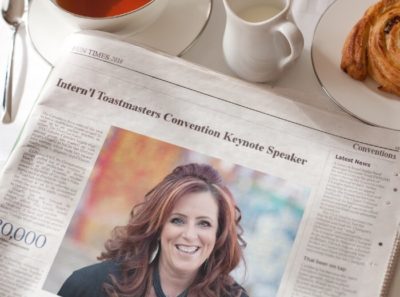 Your big dream is to be a paid public speaker, or like me, a top motivational speaker, but now you've just realized that you've got to start cranking out speeches and coming up with speech titles.
I want you to know when I book lucrative speaking engagements–I don't sell my speeches–I SELL TITLES.
My prospective clients can't see my speech, so they buy the best title that speaks to their need.
The right title speaks to whatever need will fill the seats at their event and help promote it, for an impressive attendance.
Often speakers don't pay enough attention to titles, when titles may be the most significant selling tool for public speakers. Speech titles; marketing taglines; article titles; blog titles–it's all the same.
I've seen paid speakers build an entire brand around a good catchy title.
Naming my first book "Who Hijacked My Fairy Tale: Hanging on to Humor When Life Doesn't Go the Way You Planned" was one of the smartest decisions I've ever made.
Using 'Hijacked My Fairy Tale' book title as an example, I'll point out 2 reasons the book title brings business to me–
1. The Title is Catchy and Fun.
People like something that sounds funny, fun, and interesting. If you can make them laugh in your title, you have their attention, and they will probably continue to read.  But be warned, catchy, and fun is not enough to stand alone.
It must have value to the reader.
So don't stick some cute sounding title in your article or speech and think they will read it or attend "just because." It needs something that speaks to what they'll get. You need to provide bookers the information they're actively seeking.
2. The Title Tells the Buyer Precisely What the Book Will Do for Them.
There it is. The "what's in it for me?" statement.  "Who Hijacked My Fairytale?"  When they see that title, they can determine whether or not this story is right for them.  If space were an issue (e.g. 'Who Hijacked My Fairytale: Hanging on to Humor When Life Doesn't Go the Way You Planned') and I had to choose between the two, I would choose 'Hanging on to Humor When Life Doesn't Go the Way You Planned.'
Why? Because people read books that meet their needs.
When you're standing in line at the grocery store, looking at magazines, the articles headings on the covers shout out plainly what you'll get: 
• "Thin thighs in thirty days!"  
• "Sugar-free Recipe Delights!" 
• "Top Tips for the Solo Entrepreneur." 
You scan magazine covers to choose what articles fit your current needs. Not what title sounds the cutest.
As you create speech titles for your speeches, keep these two tips above in mind, and you'll come up with a winning title.
Now, create your next perfect speech with a great title!
Kelly Swanson
Kelly Swanson is an award-winning storyteller, comedian, motivational speaker, Huffington Post Contributor, and cast member of The Fashion Hero television show airing on Amazon Prime. She is also the author of Who Hijacked My Fairy Tale, The Land of If Only, The Story Formula, and The Affirmation Journal for Positive Thinking. She was a featured entertainer for Holland America Cruise Lines, keynote speaker for the International Toastmasters Convention, and has keynoted major conferences and corporate events from coast to coast. She just launched her one-woman show Who Hijacked My Fairy Tale in theaters, and it is being booked all over the country. In July of 2022, she was inducted into the National Speakers Association Speaker Hall of Fame.
Note: Articles by Kelly may contain affiliate links and may be compensated if you make a purchase after clicking on an affiliate link.