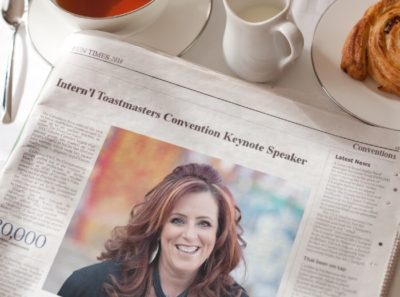 I want you to know when you want to become a paid public speaker, that as a motivational speaker myself, I don't really sell speeches to gain speaking gigs, I sell titles. My clients can't see the speech, but they buy the title that speaks to their need.
The right title draws their audience into the seats and helps promote their event.
Often we don't pay enough attention to our titles, when they may be the biggest selling tool public speakers have. Speech titles; marketing taglines; article titles; blog titles–it's all the same.
I've seen paid speakers build an entire brand around a good catchy title.
Naming my first book "Who Hijacked My Fairy Tale: Hanging on to Humor When Life Doesn't Go the Way You Planned" was one of the smartest decisions I've ever made.
Using my Hijacked My Fairy Tale book title as our example for today, I'll point out the two main reasons this title brings business to me–
1. It's catchy and fun.
People like something that sounds funny, fun, and interesting. If you can make them laugh in your title, you have their attention and they will probably continue to read.  But be warned, catchy and fun is not enough to stand alone. It must have value to the reader.
So don't stick some cute sounding title in your article or speech and think they will read it or attend "just because." It needs something that speaks to what they'll get.
2. It tells them exactly what it will do for them.
There it is. The "what's in it for them" statement.  "Who Hijacked My Fairytale?"  When they see that title, they can determine whether or not this story is right for them.  If space were an issue (e.g. 'Who Hijacked My Fairytale: Hanging on to Humor When Life Doesn't Go the Way You Planned') and I had to choose between the two, I would choose 'Hanging on to Humor When Life Doesn't Go the Way You Planned'.
Why? Because people read what they need.
When you're standing in line at the grocery store, looking at magazines, the articles headings on the covers shout out clearly what you'll get: "Thin thighs in thirty days!"  "Recipes with no sugar." "Tips for the entrepreneur." You scan the magazine cover to choose what articles fit your need. Not what title sounds the cutest.
As you create speech titles for your speeches, keep these two tips above in mind, and you'll come up with a winning title!
Now, go create your next perfect speech with a great title!
Kelly Swanson