Last updated on January 22nd, 2019 at 01:50 pm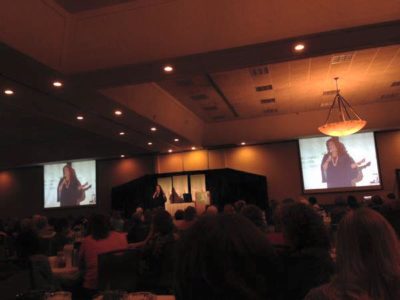 I have found that the path to a perfect speech is more of a journey.  It's a journey we all share–those of us who are called to change the world one stage at a time.
The walk can be lonely. It has many twists and turns.
There is no map, and sometimes not much light. And each journey is different.
Here was my journey to the perfect keynote.  I wrote this a year ago, and someone pulled it out recently. Apparently, its words are still living and bringing hope. I still mean every word I wrote. So today I share the message with you in case this is the moment you need to hear it.
What Makes A Great Keynote Speech?
What makes a great keynote? Well, isn't that the million dollar question? I'm sure there are plenty of speakers out there who claim their way is the golden secret when the truth is that there are many ways to get to a great keynote speech. And for every speaker who claims a hard and fast fact, I can point out three world-class speakers who prove them wrong.
Often the one claiming the hard truth has a vested interest in you believing that truth.
There are as many speaking styles out there as there are speakers–each one (if they're smart) doing it in their unique original way. The right way is the way that gets you booked over and over–what works for you–and what makes you happy.
The speaker wowing a crowd of CEOs is no more significant than the speaker whispering into the hearts of a hundred middle school children in a hot gymnasium.
Compare It To The Music Business
I often compare speaking to the music business. If you gathered a group of people together and surveyed them on who the best musician is, you wouldn't receive a unified answer. Or even close. With all those musicians out there, we would be crazy to think one way is the right way. Not only that, we would be robbing the world of a lot of great music if we insisted that jazz was the only music to play, or that you don't matter unless you get to Carnegie Hall.
Great music depends on the audience, the style of the group, the arrangement of the notes, the setting it's played in, and the personality of the listener. Some musicians are ones we all know, playing to sold-out Coliseum crowds, and some are the cover bands that we heard at our cousin's wedding that made us dance and sing for hours. Does it matter who is better? Not really. As long as they get to play their music and find someone to pay them to do it.
Same for speaking.
You can try to copy and be like all the others. You can follow the advice – the one right way to do it. But what happens if we all choose this approach? If we all do it this one way? Where do we end up?
The chorus line.
A commodity. A sea of sameness. Each person is making sure to keep their kick height equal to the other kick heights in the line. All wondering at what point they lost sight of the spotlight and traded happiness and authenticity for the approval of others.
It's not about finding the perfect keynote. It's about finding OUR ideal theme.
How Do We Find Our Way To Our Perfect Keynote Speech?
I knew in the very beginning that I could be a proficient public speaker, maybe even a great speaker. I knew that my gift was storytelling and humor. My talent was raw and unpolished, but people saw it and pointed it out. I knew that I could pick almost any message and be able to create a program. I looked around and saw all these different styles of speaking done so brilliantly by the greats–each radically different in style from another.
How do I choose who I should be?
Which was the wrong question.
I should have asked, "How do I choose who I want to be?"
I went on a Spirit-led journey to understand why I am called to be here, and what message I am drawn to bring forward. I listened to what the soul of the people are crying out for–and where I might whisper hope to them.
I went on an artistic journey by staring at a blank canvas to determine as the artist what I wanted to create. What would be my unique combination of notes to form a song that upon hearing just one note, people would know was mine?
I went on a business journey to determine who was booking speakers and why to see how my message would provide the answer to a problem they have.
I went on a market journey to decide the right type of person who would fit my message and my heart, instead of trying to craft the right words to suit the audience with the most money. I refused to create a smoke and mirrors credibility based on overblown expertise and thin credentials. I chose to believe that what I knew was important enough–if I just find the right audience for it.
I went on a style journey to determine how to portray my personality in color and clothing. What would the album cover look like for my business? I fought the desire to find myself less than for being more pounds than the others and began to see that in fact, it was not a weakness, but a strength, as it allowed me to connect to people just like me. Connecting is golden, and people connect when they can relate to me. And many people can relate to me.
This has become my ticket into their hearts.
I went on an audience journey to see what THEY love about me–finding that what I delivered couldn't hold a candle to what they were receiving. I let the audience tell me what they like about the music. I began to gain a firm confidence in what I bring to the table and to market it and sell it with confidence and passion. Whispered words after a show in deserted hallways, and handwritten letters slipped into my purse, will forever line the walls of my heart and provide a shield to protect me from those who say my message isn't good enough.
I went on a heckler journey to face the people who did not think the way I had chosen was right. The ones who said I couldn't do it, wouldn't do it, shouldn't do it. Finding that the ones who said "they won't buy it" turned out to be the ones standing in line to buy a ticket. While I hated the heckler, I must be grateful.
For each one gave me the strength to stand on my own.
I went on a friend journey to find the people who I knew would lift me up, hold me accountable, love me through the good and bad – the ones with pure hearts and pure motives – the ones who had traveled this same road and yet stayed humble. The ones who are truly happy for my every success, and in whom I find no bitterness at theirs. They have become the family I strategically chose. My most significant gift in this business.
I went on a legacy journey to determine what makes my soul sing – who I want to be – how I want to show up in this world – what is the music I want to play. How do I live this life on my terms, not yours? I didn't just think about the numbers I want to accumulate or the bounty I wanted to pursue. I thought about how I want to be seen–how I want to be judged on my character and class, heart and soul, service over self.
And finally, I went on my own personal God journey–to look to Him to give me the affirmation that I am good enough–just as I am. That I am holding myself up to Him, not you. Knowing that no matter what happens–what unexpected thing lies ahead–I can face it all, knowing that it is well with my soul's capabilities.
And now I'm free–arms outstretched–joyful–playing my music–not feeling the darts of those who say I should do it a different way. I no longer wonder if this could perhaps make me more money, or if that is what I really want. I am an artist. I don't do this for you; I do it for me. So it's time to create this masterpiece, just the way I see it. And if you don't like it, that's okay. The music wasn't meant for you. Someone else will play the song you need to hear.
I know this is a strange post. But I never claimed to be normal. This story was my journey to my perfect keynote speech. And it has certainly worked for me.
I truly believe that success, happiness, and peace in this business, will go to those who find a way out of the chorus line–those who follow their gifts into the dark where nobody else has gone–for that is where real innovation and creativity lies. And even if it's not the best, it won't really matter. I promise.
What about you?
• I am convinced that someone out there needed to hear this message today. And if it's just one, then so be it.
• I am convinced that someone is struggling with who she thinks she should be, and who they say she should be.
• I am convinced that someone is out there hearing what they "should do" while their heart is saying, "But I really want to do this."
• I am convinced that someone is being attacked for their dream, being told it will never sell, being shamed for what they love most about themselves.
• I am convinced that some of you out there are doing this for reasons beyond the dollar amount, or being the best. And that you need to know your spotlight is just as precious.
• I am convinced that some who read this will be threatened because their income or self-worth depends on there only being one way. And they will seek to find ways to further prove themselves right and me wrong.
But that's okay because the words written on this page aren't meant for them–they are meant for you. These words are intended to open the door on the caged bird so that bird can finally fly free.
I wish you all the best as you find the journey to your perfect keynote. Don't wait another minute. The world is waiting.
Please leave your thoughts in the comment section below.
Click here to read the original article on my LinkedIn Page:  My Journey To A Perfect Speech