Last updated on November 1st, 2019 at 01:22 pm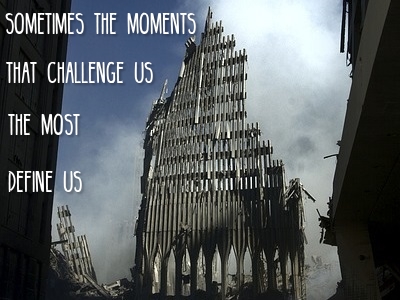 Some moments define a generation. And there are monumental moments that define your big dream.
For my generation, one moment was September 11, 2001. It was a moment that would launch a tsunami of sorrow, unite the world as one global family, and change lives forever.
When the towers came down, and people wandered Manhattan like ghosts, white with ash, weeping and in shock, so many of us dialed our friends' and family members' numbers in NYC in a panic. The phone lines were overloaded, and no one could get through.
We waited anxiously to hear that our loved ones were safe. Nothing else mattered.
All other worries and concerns fell away, and our priority was being with the people we love, knowing those we love are safe, and grieving together with the world over such a vast and tragic loss.
Thankful For Every Message That Arrived
My former brother-in-law lives and works in Manhattan. Many of my swing dancing friends are based there. My ex-husband called his brother Octavio's number over and over. Octavio was fine, but we couldn't reach him to confirm that for a while. I watched the swing dancing chat boards and sighed with relief every time a message popped up from a friend. They were OK!
I was lucky. Everyone I knew was safe.
A few had narrowly escaped a different fate. Two swing dancing friends who worked in the towers weren't there that day; one missed the train, and one was sick–both saved by grace.
A New Path
For me and others, it was a defining moment. It was one of those moments that wake us up and causes us to reflect on who we are, what we are doing with our lives, and where we are headed. Like many other Generation X-ers, one of my dear friends, Peggy, would, on that day, decide to change her life.
She worked at Pixar at the time and was making great money, but didn't feel completely fulfilled. After September 11th, she quit her job and traveled the world, volunteering for months at a time in Africa, studying with shamans in South America, visiting sacred sites in Nepal and meeting the Dalai Lama, and just generally following her heart and soul's lead on an Eat, Pray, Love-style journey.
Today, eleven years later, she is teaching English in Italy, after turning down a job running an animation company in China. She is married to a former model and professional soccer player from Milan, Italy, who she met when buying a new suitcase in Capadoccia, Turkey.
Had she not leaped at the chance to live her fullest life after 9/11, who knows where Peggy would be today. She may never have met her soul-mate.
She may not have traveled the world, gaining countless priceless memories, moments, and friendships. Her journey has shaped her to be one of the most beautiful, inspiring, and bold people I know, committed to living an extraordinary life, and doing it every day with incredible joy and enthusiasm.
Making A Leap
I would launch my own company after 9/11. It was something I had wanted to do for a while, but I hadn't found the courage to make the change. As if to help me leap, the college where I'd been working part-time let me go the day before September 11th. I was devastated, and reached out to my ex-husband, trying to figure out what to do.
We decided it would be a good time for me to turn my freelance work into a full-time job, doing community relations work, activism, political fundraising, and public relations for local nonprofits.
I was scared about making enough money, however, and not sure how it would all work. The next day, the planes hit the towers.
Suddenly, losing a part-time job seemed like no big deal at all. Suddenly, it seemed clear that it was time to make whatever changes I'd been contemplating, because who could honestly know what tomorrow would bring?
What would I do with this precious gift of my life? I needed to leap.
The Entrepreneurial Lifestyle
Since that time, I've never held a full-time "day job," always managing to work on consulting projects of various kinds over the years, and affording myself a lifestyle that I love, with tremendous flexibility and freedom. 9/11 was a defining moment for me, as was the frightening moment in 2007 when I found a lump in my right breast and asked myself the question:
What if I only had one year to live?
I realized that if I just had one year left, I'd want to write a book that told my Phoenix-rising redemption story of surviving the trauma and going on to create a life that I love. And, with the help of my writing coach best-selling author, Ellen Sussman and supportive family and friends, that is precisely what I did.
The lump in my breast turned out to be nothing at the time.
Ironically, I am scheduled today to get a mammogram and ultrasound because there is now a much larger lump on my right breast, and I have to get it checked out. I'm praying that it'll be nothing at all and that all test results will be fine. I'm honestly not worried since I figure that worry is "reverse prayer," and I believe that I am healthy and that all is well.
It is a definite reminder, however, that completing the editing on the book, and getting it out to agents, is still a high priority. This is what I committed to when faced with a possible health crisis years ago.
This is what I have worked on for the past few years, living out big dreams. Now, faced with the same potential crisis, while still holding a vision of perfect health, I still need to make choices that will make my years on this planet count, whether I have one year left or 50 years left.
Somehow it feels meaningful that it is happening on 9/11, another poignant reminder to use to live in the present, live our dreams, and love now. 
Living In The Moment
Ultimately I think it is bravest and wisest to live our lives as if we don't know how much time we have left on this earth – because we genuinely don't know. Things can change in an instant.
I love Gandhi's quote: "Live as if you were to die tomorrow. Learn as if you were to live forever."
9/11 is a stark reminder of this.
That is the reason that I finally felt ready to tell my own story. I felt the sense of my mortality and knew that if I kept my story trapped inside me, I risked not expressing something I believe I was meant to communicate in the world, and not doing work that I think I was placed here on earth to do to help others.
Writing about the past is one way to transform it and to turn something tragic into something meaningful. Jonathan Safran Foer, the acclaimed author of the best-selling book, Extremely Loud and Incredibly Close, was asked if it was risky to write about 9/11.
"I think it's a greater risk not to write about [9/11]," he answered. "If you're in my position– a New Yorker who felt the event very deeply and a writer who wants to write about things he feels deeply about– I think it's risky to avoid what's right in front of you."
My story has the potential to help others who have been through trauma and have to discover their path of healing.
Turning The Past Into Something Empowering
Today, as the world remembers those lost on this tragic day, I hope we will all also reflect on what we can do, now, to let the sorrows of our collective past, and our paths, propel us forward. When we make the past into something empowering, it loses some of its sting. And it enables us to help others.
We are all like carbon being compressed into diamonds, shining through our suffering. No one on this planet gets to escape enduring some loss, some pain in a lifetime. Yet we get to choose how to make that suffering into something meaningful. Today, on the anniversary of 9/11, I'm grateful for the chance to do that through my writing and thankful for being alive to make that happen.
May you live with gratitude today, and leap in your own life, knowing that although our time on earth is limited, our powers to create and love are limitless.
Lisa Powell Graham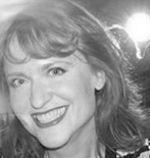 Lisa P. Graham is an inspirational writer, life coach, TED motivational speaker, and globe-trotter whose passion is to help others to find happiness and meaning in their daily lives. A political activist at heart, Lisa would like to empower more women to run for political office as a way to create positive change in the world. You can find her on her website or watch her TEDx speech on YouTube.
Note: Articles by Lisa may contain affiliate links and may be compensated if you make a purchase after clicking on an affiliate link.