Last updated on July 8th, 2019 at 12:49 pm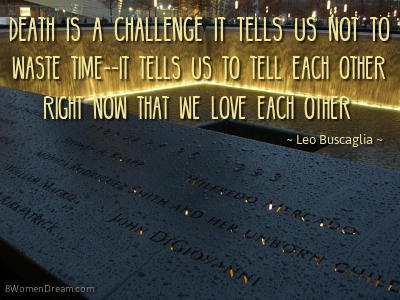 I don't think any of us will ever forget the day, so many dreams were lost forever. Images seared on the brain, of people wandering through the streets of Manhattan, covered in white ash, like walking ghosts.
Orange flames were leaping from the tower, first one, then the other. And God forbid the unreal moment when the two iconic towers collapsed.
I was with my sister ten years ago when it happened, and she gasped, "But what about all those people?" We cried together and like the rest of the world, sat stunned, watching those images over and over.
Sometimes Nothing Makes Sense
In a lifetime, there may be a handful of moments in which everything falls away, and what is left is what is essential. When time slows to a halt, and all we can do is to keep breathing and pray. All those years ago, my family was so fortunate not to lose any friends or family in the events of 9/11. I knew several people who were on their way to work that day in the towers, but who got waylaid for one reason or another.
One was sick. One missed the train. A trick of fate somehow kept them safe that day.
As it was for the rest of the nation and the world; however, September 11 was haunting and gave me the feeling that the ground was slippery beneath me again. I felt that in other great moments of loss in my life when nothing made sense. Sometimes all you can do is hold the people you love, and wait. Pray, and cry, and somehow keep some modicum of faith.
What Does It All Mean?
There is something about having life turned upside down that sets our priorities straight. Suddenly, all that mattered was everyone knowing that the people they love are safe. Nothing else matters in moments of tragedy. It is when we cling to each other, and when we remember what matters most.
Love. The people in our lives.
For me, the tragic moments in my life have also been a time of reawakening.
Awakening to Love
Years ago, I lost a beloved friend who died way too young of Marfan's syndrome, a congenital disorder of the connective tissues. It weakened his aorta, and he didn't make it through heart surgery, the second time.
When my friend died, I felt as if I could see into the hearts of everyone around me, look into their souls. Nothing mattered except getting through that time and holding others through it. I felt so sure that there was a presence of love, some particular kind of grace, washing over us all, even as we mourned him passing from this planet. I felt sure that he was out there somewhere.
And I felt sure that although we were all sad at that moment, and felt as though the pain would never end, that my friend would have wanted us to be happy because that was just who he was. Good to a fault. Kind to all.
Deserving Happiness
Before my dear friend died, I don't know that I ever really considered happiness to be a goal in my life. That might sound funny, but I was one of these people who figured it was my job to be a martyr for humanity, and that my "greatness" didn't necessarily entail "happiness."
After the loss of my dear friend, I felt as though it was important to be happy, to cherish the time with those we love, simply to laugh. I suddenly realized on a much deeper level than ever before that I did want to be happy, that loving myself and others was the critical goal, that life was not just about achieving.
I felt, perhaps for the first time, that I too deserved happiness and love. I didn't always believe that.
Finding The Lesson In The Loss
When something terrible happens, it can be incredibly challenging to find a positive lesson in it. Sometimes life hurts. Sometimes we wish we could turn back time. Later, however, when we've had time to heal, we can often see that the experience changed us. And that who we are now is wiser, stronger, and more fully dedicated to love.
At least, I felt this to be the case for me, after losing two dear friends, and later, when other losses took place in my life. Somehow over time, I always emerged wiser and stronger. Somehow I continually was reaffirmed in my desire to make a difference in the world and to live a life characterized by and overflowing with love.
And I have found that those moments when everything else falls away when all that's left is love and when our highest priorities suddenly become crystal-clear, can be the most powerful learning experiences, and ultimately life-affirming.
Chairman, chief executive officer, and co-founder of Apple Inc., Steve Jobs said it beautifully:
"Remembering that I'll be dead soon is the most important tool I've ever encountered to help me make the big choices in life. Because almost everything – all external expectations, all pride, all fear of embarrassment or failure – these things just fall away in the face of death, leaving only what is truly important. Remembering that you are going to die is the best way I know to avoid the trap of thinking you have something to lose. You are already naked. There is no reason not to follow your heart."
Living Every Day As If It Were Your Last
I love something else Steve Jobs once said. It seems so appropriate now, and is the way he has lived his life:
"When I was 17, I read a quote that went something like: 'If you live each day as if it was your last, someday you'll most certainly be right.' It made an impression on me, and since then, for the past 33 years, I have looked in the mirror every morning and asked myself: 'If today were the last day of my life, would I want to do what I am about to do today?' And whenever the answer has been 'No' for too many days in a row, I know I need to change something."
Learning Lessons of Love From 9/11
Ask yourself that question today. "If today were the last day of my life, would I want to do what I am about to do today?"
Is the answer, yes? If the answer is no, do you know what you would want to do, or what changes to make?
The moving 9/11 story, "After 9/11, a Decision to Tango" is one beautiful example of a life that changed after September 11, and how one man, Ney Melo decided to follow his heart. From investment banker to international globe-trotting tango instructor, Ney Melo followed his passion and transformed his life.
Ney Melo Performing the Tango at La Milonga Rosa in NYC
I believe as Jobs does that there is a part of us, deep inside, that already knows what we want to become. If we can have the courage to listen to the quiet whisperings of our heart, nudging us in the direction of what will make our souls soar, we can become it.
I am clear that if it were my last day on the planet, I would want to give my love. I would want to dance. I would want to share my thoughts with the world about the lessons I had learned. I'm a writer at heart, and a dancer, and a teacher. And, I'm fortunate to be able to spend much of my time doing these three things. I know that I will continue to do even more writing, dancing, and teaching because these are the things that make my heart sing.
What will you do today to make your heart's desires come true? If today were your last day, what would you do? Will you decide to go out and live your dream?
Lisa Graham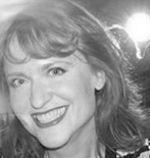 Lisa P. Graham is an inspirational writer, life coach, TED motivational speaker, and globe-trotter whose passion is to help others to find happiness and meaning in their daily lives. A political activist at heart, Lisa would like to empower more women to run for political office as a way to create positive change in the world. You can find her on her website or watch her TEDx speech on YouTube.
Note: Articles by Lisa may contain affiliate links and may be compensated if you make a purchase after clicking on an affiliate link.