Last updated on February 7th, 2013 at 05:13 pm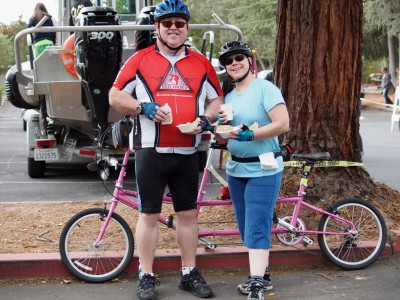 This past weekend I achieved a big dream goal: to volunteer my photography.
While I was shooting this riding event, I met a couple who were living their dreams, just by "being in the moment."  Their story intrigued me, so I stopped for a few and talked with them.
They were here in California on vacation.  Looking for things to do, they scouted the internet for activities and the link to this benefit bike ride popped up.
He said, without too much consideration, "Yeah, we could do that."
They didn't have their own bikes with them, so they had to rent one.  The pink tandem was theirs for the day.
They didn't know they area, so they trusted route organizers and other riders to show them the way.
They didn't have riding clothes with them, so they improvised and just wore what they had with them.
They didn't have a plan – they just were living in the moment.
They shared the road with 900 other riders that day, most of whom were riding for fastest time honors, personal best times, or team finish standings.
They rode the the shortest route – 35 miles – through some of the most beautiful winery countryside you will ever see.  But they didn't break any speed records, and they were not worried about appearances.
They just did it.
When it was over, I asked them how it was.
"Fantastic.  Totally worth it.  A beautiful ride."
That made me smile, and feel just a little bit jealous of their dream success.
How often have I stopped myself from living in the moment because I didn't feel prepared?  When I didn't feel organized or 'ready?'
How often have you?
This week, our top photographer dream challenge should be this: just do it.  Live in the moment.  Say yes even if it means breaking some major comfort zone issues.  Say yes even if you feel un-prepared, or don't have the right clothes.
Live in the moment, and feel the success.
And then, tell us what happened!
Until next photo,
Rem
(A Wordless Wednesday post with some selected images of the Tour De Fuzz, a northern California bike ride that benefits the Sheriff's Chaplaincy program, is coming soon).

Enjoy this special 8WomenDream Guest Contributor story submitted by new and experienced big dreamers throughout the world, edited and published to capture a dream perspective from different points of view. Do you have a personal dream story to share with 8WomenDream readers? Click here to learn how to submit dream big articles for consideration.
Note: Articles by Guest Post Contributors may contain affiliate links and may be compensated if you make a purchase after clicking on an affiliate link.