Last updated on September 30th, 2012 at 11:59 pm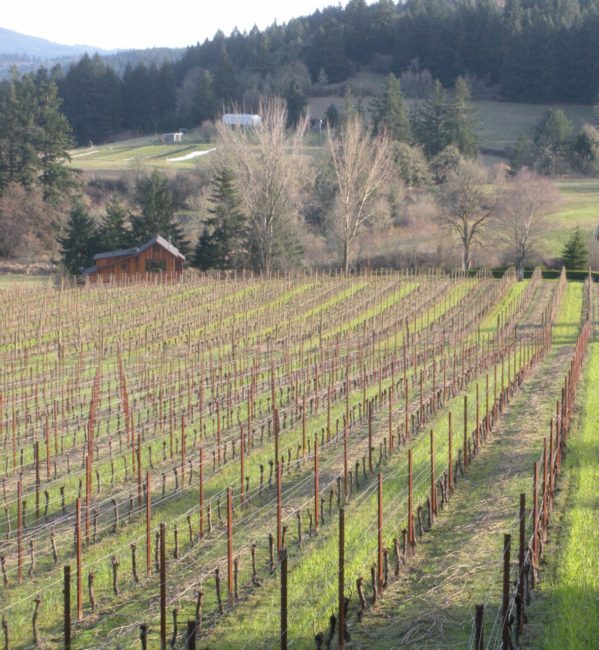 I was so excited about Thursday's forecast, I had difficulty sleeping Wednesday night.
Sixty one degrees, yay-hey!
Outside is my very favorite place to be and early spring planting in my garden thrills me beyond measure.
I love to get down and get dirty, preparing the soil in my raised beds to receive seeds and starts and then take in the joy, both visually and aromatically as the plants and I welcome the coming season together.
With this brilliant, early March, clear, dry, beauty of a day, also came the first opportunity for sulfur spraying the newly pruned vineyards that surround our little home and garden.  Sulfur is sprayed in the vineyard to keep the vine-damaging mites that may come up through the trunk in the post dormancy season, from thriving on this 200 acre vineyard–or so the current viticulture practices portend.
Sulfur is an eye, lung and skin irritant so that means kitties and chickens are locked up and this home-schooling trio of my little son and daughter and I must have an off property day.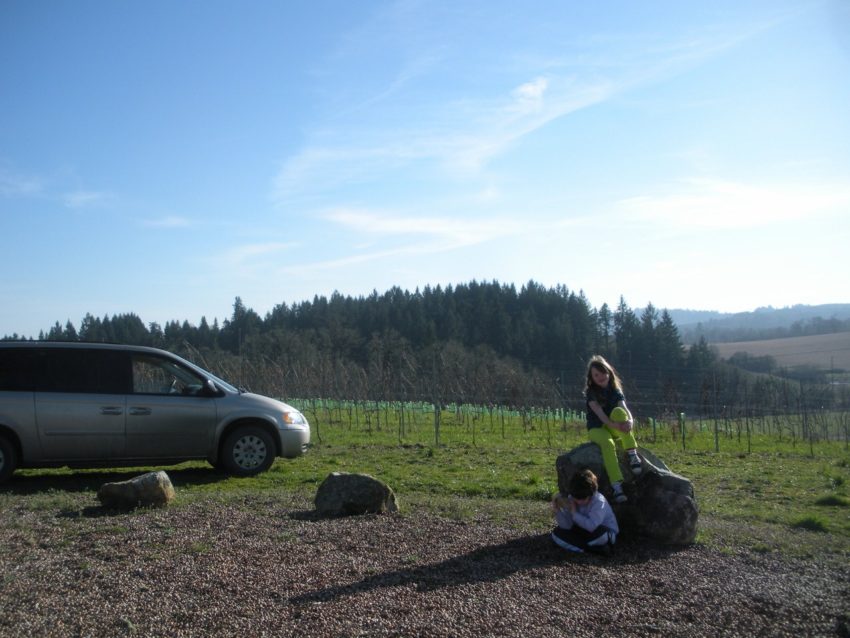 As quickly as I possibly could, I slammed the brakes on my gardening day fantasy, made breakfast, packed  the smoked salmon deviled eggs, crackers and bottled water in the ice chest, had the children dress and complete some American history and math studies, packed up the back pack, loaded up the recycling in the mini van and drove down to the west gate post haste!
Before I could develop the day's plan, I first  had to shrug off my deep disappointment over not being in my beloved garden with our bunny, kitties and hens for this spectacularly sunny, warm day.
It took me four-and-a-half bumpy miles down the gravel road to figure out how to embrace this opportunity, be grateful for a full tank of gas my husband put in the adventure mobile and once again capitalize on the blessing of where I live and the abundance of my favorite experiences to be found in this part of Willamette Valley, Oregon.
Okay, now it was ON!
Field trip fun with my babes in the back seats, great music coming out of the speakers, window rolled down and watching the temperature rise made it all better.
"Time to get to know our neighbors!"Â  I bellowed out into the breeze.
Lots of  small farms out here means some really wonderful and incredible eats are available to us, and by cruising around and paying attention, it's so rewarding to stumble on to some real gems.  Being home-schoolers offers up an indescribable feeling and reality of freedom.
We decide we want to do something, and we do it, for the most part.
I told my little son and daughter to keep a keen eye for this goat farm I had been wanting to visit.  I couldn't recall the name of the place but we remembered passing it on the highway several times.
Sure, I made the person that was riding my bumper annoyed by adhering to the speed limit, but
A.  I could see in my rear-view mirror, the tail gating driver mouth my Albert Einstein sticker… "The most precious things in life are not those you get for money",
and
B.  We found the goat farm!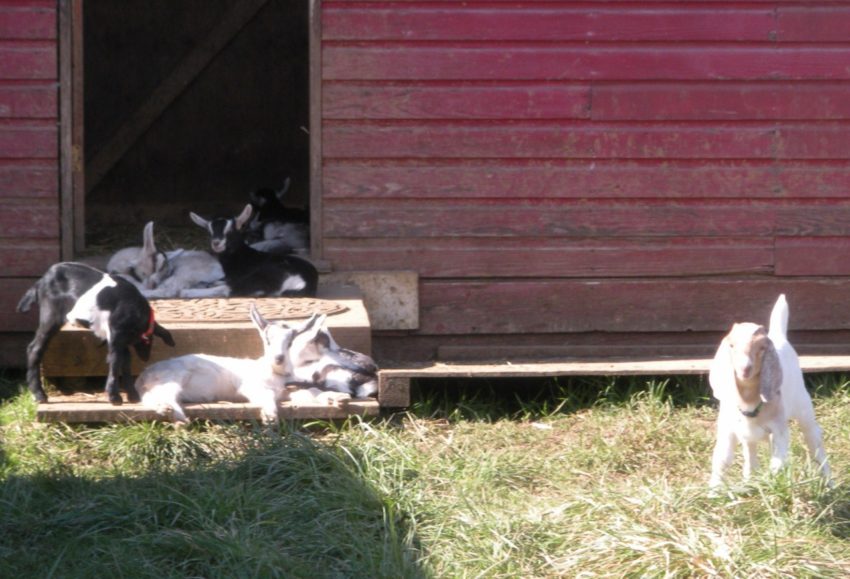 The most gorgeous, clean and orderly goat (or other) farm I have ever had the pleasure of visiting opened up its barns to us.  We met the three-week-old babies, their mamas, the two male goats Zorro and Zeus and purchased two different and beautiful cheeses from this wonderful place.
We also learned a little bit about the birthing process, diets of the different goats and that the dozens of chickens that were sharing all of the space with the goats, not only provided eggs for the farm to sell, but kept the fly population way, way down.
I had a perma-smile and couldn't thank our new farmer friend enough for his classic, denim overall clad welcoming spirit and this delightful educational experience.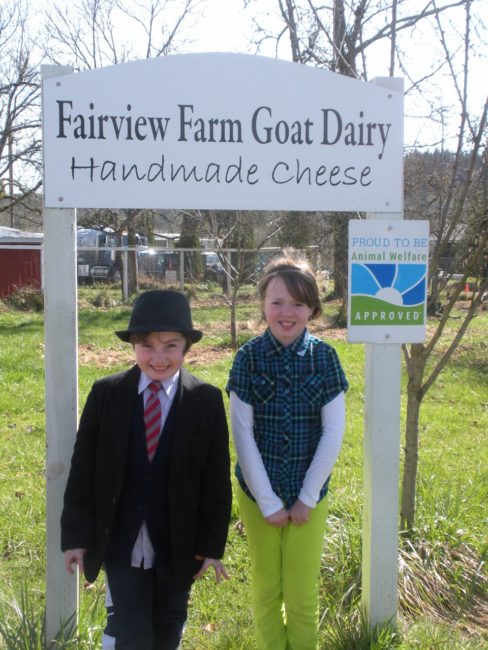 Back in the mini van we giggled and reviewed our favorite parts of this farm visit, and hands down, it was adorable babies that at least in this moment was reason number one for our coming back, soon.
Our next stop was dropping off  bags of clothing donations to our area's Goodwill, and carrying on with our adventure in the country.
Finally stopping in at the road side organic grocery/nursery that we had driven past for five years proved to be extremely fruitful.  I purchased a marvelously healthy Chippewa blueberry plant that would be the first to grace my back garden in a spot that I had made ready to receive this favorite super food producer while the children played in the teepee out in front of this charm-filled store.
The well-informed owner, and brand new friend was a fountain of knowledge not only about the blueberry plants, but about the farmers producing other organically grown, sustainably produced delactables that I love to cook and bake with.
While speaking to lovely grocer "Jo", I was mentally singing the Spongebob SquarePants "Best Day Ever" song and grinning like a silly, until half-an-hour passed and the kiddies were getting hungry.
With blueberry plant and a sack of organic compost loaded up, we were on our way to the feed store for some Timothy Hay for our bunny and a flock block for the hens and other birds, waiting for their lunch back at home.
Shopping at the feed store is another treasured stop, and always kicks any supermarket's butt, in my book.
I was timing everything based on when the spraying was to cease at the vineyard, including taking the very long way home to check in on the progress of the neighboring beautiful filbert orchards and their new plantings, thinking on the yummy baked goods I'd turn out using one of my favorite ingredients, the hazelnut.
Once back at the gate, a full five hours from the time our adventure began, the tractor, to my deep dismay, greeted us in it's dance of moving slowly to and fro in the blocks of rows surrounding our little house.  There are loads of mechanical and other reasons why the spraying may have been delayed, but I didn't want to know any of them.
I was not pleased.
Backing out of the driveway was the total amount of time it took me to decide to get over myself and pop away to the south barn gate.  I drove us up to the top of the hill under the big oak tree at the  elevation of 360 feet, and set up a picnic on the large glacial erratic.
This just put the cherry on top of our sundae of an afternoon.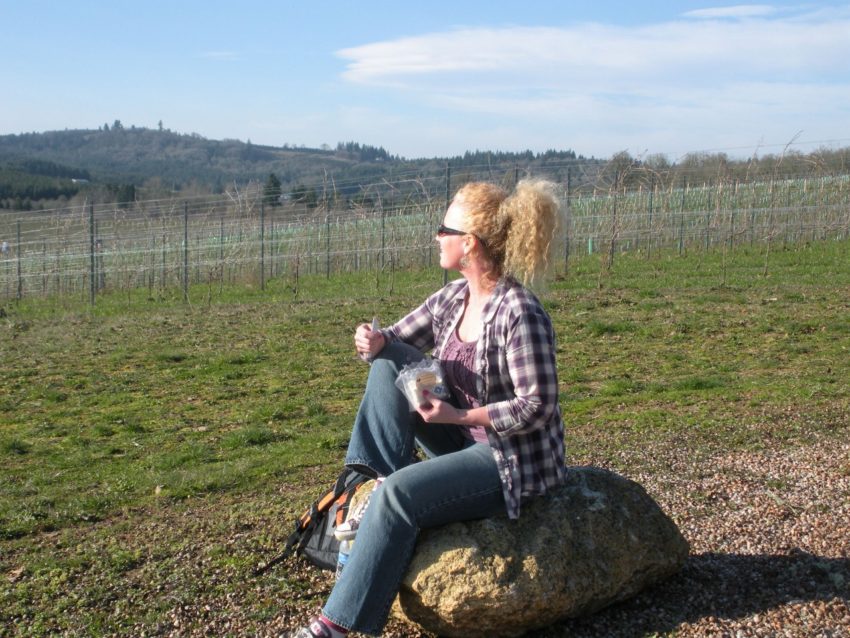 We ate the most delicious chevre any of us had ever tasted in our lives.  No cracker was necessary, and in fact, I'm certain would just have been a crunchy distraction to the incomparable flavor and perfect texture of this artisan cheese.
Words fail here, as I recall this moment of bliss.
Able to view the sulpher spray tractor from our on high vantage point took the guess work out of when it was safe for our return home, and after several rounds of vineyard tag, more cheese breaks (trying to save some for daddy) and tons of laughter, we peeled ourselves off of the sunny rocks and began slowly making our way down the hillside.
Just before the sun had set completely, we unloaded our loot into the back garden and I was suddenly overcome by the joy that attached itself to our lemons to lemonade day.
I guess this is what can happen when I don't let the occasional unpleasant cost of living this grape life overwhelm my ability to seize the glorious opportunities it blesses us with.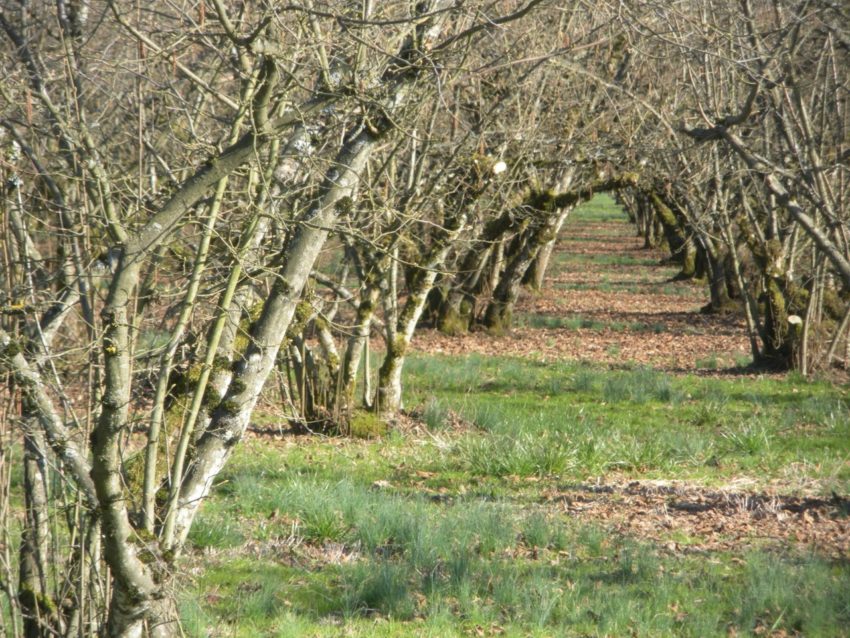 Until next Sunday, I wish you beauty in your days, the highest of quality time spent with everyone you love, and the realization that living our dreams requires living in the present moment.
Shellie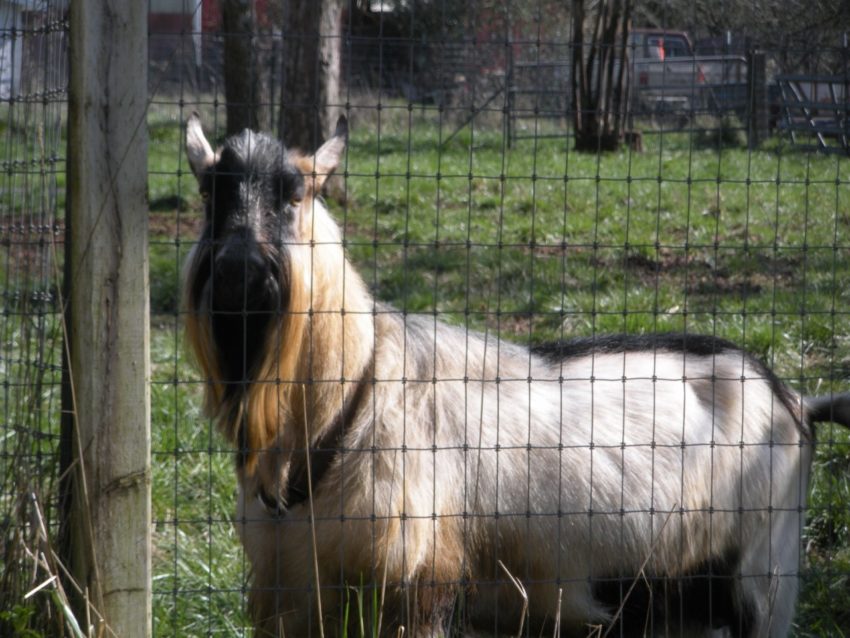 Enjoy this special 8WomenDream Guest Contributor story submitted by new and experienced big dreamers throughout the world, edited and published to capture a dream perspective from different points of view. Do you have a personal dream story to share with 8WomenDream readers? Click here to learn how to submit dream big articles for consideration.
Note: Articles by Guest Post Contributors may contain affiliate links and may be compensated if you make a purchase after clicking on an affiliate link.